Where Do The Bracket Experts Have AAC Teams?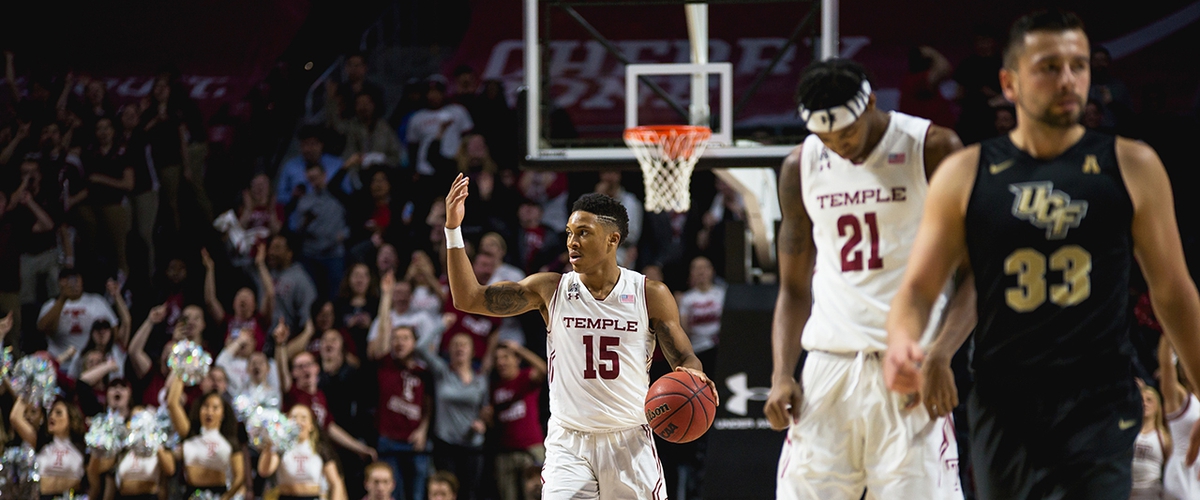 We are nearing the end of January and March is getting closer. The American has already exceeded expectations with most expecting this to be a 1-2 bid league. Houston is looking like they will contend for a possible 2 seed, while others are fighting for spots in the field of 68. I examined where the teams in the AAC competing for tournament spots, currently sit. Using BracketMatrix.com I was able to see the average of all these teams and where the top 87 bracketologists have each team seeded.
Houston – According to bracketmatrix.com Houston averages out as the last three seed. They peak as a two seed and they are as low as a six seed. At 19-1, Houston has stacked up some solid wins, with victories over LSU, Oregon, and Utah St. They don't have any great wins, which could keep them from getting to the 2 line if they continue to win out. They dos still have some chances at more solid victories with two games apiece left against both Cincinnati and UCF, and also a revenge game against Temple. Houston has been very highly rated in the NCAA's new "NET" stat ranking 7th, which is taking the place of the RPI. Although, I think either Cincinnati or UCF will beat them at home, but the Cougars, with no bad losses, are a virtual lock to make back to back tournament appearances.
Cincinnati - The Bearcats maybe the most underrated 16-3 team in the country. Bracketmatrix currently has UC's average seed as the second 9 seed. Of the 87 bracketologists on BracketMatrix, 86 of them have the Bearcats in the field of 68, so Cincinnati isn't really on the bubble, but their margin for error is slim. Cincinnati has some good, but not great wins over UCLA, Xavier, and Ole Miss, those aren't great teams, but Mick Cronin's club looked very impressive in all three games, blowing out their opponents in all of them. One thing really hurting Cincinnati's profile is they have a horrid loss to an ECU team that sits at 8-10 overall and 1-5 in the AAC. UC has a four game stretch that I think will make or break them. @Temple, vs. SMU, @Memphis, @Houston. If they can go 4-0 or even 3-1 in that stretch, their seeding will sky rocket, but road games at Temple, Memphis, and Houston will all be very hard games, and could put UC squarely on the bubble.
UCF – The Knights were tabbed as the preseason favorites to win the AAC by the coaches, but Houston certainly looks to be the favorite now, however UCF is looking for their first tournament appearance since 2005. 66/87 Bracketologist's currently have UCF in the tournament and they average out as the last 10 seed, just avoiding Dayton in the first four. They peak as 7 seed. UCF has one pretty bad loss to FAU, but unlike Cincinnati, they don't have really any good wins (zero Quadrant 1 wins). They haven't beaten one legitmate tournament team yet, but do have wins over other bubble teams like Temple and Alabama. They are in the top 35 of the NET rankings, and you can't keep them out if they continue to win. They still have plenty of chances to get big wins with two games against Houston, two games against Cincinnati, two games against Memphis, and a game left against Temple.
Temple - It wouldn't be a college basketball season without Temple being on the bubble. The Owls once again seem to be fighting to improve their profile for the committee. Just 36/87 bracketologist's have Temple in, which is why they average as the fourth team OUT of the tournament and are listed in the "First Four Out" category. They peak as a 9 seed in some brackets, but one thing they have going is they have the best win in the conference thus far with a win over previously unbeaten Houston. Temple really doesn't have any bad losses, but dropping games to VCU and Penn don't look great. Temple has just one game remaining against Houston and Cincinnati, and they still have two left against bottom feeder Tulane. Of the teams on this list, Temple has the easiest remaining schedule and could sneak their way into the dance by simply winning the games they should win.