Golden State Even's Up the NBA Finals After 109-104 Win Over Toronto.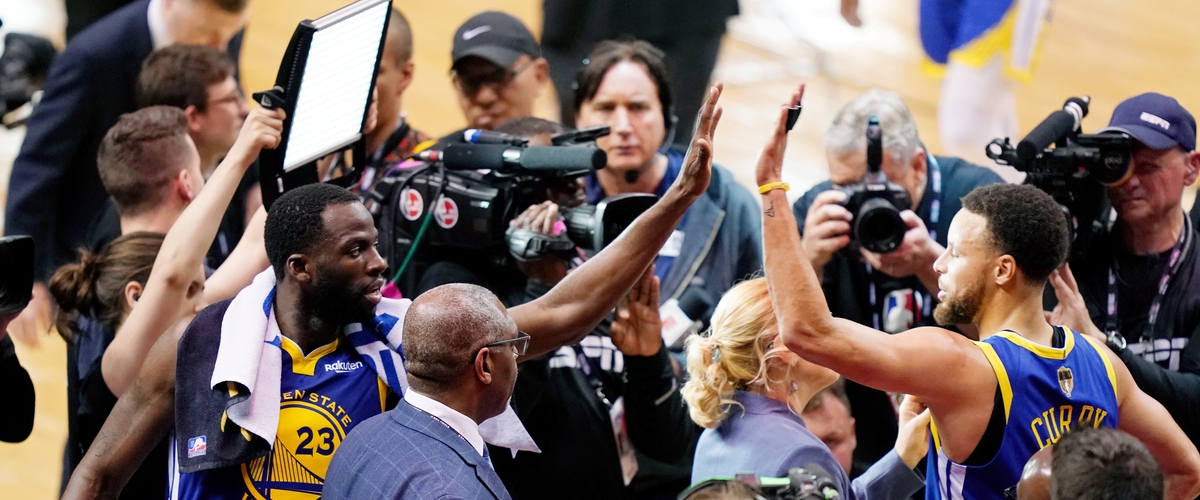 Well It Looks Like The Golden State Warriors Are Back Well Not Exactly, Yes they Did Beat the Toronto Raptors 109-104 In Game Two Of the NBA Finals. But they Got Some More Bad News as Klay Thompson Had To Leave the Game With a Hamstring Injury.
Warriors Head Coach Steve Kerr Told Reporters after the Game... " We Will Access The Injury Situation With Klay and Kevin and We Will See How It Goes. But We Still Had enough Drive to win the Game Tonight."
Here's What Golden State Did Tonight That Won Game Two For Them..
Golden State Did What they Had to do, It Wasn't the Klay and Stephen Show Like it Was In Game One, They Used Assists On All 22 Shots Made in the 2nd Half Of the Game. The Warriors Went On an 18-0 Run To Start The 2nd Half. And the Bench Stepped Up In a Big Way.
Stephen Curry, He Had 23 Big Points tonight and It Could All Fall On Him If Somebody Else Gets Hurt. And Was Laboring In the First Half Himself.
Klay Thompson, He Had 25 Points Before He Had to Leave the Game With the Hamstring Injury and We Don't Know If He'll Be Back Or Not.
Draymond Green, He Was an Assist Short Of another Triple-Double On Sunday. He Had 17 Points, 10 Rebounds and 9 Assists. He Could Have To Carry the Load.
Demarcus Cousins, He Was a Star Of the Bench Tonight With 11 Points and 10 Rebounds So The Bench Came Through Tonight.
What Went Wrong For Toronto Tonight In Game Two...
To Start With They Let Golden State Have to Many Golden Chances and they Paid For It By Letting Golden State Go on a 18-0 Run To Start 2nd Half. They Can't Rely On Kawhi Leonard To Much and It Showed In the Game On Sunday, And Here's What I Mean.
Kawhi Leonard, He had a Big Game, 34 Points and 14 Rebounds, But He Needs Some Support, He Got Some But Not Enough.
Fred VanVleet, He Should Win the NBA Sixth Man Award As He Had 17 Big Points In the Game Off the Bench.
Kyle Lowry, He Had a Good Game With 13 Points, However I will Say this, He needs to Have at Least 20 Points in Games Three and Four On the Road Because The Raptors Need Big Games From Him as Well.
Pascal Siakam, He had 12 Points, 8 Rebounds and 5 Assists In the Game, He Needs to Step Up for Toronto To Have any Chance at All.
Raptors Coach Nick Nurse Talked to Reporters After the Game and Said the Following... " I am Disappointed About Our Performance tonight and We Can Play Better than That. We Were Asleep At the Wheel Tonight and That's All I have To Say."
Now Here's My Take...
The Raptors Played Not So Good Basketball, They Had a Chance to Put Golden State To Must Go To the Wall Situation But they Blew It at the Start Of the 2nd Half. They Let Golden State go on an 18-0 Run Which Proved to Be the Difference Maker in Game Two On Sunday Night. Toronto Had Nothing In the 2nd Half of the Game and It Showed.
Now As Far as Golden State Goes, There's a New Question that Needs To Be Answered. And that Question Is Will the Warriors Have Enough Healthy Bodies In the Finals To Be World Champions Again.Kevin Durant Is Out and We Don't Know If He Will Be Back And Now Klay Thompson Suffers a Hamstring Injury, So it Has Been One thing After Another In the Injury Department For the Golden State Warriors.
The Only Good News For Golden State Is that they Are Going Home With a Chance and Not Being Down 0-2 In the Series. Now the Warriors Can Relax a Little Bit, Not Much But Little and Kevin Durant Needs to Be a Factor Because If Anybody Else Gets Hurt The Golden State Warriors Chances are going to Slowly Slip Away.
Now As Far as Toronto Goes, They Need To Get at Least a Split In the Next Two Games. I Know The Series Moves to Oakland For the Next Two Games. The Raptors Can't Afford to Lose the Next Two Games Or Else Cross them Off. They Have to Win Games Three and Four, Or At Least Get a Split on the Road. I know It Sounds Easy But It's Not. This Is the Oracle Arena in Oakland And that Place Will Be Jumping.
And One Last Thing, The Raptors Can't Rely On Kawhi Leonard All Game Long. That's Another Mistake that The Raptors Made. They Need to Use their Other Stars and The Bench if they Want to Win On the Road. But They Can't Rely On Kawhi Leonard to Get the Job Done All the Time. The Raptors Also Have to do Better On Defense they Can Let The Warriors Get To Many Open Looks or Lights Out.
That's What the Raptors Need to Do the Rest of the Series. Games Three and Four are In Oakland. Game Three Wednesday Night. I Hope You Enjoy Both Games Bottom Line.
---