Andrew McCutchen Is Out For the Season Due to ACL Injury.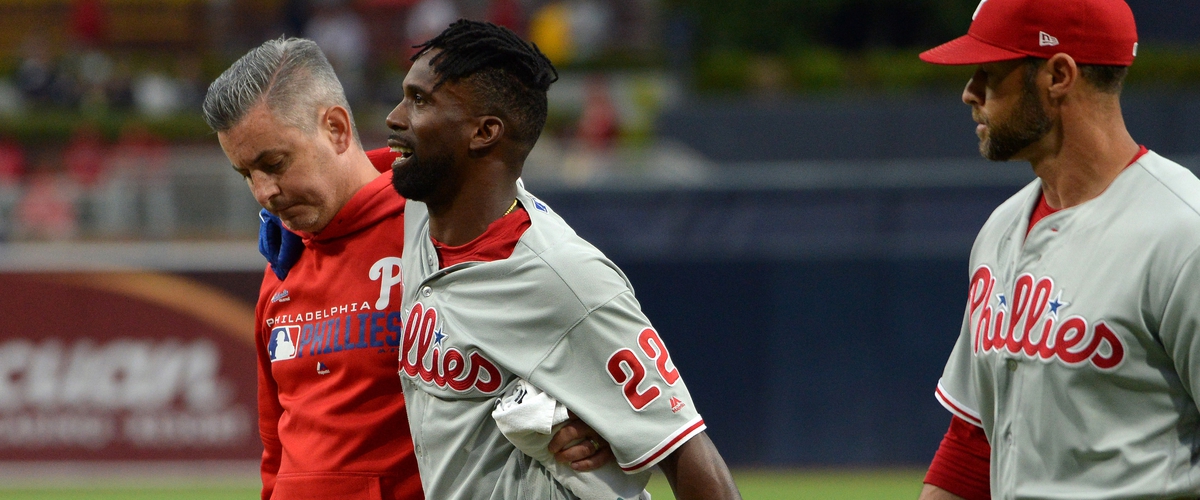 his Is Not the Sight That All Philadelphia Phillies Fans Want to See. That Is Andrew McCutchen Being Helped Off the Field After Hurting His Left Knee In a Rundown On Monday Night Against the San Diego Padres. Later That Evening It Was Discovered That the 32-Year Old McCutchen Tore His ACL, And It's Official, McCutchen Is Out for The Rest Of The Season.
Phillies Manager Gabe Kapler, Told Reporters That "McCutchen Is Out for the Season and Hopes to Be Back Next Season. Kapler Did Not Have a Surgery Date for Andrew." Andrew McCutchen Himself Said this To Reporters, "This Is Not What I Wanted to Hear, I Will Take It One Day At A Time and We'll See About Next Season."
Now With Andrew Out Where Does This Leave The Phillies, Well I Look At It This Way, The Phillies State Of The Union Is Not Good. McCutchen Was the Star Player For The Phillies, He Had 10 Home Runs, 29 RBI's and an National League 43 Walks This Season and Here Are Some Other Numbers To Think About .256/.378/.457, His Numbers Were Pretty Good and The Phillies are Going to Be Hurting.
And Think About This To, Odubel Herrera Has Been Placed on Administrative Leave By Major League Baseball One Day After His Arrest On Domestic Violence Charges, And His Leave Goes Until June 17th, And He Can Not Play Until the League Lift's The Restriction.
The Phillies Do Have Other Options, They Did Acquire Jay Bruce From The Seattle Mariners And His Numbers Fair But Need Improvement. He Has Hit 14 Home Runs and Has 28 RBI'S This Season And Look At His Other Numbers For Size, .214/.283..530, Now Do You See What I Mean as Far as His Other Numbers Go.
The Phillies Also Did Call Up Adam Hasley From The Minors, He's Hit Seven Home Runs and 23 RBI'S and Is Hitting .275 With Triple-A Lehigh Valley and Double-A Reading. So Yes The Phillies Have Options.
Here's My Take...
This Is Not What The Philadelphia Phillies Needed to Hear At This Moment. I Know they Have Bryce Harper, However the Phillies Better Be Thankful that The National League East Race is a Two Team Battle At the Moment. The Phillies and Atlanta Braves are Tied Atop Of the National League East Standings And the Phillies And Braves Are going to Be Facing Each Other During the 2nd Half Of the Season.
However I Will Say this, If Bryce Harper Gets Hurt and Is Out For Any Length Of time The Phillies Are In Deep Trouble. Yes They Will Have Jay Bruce But He's Only Going to Be Playing Games Here and There. Bruce Was Not Slated To Be a Starter. But Bruce May Have to Be Thrown Into That Roll and I Will Say this Jay Bruce Is a Good Player But He Lacks At Being a Starter. Phillies Manager Gabe Kapler Is Going To Have to Shuffle His Defensive Lineup and He's Already Said Bryce Harper In Center Field Is Not An Option So Could We See Jay Bruce in Center Only Time Will Tell That. But The Phillies Can Afford Another Big Player To Go Out For the Season Or The Phillies Will Be Finished For the 2019 Season.
---