The Toronto Raptors Go Up 2-1 In the NBA Finals.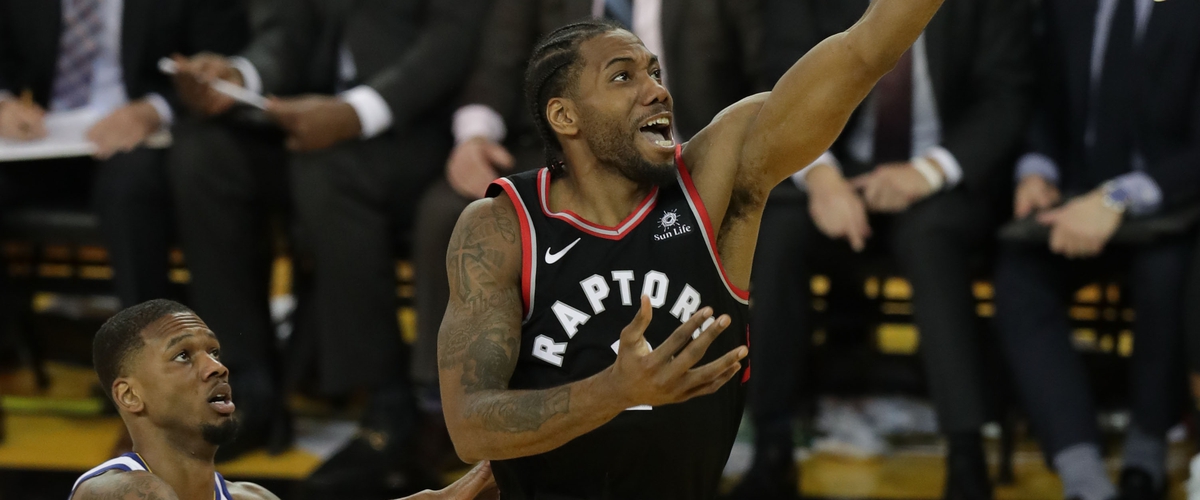 Well Everybody This Was a Huge Night For the Toronto Raptors As they Beat the Golden State Warriors 123-109 In Game Three Of the NBA Finals. Not Only Did the Raptors Go Up 2-1 In the Series, They Also Did Prove that They Can Win On the Road In a Very Hostel Environment. Oracle Arena Is a Very Hard Place to Play When You Are The Visiting Team But the Toronto Raptors Got The Job Done Tonight.
What Did the Raptors Do Right to Win Game 3...
The Raptors Got Smart and Spread the Basketball Around, Try 6 Players In Double Figures in the Game And Kahwi Leonard Has Been The Star But He Had Tons Of Help Tonight.
Kahwi Leonard, He Had 30 Points tonight along with Seven Rebound and Six Assists In the Game, The Raptors Need Him To Stay Healthy.
Pascal Siakam, He Was One Rebound Short Of a Double-Double Tonight. He had 18 Points, Nine Rebounds and Six Assists. He's In the Supporting Role, Don't Lose Him Toronto.
Danny Green, He Even Came To Play Tonight, 18 Points and Five Rebounds, He Only Had 19 Points Combined in the First Two Games.
Kyle Lowry, 23 Points to go With Nine Assists He Almost Had a Double-Double Himself, He Needs to Stay Healthy As Well.
Marc Gasol, I haven't Mentioned Him Much In the Finals And I should Tonight Because He Had 17 Points, Seven Rebound and Four Assists.
Fred Vanvleet, Mr. Sixth Man For the Raptors, He Had 11 points Three Rebounds and Three Big Steals In the Game. So He Robbed Golden State Like there Was No End In Sight.
Here Are Some Other Things the Raptors Did Right In Game Three. If you Look At The Numbers and I Take These Numbers Very Seriously You Will See What Else the Raptors Did Right.
FT 20-21 95.2%
FG 43-82 52.4%
3PT 17-38 44.7%
That Is How the Toronto Raptors Got the Job Done In Game Three. Raptors Head Coach Nick Nurse Talked To Reporters After the Game And Said the Following. "It's Something When You Can Beat The Golden State Warriors On their Home Floor In The NBA Finals, Now We Have Them On The Ropes and We Hope We Can Keep It That Way."
Kawhi Leonard Told Reporters After the Game... " I am Very Proud Of the Way the Team Stepped Up Tonight And I Hope We Can Clinch The Series In at Least Six Games Now, We Have a Team that Could Beat Golden State and The Warriors Know It This Time Around."
What Did Golden State Do Wrong In Game 3...
They Tried to Make it the Steph Curry Show But it Did Not Work In Game Three. Yes I know That Curry Had 47 Points, Which Is a Career Playoff High For Him But Golden State Was Minus Kevin Durant Again. They Did Not Have Klay Thompson Due to Injury and The Biggest Backup For the Warriors Kevon Looney Was Out Due to Injury So There's Three BIG Guys Right There, And that's How Golden State Lost The Game.
Stephen Curry, 47 Points, a Career Playoff High, Eight Rebounds, Seven Assists, Two Steals. The Warriors Need to Stop Treating Him Like LeBron James and Make Him Do Everything. They Still Have Draymond.
And Speaking Of Draymond Green, He Had 17 Points, Seven Rebounds, Four Assists and Two Steals In the Game. He Has to Step Up Now.
Andrew Iguodala, He Only Had 11 points and Six Rebounds, He's Really Going to Have to Step Up In a HUGE WAY!!!!. He Needs To Average at Least 20 Points Per Game The Rest Of The Way.
And Yes The Absence Of Durant, Thompson and Looney Showed In Game Three Because There Was Nobody But Curry Who Could Hit Any Shots and these Numbers Tell The Story.
FT 25-30 83.3%
FG 36-91 39.6%
3PT 12-36 33.3%
That My Friends Is How Golden State Lost Game Three Tonight. They Tried to Make It the Steph Curry Show and It Did Not Work in The Game On Wednesday Night. Draymond Green Told Reporters This... " We Have to Start Hitting Shots We Can't Rely On Curry To Make the Big Plays. This Is Supposed To Be a Team Effort. I know We're Down Some Guys But Come On We have To Do Our Part To.
Steph Curry Sad This To Reporters after the Game... " I had to Do a lot Of The Work Tonight And I Should Not Have to. We Have Thompson and Durant Out, I Know But I Can't Be Mr. Do It All. We Will Step Up As a Team In Game Four and We Will Come Out On Top, You Can Go To The Bank On That."
Now Here's My Take...
The Golden State Warriors Were Down Three Big Men. I know Durant Said We Will See in the Morning About Game Four. I will Say This Now, The Warriors are Going to Need KD Badly If they Want to Be NBA World Champions Because Right Now the Warriors Are Not Playing Well Right Now and It's Showing. The Question Is Will the Golden State Warriors Have any Healthy Bodies For the Remainder Of the Finals. The Question Is a Hard One to Answer But Right Now It's Looking VERY BAD!!!!!!! For The Golden State Warriors.
As Far As the Toronto Raptors Go, They Proved that They Can Win at Oracle Arena In Oakland. That My Friends Is a Very Difficult Feat In the Regular Season. Can The Toronto Raptors Play the Role Of David and Knock Of Goliath, Well The Game Three Victory on the Road Is a HUGE!!!!! Help. Right Now The Raptors Have The Warriors On the Ropes and They Could Pull Of the Upset. The Warriors Are Now the Team that Has to Go To The Wall In Game Four. They Are the Team That Needs to Get The Spilt to Have any Chance Because If Golden State Goes Down 3-1 They Are In Trouble Because they Don't Have Durant, Thompson or Looney Available To Save Them. So In Short It's Very Simple, Golden State Has to Get The Split and Take Game Four Or they Are Finished, I Know It Sounds Bad But No Three Big Men Is Very Bad Indeed. And You Do Not Want to Be Down 3-1 In the NBA Finals Bottom Line.
---