Here's a guide to Championship Saturday In College Football.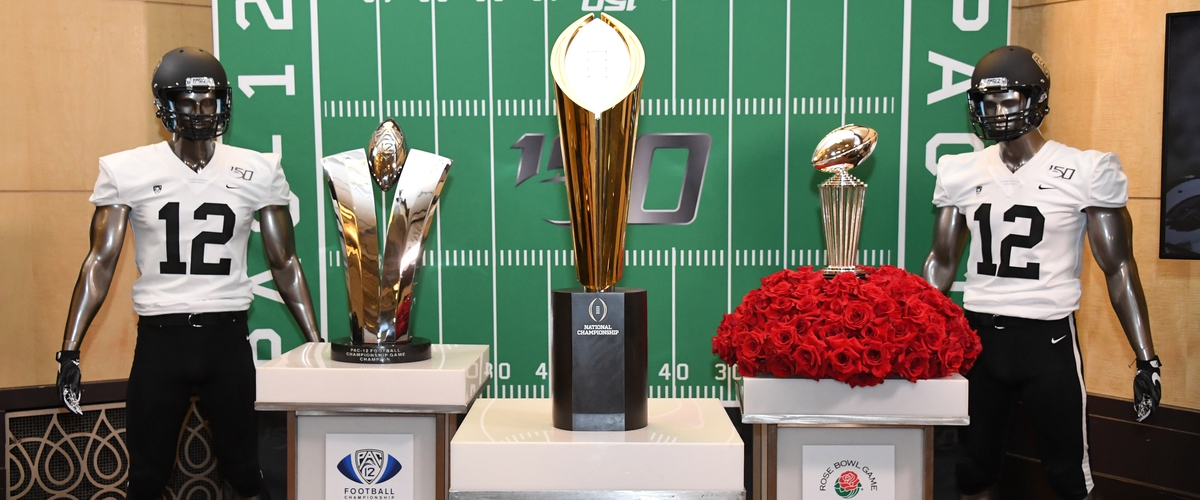 The 2019 College Football regular season was something to remember. Ohio State getting a new head coach in Ryan Day. Coach Day was named BIG-10 Coach of the Year. Alabama finds themselves out of the CFP after Losing to LSU and Auburn.
Just to remind you of the top-4 in the CFP.
1. Ohio State
2. LSU
3. Clemson
4. Georgia
Now you know who the top-4 are, It's now time to get you ready for championship weekend with everything on the line. I am also going to give you some scenarios to think about going into the weekend. The first championship game will be the PAC-12 Championship game between No.5 Utah-No.13 Oregon.
Here's the championship guide for the weekend..
PAC-12..
No.5 Utah-No.13 Oregon: Yes this game is for the PAC-12 championship but it means more for Utah as they have a shot at the College Football Playoff. Oregon has been reduced to the role of spoiler.
Who can spoil the party for the Utes, Here's who can. First and foremost Oregon's Justin Herbert, he's one of the most outstanding QB's that Oregon has had in years and with the support of CJ Verdell the Ducks look to pull off the upset. But the Utah Defense is going to be loaded going into the game. The question is who does Utah have on Offense. The First name that comes to mind is Tyler Huntley, he's one of the Best players in the PAC-12 today and with the support of Zack Moss at running back Utah can run up and down the Field. Don't forget about one year ago, it took a pick-six to decide the PAC-12 Championship game, it could happen again.
BIG-12..
No.6 Oklahoma-No.7 Baylor: I know the BIG-12 has had a crazy season to say the least. Go back to a few weeks ago when Oklahoma came back down 25 to beat Baylor, Jalen Hurts led that comeback, he's back again to face Baylor and with the support of Ceedee Lamb at wide receiver those two will be the combo to look out for. Baylor has a Excellent QB in Charlie Brewer, he proved himself in the first half of the first battle when these two meet earlier in the season. And yes Brewer has support in Denzel Mims and he can be dangerous if he wants to be.
This game has a lot on the line, Possibly the College Football Playoff and the National Championship. But first thing first, let's see who wins the BIG-12.
SEC..
No.2 LSU-No.4 Georgia: In this game it's very simple, it's winner take all in the SEC and the College Football Playoff. Both Joe Burrow of LSU and Jake Fromm of Georgia know it. LSU, you know about Joe Burrow. But the Tigers also have a running back in Clyde Edwards-Helaire, he's one player that could and might possibly run through the Georgia Defense. Georgia, you know about Jake Fromm, But do you know about D'andre Swift, he can run the ball if need be and he will have to run through the LSU Defense if they want to score an upset.
Let me remind you again, this game is winner take all in the SEC and the College Football Playoff.
ACC..
No.3 Clemson-No.23 Virginia: The Clemson Tigers have had an easy road to get to this point. A lot of people including myself think that Clemson has no business being here, and yes I feel that way to. But they are here. Clemson has a fantastic QB in Trevon Lawerence and they have a running back in Travis Etienne that's how Clemson got here. The question is can Virginia upset Clemson on Saturday and end their hopes, it will come down to one player. Virginia has a quarterback named Bryce Perkins who could possibly get the job done. He was the player who helped Virginia beat Virginia tech this past weekend. Could it happen again, we will see on Saturday Night.
I will say it one more time, Clemson has no business being in the top-4 because they have no quality wins.
BIG-10..
No.1 Ohio State-No.8 Wisconsin: Ohio State has done everything right this season and they will face the Badgers one more time. The Badgers are looking to spoil the Party for Ohio State. Think back to October 26th in Columbus when these two teams faced off. Ohio State held the nations best running back in Jonathan Taylor to almost nothing and everybody found out how good Ohio State's defense was namely Chase Young.
What does Ohio State need to do to beat Wisconsin, it's very simple, do what did back IN October and hold Jonathan Taylor to almost nothing. But Wisconsin still does have QB Jack Coan and he could wreak havoc on Ohio State. The OSU Defense will have to step up and Chase Young will have to prove why he's the BIG-10 Defensive player of the year.
I have not forgot about Justin Fields or J.K. Dobbins either and they will be the two players on my watchlist on Saturday Night.
That's your guide to championship Saturday in College Football.
Here are some scenarios to consider along the way.
No.1: If Ohio State and LSU lose are they out..
My answer is NO!!!!.
Why you ask, if you look at what Ohio State and LSU have done the records speak for themselves.
Ohio State has beaten four ranked teams in Wisconsin, Cincinnati, Penn State and Michigan. Ohio State also has a great Quarterback in Justin Fields, running back J.K. Dobbins and Defensive player Chase Young.
LSU has beaten three ranked teams Auburn, Florida and Alabama. Joe Burrow is a Heisman Trophy candidate and Clyde Edwards-Helaire is a very good runner when he needs to be.
So in my opinion both LSU and Ohio State will be in even if they lose this weekend.
No.2 If Clemson loses are they out..
My answer is YES!!!!!!!.
It's very simple, they have not played anybody all season. When your only quality win is against a 12th ranked Texas A&M and you barley survive a bad UNC team I have a problem with them being in. Clemson has no wins against the CFP top-25 at all. Clemson played a cupcake schedule and yes in my opinion they will be out the door if they lose to Virginia.
No.3 If Georgia loses and if Utah and Oklahoma both win who gets the four spot.
My Answer, Oklahoma and here's why.
The Sooners I grant you they love living in the danger zone but at the end of the day they have big wins over Baylor and Oklahoma State and if you look at Jalen Hurts and Ceedee Lamb and what they have done this season you can see why I would pick Oklahoma to be in the top-4 if Georgia Loses and If they and Utah both win their games.
No Disrespect to the Utes but Oklahoma is a better football team than people give them credit for.
If both Clemson and Georgia lose I would put both Utah and the winner of the BIG-12 championship game in the CFP..
Well folks there's your guide to championship Saturday in College Football and some things to think about this weekend.
Bottom Line..