I Am Doing a National League Question And Answer Session.
Hi Everybody, The 2019 MLB All-Star Game Was Won The American League 4-3. The All-star Game Is Now In The Rearview Mirror. So We Look Ahead To The 2nd Half Of The Season And What To Expect.
I Have Been Asked Some Questions About Who Wins What Division And Who Wins National League MVP, Cy Young. I Have Decided To Do a Q&A Session Tonight To Answer Those Questions.
Now Let's Get Started...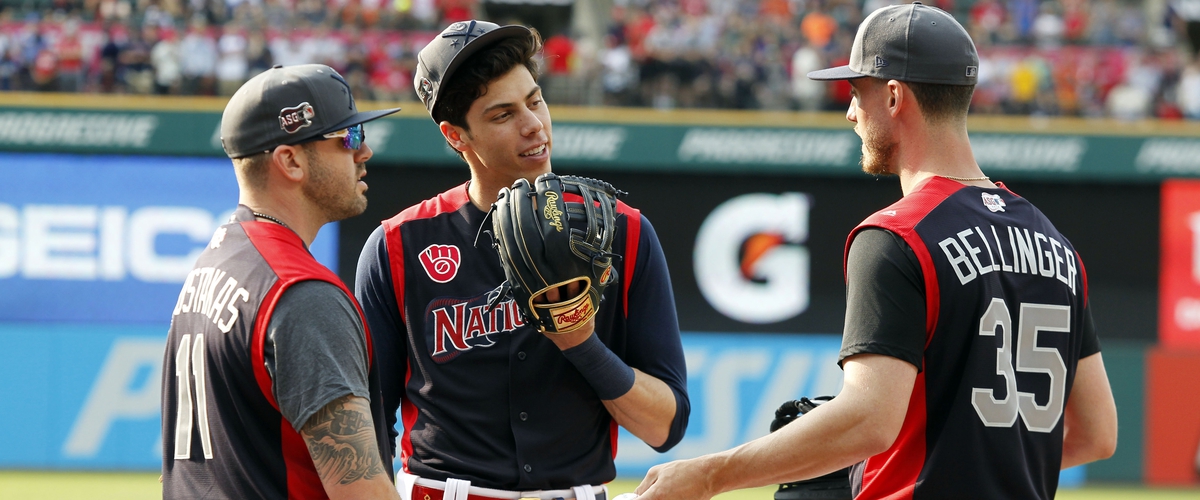 The First Question Comes From So Many Friends I Don't Know Where To Start..
The Question Was Asked, Who Do You Think Will Win National League MVP, Cody Bellinger Or Christian Yelich..
This Is A Hard One For Me And Here's Why, Both Players Are So Close It's a Razor Thin Margin. Milwaukee Brewers Star Christian Yelich, Has 31 Home Runs Along With 67 RBI's. And With An OPS Of 1.140 How Can You Not Give Him MVP, And His Other Numbers Back It Up, .329/.433/.707, That's How Yelich Is In The Discussion.
But On The Other Hand We Have To Talk About Cody Bellinger Of The Los Angeles Dodgers. Look At What Bellinger Has Done, 30 Home Runs, 71 RBI's And he Has An OPS of 1.124. Bellinger Is Hitting .336 At The Moment But Here's The Rest Of The Stats On This Guy, .336/.432/.692 So Is It Safe To Say We Might Need The Electoral College On This One, I Say Yes Because It's So Close.
But We Do Have A Long Way To Go. My Dad Had An Old Saying When It Would Come To Something Like This, And It's Very Simple. I Will Give You My Pick When It Comes Out. That's Exactly How I Feel About The Battle For The NL MVP.
This Question Came From a YouTube Follower...
He Wanted To Know If The Atlanta Braves Can Hold On To Win The National League East.
Right Now The Braves Lead The Division By Six Games Over The Washington Nationals. But The Nationals Are Red Hot, They Are 23-9 Since June 1st. So What Have The Nationals Done Since Losing Bryce Harper, Well Here's What They Have Done. Max Scherzer Leads The Team In Strikeouts with 181 On The Season, Scherzer Also Has a 9-5 Record With a 2.30 ERA. But Stephen Strasburg Has Been There As Well. With a 10-4 Record And He Has 136 Strikeouts This Season, And With An ERA Of 3.64 And a Team ERA Of 4.38 You Can't Say The Nationals Are In Contention. The Nationals Still Have Some Hitting Despite No Longer Having Bryce Harper. Anthony Rendon Has Really Steeped Up As Hitting .304 And Has 20 Home Runs, 62 RBI's And He's Also Slugging .611 This Season. Juan Soto Has Not Been Forgotten Either, Soto Is Hitting .300 Himself And He Has a Slugging Percentage Of .537 This Season. So Is Bryce Harper Missed In Washington, It Depends On Who You Ask.
But As For The Division Leading Braves, Freddie Freeman Has Been The Offensive Star For The Braves This Season. Freddie Freeman, 23 Home Runs, 68 RBI'S, 110 Hits. The Man Is Hitting .309 And With An OPS Of .978 How Can You Say Anything Bad About Freeman, You Just Can't Do It. But Don't Forget About The Pitching Staff Either, The Braves Team ERA Is 4.18, Max Fried Has The Most Strikeouts On The Staff With 97 This Season And He Has a 9-4 Record With a 4.29 ERA. Julio Teheran Has The Best ERA On The Staff At 3.75 This Season.
So Do I Think The Braves Can Win The NL East, I Say Yes, But Don't Sleep On The Nationals Just Yet.
This Next Question Did Come From a Sports Journalist At Ohio State...
He Wanted To Know Who Will Win The National League Central.. Well At the Moment This Is Also To Close To Call, And Here's Why.
The National League Central Is So Tight That The Entire Division Is Only Separated By 4 1/2 Games.
CHC 47-43
MIL 47-44 .5
STL 44-44 2.0
PIT 44-45 2.5
CIN 41-46 4.5
The Reds And Pirates You Can Basically Cross Them Out Unless They Get Some Help At Or Near The Trade Deadline Of July 31st. But The Rest Of The Division Is Still Pretty Much In It.
First You Have The Chicago Cubs, The Cubs Are 16-19 Since June 1st And They Have Given Some Ballgames Away This Season And If You Throw In The Suspension Of Addison Russell That Pretty Much Has A Big Hole To Fill. But Javier Baez Has Filled That Hole Pretty Will As Of Late. Baez Has Leads The Team In Hits With 103 This Season Along With 22 Home Runs, Baez Leads The Team In That And In RBI's With 62 This Season. And Baez's Numbers Have Been Good To, .289/.324/.556 And With An OPS Of .883 Baez Has Become A Go To Guy. But We Have Somebody Else To Think About Kris Bryant. He Leads The Team In Batting Average And On Base Percentage, .297/.403/.552 And With An OPS Of .907 How Can Somebody Ignore What Bryant Has Done And Don't Forget He Has 17 Home Runs And 44 RBI'S This Season.
But The Issue With The Cubs Has Been The Pitching. I Know That The Team ERA Is 4.09 ButThe Cubs Pitching Has Given Games Away And The Bullpen Has Blown It This Season, BUT We Do Have Some Bright Spots. Jon Lester, He Has an 8-6 Record With a 3.72 ERA And Has 93 Strikeouts This Season. Yu Darvish Has Been A Nightmare, I know He Leads The Team In Strikeouts With 111, However He Only Has a 2-4 Record With a 5.01 ERA, OUCH!!!!!!. But Form The Bad To The Good Cole Hamels Is The Best Pitcher In The Cubs Rotation, Hamels Has an ERA Of 2.98 This Season. So The Cubs Pitching Has Been Up Or Down This Season.
The Milwaukee Brewers, I Have Already Talked About Christian Yelich. But Don't Forget The Moose Mike Moustakas He Can Be a Factor For The Brewers This Season, Eric Thames Is Also a Power Hitter. But It's The Pitching That Has Been The Talk Outside Of Yelich. The Team ERA Is a Respectable 4.61, They Need To Bring That Down If They Want To Stay In The Race. But WE Do Have 2 Stars On The Pitching Staff. Brandon Woodruff, He Leads The Team in Strikeouts With 126, And He Does Have a 10-3 Record To Go With a 3.67 ERA. Zach Davies Leads The Team In ERA With a 3.07 ERA, I Know He Has Less Strikeouts This Season With 63 But He Does Have a 7-2 Record So Don't Take Him Lightly.
St Louis Cardinals, The Thing With The Cardinals Is They Are Up And Down This Season. They Led The Division In Late May Early June But They Have Faltered a Little Bit. However Despite Only Playing .500 Ball This Season The Cardinals Are Still In The Hunt Only Being 2 Games Back. The Team ERA Is 4.14 Right Now And The Pitching Staff Is Either Up Or Down. Dakota Hudson Is Up At The Moment In Wins And ERA. How About a 7-4 Record And a 3.51 ERA And Hudson Ha 68 Strikeouts This Season. Jack Flaherty Is Up In Strikeouts With 111, But He's Down In Win Record And In ERA. Flaherty Has a 4-6 Record With a 4.64 ERA. So The Cardinals Pitching Needs Some Work.
The Cardinals Hitting Did Take a Blow With Matt Carpenter Going On The Injured List, However Four Other Have Stepped In To Fill The Void. Marcell Ozuna Leads The Team In Home Runs And RBI'S, 20 And 62 Respectively And He's Hitting a Respective .259 And Leads The Team In Slugging Percentage With .515. Yadier Molina, He Might Only Have Four Home Runs On The Season, But He's Leading The Team In Batting Average With a .261. Dexter Fowler, He Leads The Team In On Base Percentage With a .357 And He's Also Slugging a .429 As Well, And With 10 Home Runs And 37 RBI'S Fowler Is Doing His Part As Much As He Can. Paul Dejong, He Leads The Team In Hots With 85 On The Season And Dejong Is Slugging .442 This Season And Has 13 Home Runs, 36 RBI's To His Credit This Season. And With a .255 Batting Average Paul Dejong Could Become a Darkhorse This Season.
So In My Opinion The NL Central Is To Close To Call.
The Last Question Comes From On Of My Coworkers...
The Question Was Asked Can Anybody Catch The Dodgers In The National League West.
This Is Really Easy For Me And That Is NO WAY!!!!!!. The Dodgers Have The Best Record In Baseball And They Are In a Battle With The New York Yankees For That Honor. Cody Bellinger, I Have Already Talked About Him, But I Want To Talk About The Pitching. The Dodgers Might Be Able To Claim The Cy Young Courtesy Of Hyun-Jin Ryu He Has The Best Record Of 10-3 And With a 1.73 ERA How Can You Not Vote Him For The Cy Young And He Does Have 99 Strikeouts This Season. But We Also Have Walker Buehler He Has The Most Strikeouts With 133 And With An 8-1 Record And a 3.46 ERA He's Been a Great Supporting Player. And Yes We Have Good Ole Clayton Kershaw, Kershaw Has a 7-2 Record With a 3.09 ERA And Also Has 91 Strikeouts This Season.
So To This Person Who Asked Me This, You Should Have Asked Me If The Anybody Can Stop The Unstoppable Dodgers Because In My Opinion Nobody In The NL West is Going To Catch The Dodgers.
Bottom Line..
---