Illinois Stuns No.6 Wisconsin.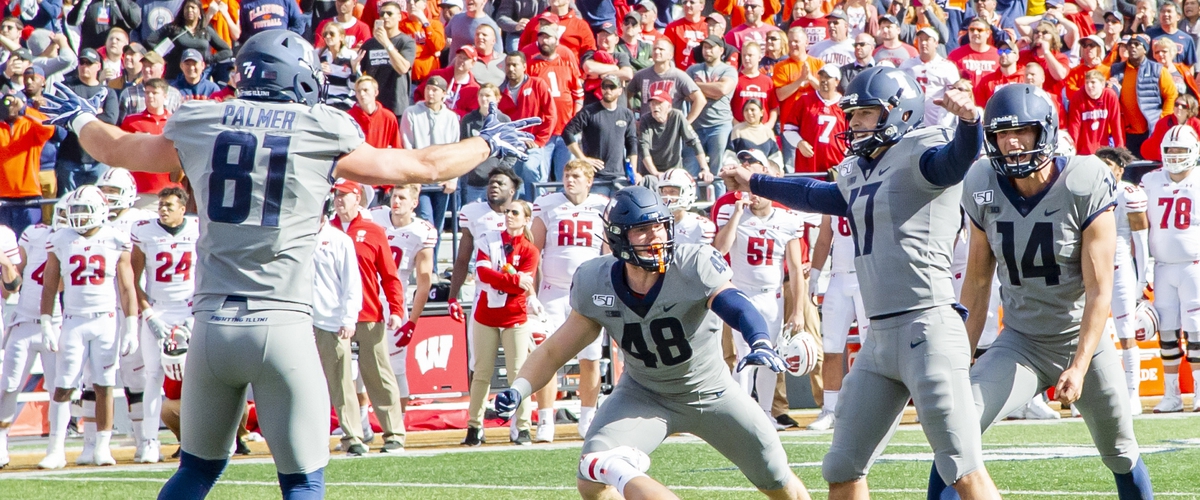 This Illinois Fighting Illini stunned the No.6 Wisconsin Badgers 24-23 on Saturday. You can thank a placekicker by the name of James McCourt for kicking the 39-yard game winner at the end.
Oh did I also mention it was also Illinois's Homecoming, and what a homecoming it was, upsetting No.6 Wisconsin. All of the Sportsbooks in Las Vegas had a 30.5 Point spread on this game.
Illinois won this game because of some costly mistakes by the Badgers. The Wisconsin Badgers must have been thinking ahead to a showdown with Ohio State Next Saturday because they were thinking that they were going to be undefeated along with Ohio State, That possibility is out the window now.
What happened in the game, let's see, Wisconsin had three costly turnovers and in the final 9:46 of the fourth quarter the Badgers blew a 9-point lead. Jonathan Taylor had 28 carries for 132 yards and one touchdown, but he had a fumble in the fourth quarter which really got everything going the wrong way.
Jack Coan, He went 24/32 for 264 yards, 1 touchdown and 1 interception. The Interception came with 2:33 left and the Illini's Tony Adams was there for the takeaway.
The Illini also had another star performer. QB Brandon Peters went 9/21 for 174 yards and 2 touchdowns in the game.
After the game Illini head coach Lovie Smith said " This was the signature win we needed, It's also on our homecoming."
Illinois placekicker James McCourt was also interviewed after the game and said the following. " I'm so proud of our teammates, we did this, it wasn't just me. I give credit to my teammates for getting the job done."
Wisconsin head coach Paul Chryst said afterwards " It's hard to win on the road and we paid the price. We will put this behind us and move forward, That's all we can do."
Here are some final numbers and when you see these you'll be wondering how did Illinois pull this off because let's face it, Wisconsin dominated.
1st Down
WIS 22
ILL 17
3rd Down
WIS 9-17
ILL 2-10
Total Yards
WIS 420
ILL 315
Possession
WIS 40:49
ILL 19:11
Turnovers
WIS 3
ILL 1
Here's My Take..
The one stat that got my attention was the turnover battle. Illinois won that battle and that's how they won the ballgame. The Wisconsin defense was not that good either. The allowed a lot of big plays against Illinois. This was a Wisconsin defense that only allowed 5 PPG going into Saturday but the Wisconsin defense stayed home at the worst possible time as they gave up big play after big play. The Badgers also had 2 costly turnovers in which Illinois scored off of as well.
The Ohio State-Wisconsin Game lost all of it's mojo because of this upset and everybody was thinking including myself, we have a battle on our hands, Now that's gone.
But Keep In mind the BIG-10 west is now wide open because Wisconsin, Minnesota and Iowa have to face each other later this season. But as for the Illini, they have thrown the BIG-10 West into a tailspin. The Illini got their signature win on Saturday and my congratulations to Lovie Smith and the Illinois Fighting Illini for pulling off the biggest upset of the year, and it was on homecoming which makes it even sweeter.
BOTTOM LINE..