Jim Harbaugh Takes a Shot At Urban Meyer.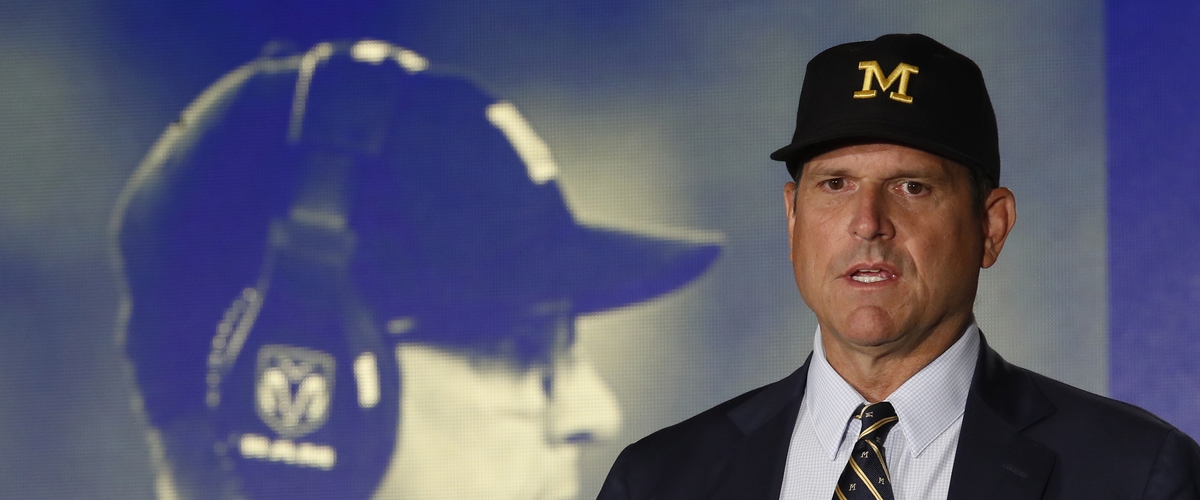 Jim Harbaugh May Have Just Added Gasoline To The Fire When It Comes To The Michigan-Ohio State Football Rivalry. Harbaugh Took a Shot At Former Ohio State Head Coach Urban Meyer.
Coach Harbaugh Said On "The Show" Podcast That "Urban Meyer's Had a Winning Record. He Was a Phenomenal Coach, But Also Conterversey Follows Where Ever He's Been."
Harbaugh Made Reference To Urban Meyer's Handling Of The Zack Smith Domestic Abuse Case Where His Ex-Wife Accused Him Beating On Her And The Kids Were Caught In The Middle. Urban Meyer Was Suspended For The First Three Games Last Season Because Of It.
Jim Harbaugh Said This During BIG-10 Media Day On Friday.
" I Stand By The Comments I Made About Urban Meyer And I Will Not Apologize For Them Because It's The Truth, Conterversey Followed Urban Meyer Around Where Ever He Went., So This Is Not a Bombshell To Any Of You Here."
Urban Meyer Was Not Available For Comment. Now What's The Latest Gig For Urban Meyer You Asked, Meyer Is Going To Fox Sports To Do There College Football Show On Saturday's So We Will See Urban Meyer On Saturday Only In a Different Role.
But As Far as What Urban Meyer Has Done In His Coaching Career, Harbaugh Is Right, It Is Phenomenal, Two National Championships At Florida, And He Led The Ohio State Buckeyes To The 2014 National Title. And Yes Meyer Has Had Issues Of The Field At Florida And Ohio State. When Meyer Was At Florida For Six Seasons 31 Players Were Arrested On Some Serious Charges. And When He Was Ohio State The Zach Smith Case Cost Him The First Three Games Of The 2018 Season.
So Yes Jim Harbaugh Was In The Right Saying Everything About Urban Meyer.
Now Here's My Take, And My Dislike Towards Jim Harbaugh Is Going To Set In.
Hey Jim Harbaugh, Yes I Am Talking To You, You May Have Said All Of Things About Urban Meyer. But Let's Go Back To Last Year. You Said That The Michigan Wolverines Were Going To Go On This Big Revenge Tour. The Revenge Tour Got Of To a Nightmare Start When You Lost To Notre Dame 24-10. Yes You Did Get Revenge On Everybody Else. Now Let's Go Back To The Horseshoe One Year Ago. You Said Michigan Was Going To Run Ohio State Right Out Of The Building And Win It All, Well Pal What Happened You Got Your Doors Blown Off 62-39. Your Defense Which Was The No.2 Defense At That Time Allowed 62 Points, The most Ever In The History Of The Rivalry. Then You Played Florida In You Bowl Game And What Happened You Got Your Doors Blown Off Again 44-15.
So In Short Who Won The Michigan-Ohio State 62-39 Ohio State.
Who Holds The Honorable Distinction Of Being 7-0 Against The Mazie And Blue, Urban Meyer.
Who's 0-4 Against Ohio State As Head Coach At Michigan, Why It's None Other Than You The Biggest Whiner In The History Of College Football Jim Harbaugh.
Who's 2-6 Lifetime Against Michigan State And Ohio State, Why It's Jim Harbaugh And Michigan.
Who Won The Michigan-Ohio State Game 62-39 Last Year, And The BIG-10 Championship Game Over Northwestern, And The Rose Bowl Over Washington 28-23, That Would Be Ohio State.
Let's See What Else OH!!!!!!!!!, I Almost Forgot.
Hey Harbaugh Who Lost Their Last Two Games By a Combined Score Of 106-45. That Would Be Michigan.
Who Lost The Opener To Notre Dame 24-10, That Would Be Michigan.
So Jim Harbaugh, You Told The Truth About Urban Meyer, I Won't Deny That. But Jim Harbaugh You Have Yet To Get The Job Done Against Ohio State And That's The Truth To.
Bottom Line...
---