We Have New Inductees Into The MLB Hall Of Fame.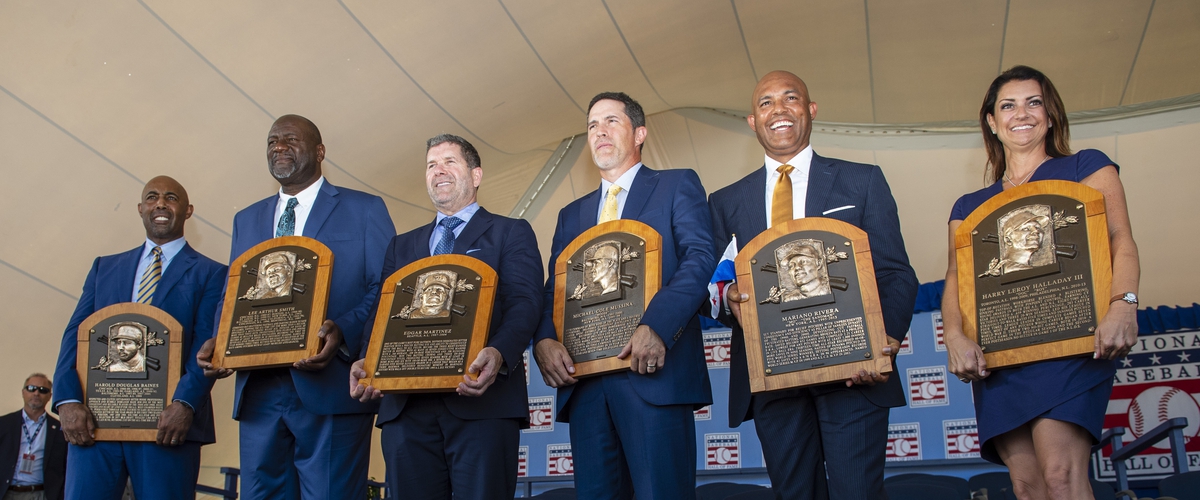 The 2019 Major League Baseball Hall Of Fame Class Inducted On Sunday Afternoon In Cooperstown New York. The Six Hall Of Famers Were, Mariano Rivera, Roy Halladay, Mike Mussina, Edgar Martinez, Lee Smith, Harold Baines,
I Am Going To Focus On Four Of The Hall Of Famers, Lee Smith And Harold Baines Some Other Time. But I Want To Focus On The Other Four.
First Up..
Mariano Rivera: He's The First Player Selected By Unanimous Choice, And Can You Go Wrong With This. Rivera Is The Greatest Postseason Pitcher Of All Time, How About An 8-1 Record With a 0.70 ERA. Let's Also Include 42 Saves In 96 Appearances And He Pitched 141 Innings In That Span. He Also Did Bring The New York Yankees Five World Series Rings Along The Way. In 18 Season Mariano Rivera Had 1 Season Where His ERA Was Above 3.00, That Was Back In 2007 When His ERA Was a Disappointing 3.15. Don't Forget The Fact That Rivera Has 652 Saves, 51 More Than Trevor Hoffman. And In His Final Season at Age 43 Rivera Had 44 Saves And a 2.11 ERA To Go With It.
This Is a First Ballot Hall Of Famer, And Yes He Deserved The Unanimous Vote. So Don't Tell Me He Had No Business Being There Because If You Do Then You Have a Problem.
Roy Halladay: Halladay May Have Won Only 203 Games, That's Low For a Hall Of Fame Pitcher, And He Only Got 85% Of The Vote. But At The Peak Of His Career He Went 170-75 With a 2.97 ERA. Halladay Won Nine Games as a Starter In 2008, 2010, 2011. He Even Pitched a No-Hitter Against The Cincinnati Reds In The Post Season Some Years Ago. Now That's Impressive. The Other Impressive Stat On Halladay Is He Never Hardly Walked Any Batters, He Averaged 1.5 Walks Per Nine Innings In His Career.
Halladay's Career Was Cut Short Due To Shoulder Problems In 2012 And 2013 And He Was Forced To Retire. Halladay Tragically Lost His Life In a Plane Crash In November 2017, Roy's Widow Brandy, Said Some Heart Felt Thanks To All Of The Fans Who Supported Roy In His Career.
Roy You Are Missed In The Baseball Community And God Speed.
Mike Mussina: He Has 270 Career Wins And Was a Excellent Postseason Pitcher With a 3.42 ERA In 139.2 Innings. But It Took Him Six Tries To Get Into The Hall Of Fame. The Problem Was He Was Not The Excellent Pitcher That Everybody Wanted. He Was Good For 18 Seasons With The Orioles And Yankees. Mussina Could Have Won Over 300 Games. But He Was a 20 Game Winner In His Final Season. A-Rod Made This Comment About Mussina.
" You Better Have Been Watching Out For The Moose Because He Was a Poker Face On The Mound. He Could Read My Hand Sometimes, And That's The Truth."
Could Mike Mussina Have Been a 300 Game Winner I Say Yes, However He Wanted To Retire On His Terms We Mike Welcome To The Hall.
Edgar Martinez: It Took 10 Tries To Get Martinez Into The Hall Of Fame, And Why. Martinez Hit .312 And Won Two Batting Titles. He Also Had an On-Base Percentage Of .418, He Led His League Three Times In That Category, And He Topped .400 11 Times, Including Nine Seasons In a Row. Martinez Also Slugged .515 Along The Way.
Here Was The Issue With Martinez, And This Is Why It Took Him 10 Tries To Get Into The Hall. Martinez Was a DH And He Couldn't Run Either, However He Scored 100 Runs Or More Five Times. Edgar Martinez Played His Whole Career With The Seattle Mariners And Think About These Numbers On Good Ole Edgar. From 1995-To-2001 Martinez Was The Best Thing In Seattle, Here Are The Numbers To Back It Up, .329/.446/.574. Martinez Did Have 28 Home Runs, 42 Doubles, 110 RBI'S And With an OPS-Plus Of 164 How Could You Keep This Fine Legend From Seattle Out Of The Hall.
I Know He Couldn't Run, According To Some People, However Martinez Is Worthy Of Being In The Hall Of Fame.
Bottom Line...
---