Kevin Durant: Don't Blame The Warriors For Injury.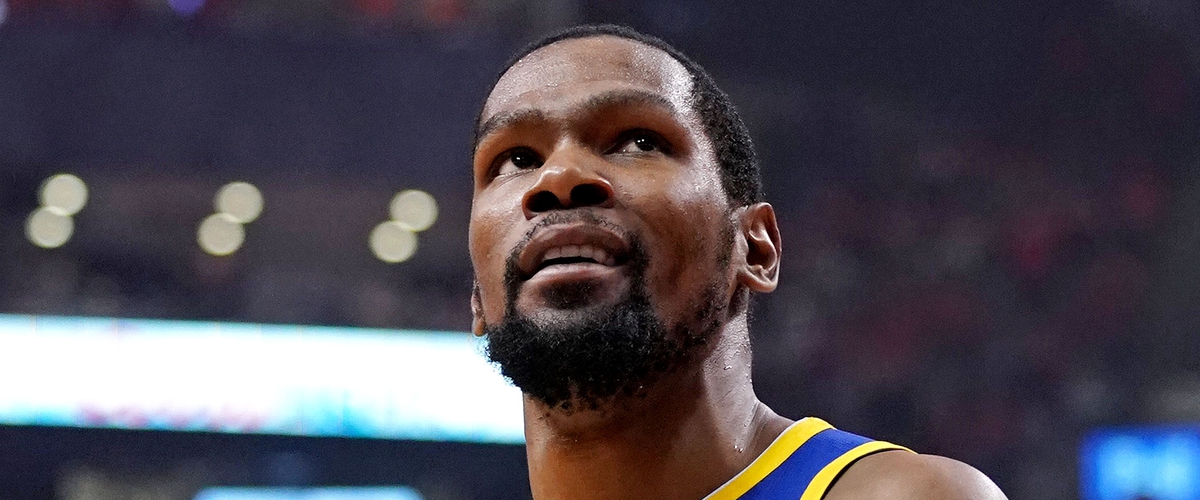 Kevin Durant Did His First Interview Since He Ruptured is Achilles Tendon In Game Five Of The NBA Finals Back In June. Durant Did His Interview With Yahoo Sports From His Home In Los Angeles. Durant Says " He's Holding His Own As He Recovers From His Injury"
One Of The Questions Asked Was Do You Blame The Golden State Warriors For What Happen To You. Durant Responded In This Manner.
" Hell, No How Can You Blame The [Golden State Warriors] For What Happened To Me Hell, No."
Kevin Durant Targeted Game Five For His Return To The Court In The NBA Finals. Durant And His Trainer Rick Celebrini Had Been Working On Getting Durant To Play In The Finals, And Then The Injury. Kevin Did Not Even Blame His Trainer At All And When Asked About What Happened When He Got Hurt KD Responded In This Manner.
" Hell, Na. It's Basketball S--- Happens And It's Time To Move From That S---. I Am Getting Ready To Play And I Am Tired Of Talking About It So I Want To Play Basketball."
Kevin Durant Was Also Asked How Did He Feel When The Toronto Raptors Won The NBA Title Back In June. Durant Said With a Smirk On His Face..
They Won The Title, But I Bet You They Will Never Won Another One."
KD Was In His Hotel Room When Game Five Was Going On After He Left With His Injury And He Started To Cry Because It Was Hard For Him To Watch And I Can Understand That.
But What Does the Future Hold For Kevin Durant, Keep In Mind He Did Win Two NBA Championships And Two Finals MVP's While With Golden State. Durant Turns 31 In September, He Did Sign a Four Year, $164 Million Contract With The Brooklyn Nets. Durant Will Not Play For An Entire Season As He Recovers From His Achilles Injury. And Yes Kevin Durant Will Be Wearing Another Jersey Number When He Starts With The Nets. Durant Will Be Switching From No.35 To No.7.
The Golden State Warriors Have Said They Will Retire The No.35 In Honor Of Kevin Durant Due To His Service With The Team.
Here's My Take..
When Durant Said The Toronto Raptors Will Never Win Another NBA World Title I Think The Golden State Warriors Won't Win Another One Either. When Kevin Durant Got Hurt I Said To Myself The Toronto Raptors Have This Wrapped Up. And When Kevin Durant Said He Was Going To Brooklyn That Sealed The Golden State Dynasty. The Dynasty In Oakland Is Over In My Opinion Because Everybody. And When You Have a Dynasty In Sports They Always Fade Away Into The Sunset.
The Next Question Is When Durant Takes The Court For The First Time Ij Brooklyn Will We See a Dynasty Their. We Will Have To Wait And See.
Bottom Line..
---