It's Time For Ezekiel Elliott To End His Holdout With The Cowboys.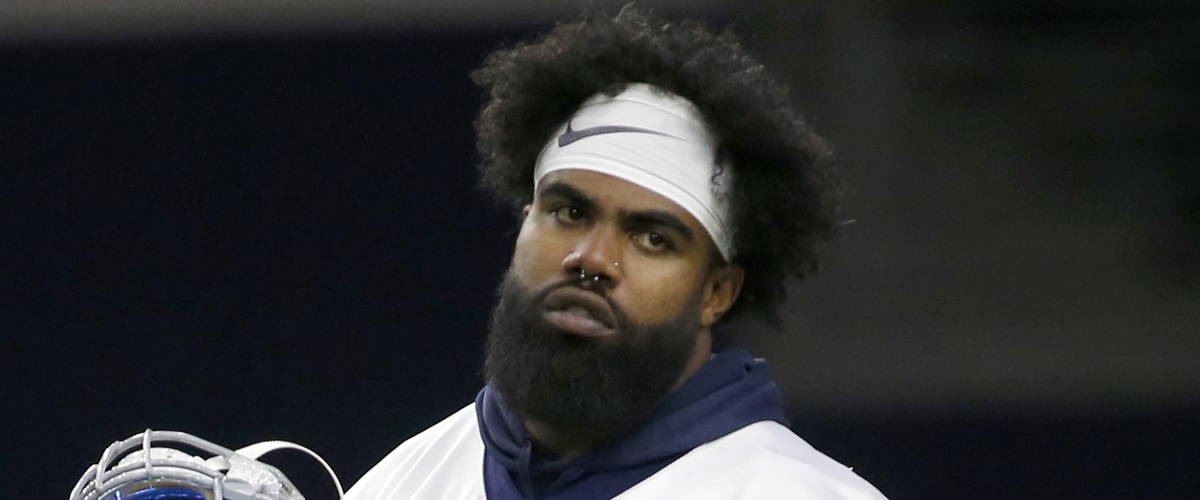 Well We Are Into Day 19 Of The Ezekiel Elliott Hold Out. The Dallas Cowboys Running Back Has Said That He Will Not Report To Training Camp Until a Deal Is Finalized. Dallas Cowboys Owner Jerry Jones. Has Made Offers To Elliott, But Negotiations Have Been Minimal At Best.
Right Now Elliott's Deal Is a Four-Year $24 Million So What's Going On, I Will Lay It Out For You. Zeke Elliott Wants More Money But The Salary Cap Is Getting In The Way Of That And Cowboys Owner Jerry Jones Acknowledge That In a News Conference At The Cowboys Training Facility In Oxnard California. Owner Jerry Jones Has Said That He Thinks a Deal Will Be Done By The First Week Of The Regular Season, By The Way The Cowboys Face The New York Giants On September 8th Which Is The Opening Week Of The Season.
Cowboys Owner Jerry Jones Raised Two Points On Tuesday.
No.1 " It's My Determination To Keep This Team Together And I Think We Can Get The Deal Done With Zeke And We Can Move On"
No.2 " Ezekiel Elliott Has The Ability To Just Completely Get The Ground Running. And Yes I Still Do Believe a Deal Will Be Done."
Here Are My Issues With Ezekiel Elliott.
The Cowboys Running Back Has Missed 19 Days Of Training Camp Which Has Resulted In Fines Up To $750,000 So Far And It's Expected To Go Higher. Ezekiel Elliott Is Making A lot Of Money. So Yes It's Time For Zeke To Grow Up And Just Get This Deal Done. I Mean Come On Jerry Jones Had Made Him Offers To Stay In Dallas For Heaven's Sake. And Jerry Jones Has Said That It Could Be Week One Or Even Week Two Before a Deal Is Hammered Out.
Elliott Has Had Issues Of The Field To So I Think That's Why Jerry Jones Is Being Careful On How Much To Pay This Guy. First Thing That Comes To Mind, Back In 2017 Elliott Was Suspended For Six Games For Violating The League's Personal Conduct Policy. Back On May 21st Of This Year Zeke Was In Handcuffs After An Altercation In Las Vegas. There Were No Charges Filed And NFL Commissioner Roger Goodell Decided Not To Take Any Action.
But I Can Take This Back To The Trouble He Had At Ohio State. Elliott Was Accused Of Domestic Violence. But The Charges Were Dismissed After The Truth Came Out That The Accuser Was Lying And Elliott Had Witnesses That Could Verify His Story.
Now Here's My Take..
Ezekiel Elliott Needs To End His Holdout Now Because The Cowboys Season Starts In Just a Few Weeks. And If Were Ezekiel Elliott I Would Take The Best I Can Get From Jerry Jones And The Cowboys Organization And Be Thankful. Because With All Of The Off The Field Issues This Guy Has Had He Won't Get a Super Max Offer Like Some Of The Players In The NBA. And The Salary Cap Is The Next Huge Issue. The Cowboys Can't Afford To Pay Zeke So Much Because You Need To Think About Dak Prescott And Amari Cooper As Well, I Haven't Forgotten Those Two Either.
But The Bottom Line Is The Cowboys Can Not Win Without Ezekiel Elliott And That's The Truth. So Ezekiel Elliott IT'S TIME FOR YOU TO END THE HOLDOUT AND IT'S ALSO TIME FOR YOU TO GROW UP. And Let's Face It The Cowboys Are In Deep Trouble Without Him In The Lineup.
Bottom Line..
---