Kevin Durant Is a No Go For Game 2 Of the NBA Finals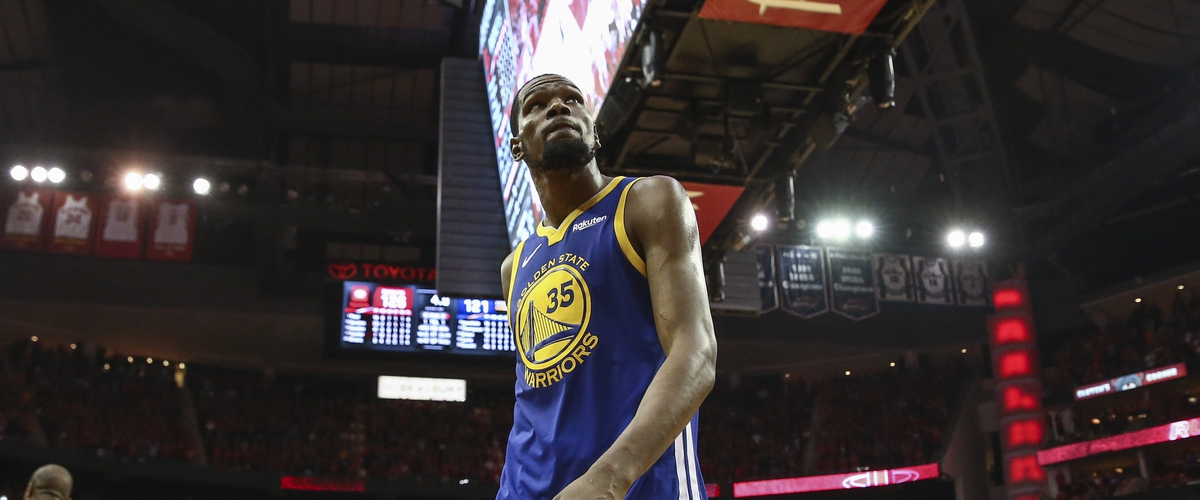 Kevin Durant Will Not Play In Game Two Of the NBA Finals. This Comes after Golden State Warriors Head Coach Steve Kerr Made Told Reports that KD Is a No Go. Kevin Durant Has Been Out Of the Lineup Since May 8th After a Right Calf Injury Put Him Out Of Action
Coach Kerr Said this To Reporters On Friday.
" Kevin Is Not Going to Play On Sunday Night. We Were Hoping Against Hope that He Would Play But After Consultation We Thought It Would Be Better For Him To Sit Out Game Two On Sunday Night."
KD had a Light Workout On Friday as He Tried to Be Back For the Finals If Possible
Coach Kerr Also Said that We Hope to Have Kevin Back in the Lineup When He Does Comeback It Will Not Be In a Reduced Role It Will Be In a Lead Role. But Golden State Did Get Some Good News, Andrew Iguodala Will Be In the Lineup For Game Two As He's Nursing the Same Exact Injury, And We Needed That Badly.
Kevin Durant Addressed Reports After the Workout...
" I'm Disappointed That I am Not Going to Be Able to Play On Sunday Night But I Need More Time To Heal But I Hope to Be Back Sometime During the NBA Finals. And I want to Help Bring Home Another NBA World Championship."
Will KD Play In the Finals, Here's My Take.
The Warriors Need Kevin Durant On the Court If the Golden State Warriors Want to Win their 3rd Straight NBA World Championship. Andrew Iguodala Coming Back For Game 2 On Sunday Is a Help But Golden State Needs to Make Some Adjustments.
First Of all, Don't Let Turn Into the Curry and Thompson Show. They Need to Spread the Ball Around Some. In Golden State's 118-109 Loss In Game One Curry and Thompson Combined for 55 Points Everybody Else had 54 Points Combined, Can't Do That And Expect to Win the Finals Trophy.
Second, Don't Take So Many Shots From Beyond the Arc, Golden State Went 12-for-31 From Beyond The Arc In Game 1.
Kevin Durant Is Going to Have to Comeback Or the Toronto Raptors Will Be NBA World Champions In My Opinion. Jurassic Park Outside the Arena Was Jumping on Thursday Night, And If that's Any Indication The Golden State Warriors are In for a Battle.
Games Three and Four Will Be In San Francisco But Golden State Needs to Get a Spilt of the First Two Games In Toronto Or they Will a Long Road Ahead Of them and Kevin Durant Needs To Comeback For Game Three Badly.
---