Klay Thompson Is Staying With Golden State.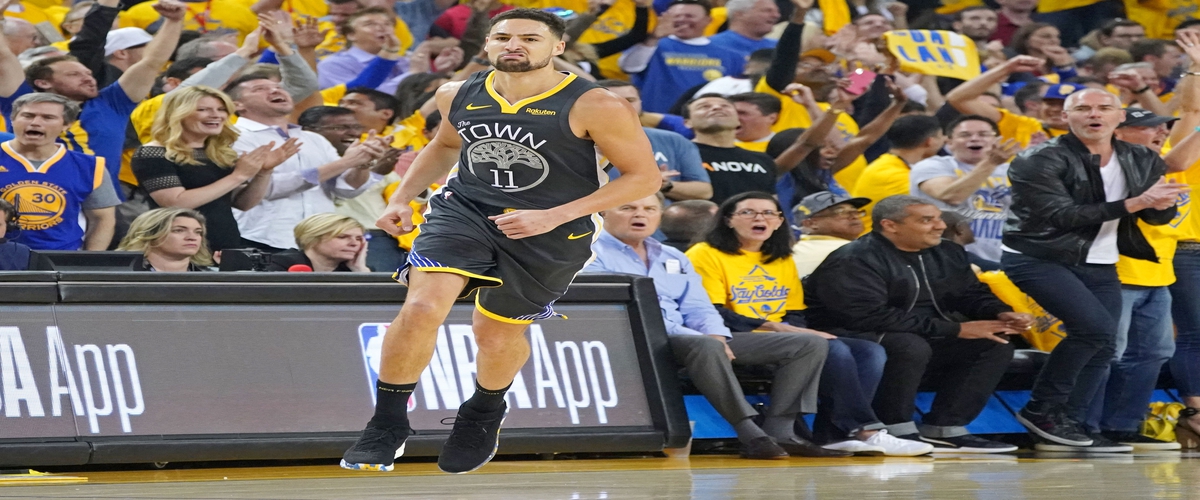 Klay Thompson Is Staying With The Golden State Warriors. It's No Surprise To Everybody, Even When He Got Hurt In Game Six Of The NBA Finals He Voiced That He Wanted To Stay With The Golden State Warriors. But We May Not Possibly See Him At All This Season. Thompson Suffered An ACL Injury During The NBA Finals In Game Six.
This Is Significant Because Thompson Averaged 21.5 PPG, 3.8 RPG And 2.8 APG During This Past Season, And Now He's Going to Be Out For a While. But As Far as The New Contract Goes Klay Thompson Played His Cards Right So They Say, Thompson's New Deal Is The Supermax Deal Of Five Years And $190 Million. And Yes In My Opinion Thompson Played It Smart.
Klay Thompson Said He Wants To Stay With The Warriors, Well The Warriors Are Going To Need Him Because Kevin Durant Went To Brooklyn. Now Here's The $64,000 Question, Who Can Help Thompson Out Now That Durant Is In Brooklyn. Well How About Demarcus Cousins, He's Also Up For Free Agency Very Soon. Cousins Is a Maniac Out On The Court So He Can Be a Huge Help To Thompson. And We Also Have Draymond Green, I Am Concerned With Draymond Because He Does Not Know How To Control His Temper Time And Time Again. Case In Point If He Would Have Gotten a Technical Foul In Game Six He Would Have Gone Bye-Bye And If There Would Have Been a Game Seven Golden State Still Loses In My Opinion, Because No Green, Thompson Or Durant. So If I Were The Golden State Warriors I Would Go Out And Get a Level Head For Green And Cousins Because Green Can't Control His Emotions Once In While.
Even Despite Re-Signing Klay Thompson, The Warriors Dynasty Is Slowly Fading...
Here's My Take...
When We Saw Kevin Durant Go Down With An Injury In Game Five Of The NBA Finals We Knew The Golden State Warriors Were In Trouble. Then In Game Six Klay Thompson Gets Hurt And He's Going to Be Out For Possibly The Whole Season. The Question Is Can Demarcus Cousins And Draymond Green Hold It Together Until Thompson Returns, I SAY NO!!!!, And Here's Why. Green Can't Control His Temper And He Has Been Suspended By The League Because Of It And A lot Of People I Talked To Said The Warriors Will Be Lucky To Make The Playoffs Because They Don't Have Kevin Durant Anymore And Thompson Will Be Out For The Whole Season In My Opinion. So The Only Level Head Is Demarcus Cousins And He Will Need On The Court And Possibly a Shrink If Green Loses His Cool. The Golden State Warriors Need To Get Another Great Player, Not a Superstar But Like a Rental Play To Get Them Through The Season To Give Demarcus Cousins Some Help.
---