No.7 Duke beats UNC in Overtime.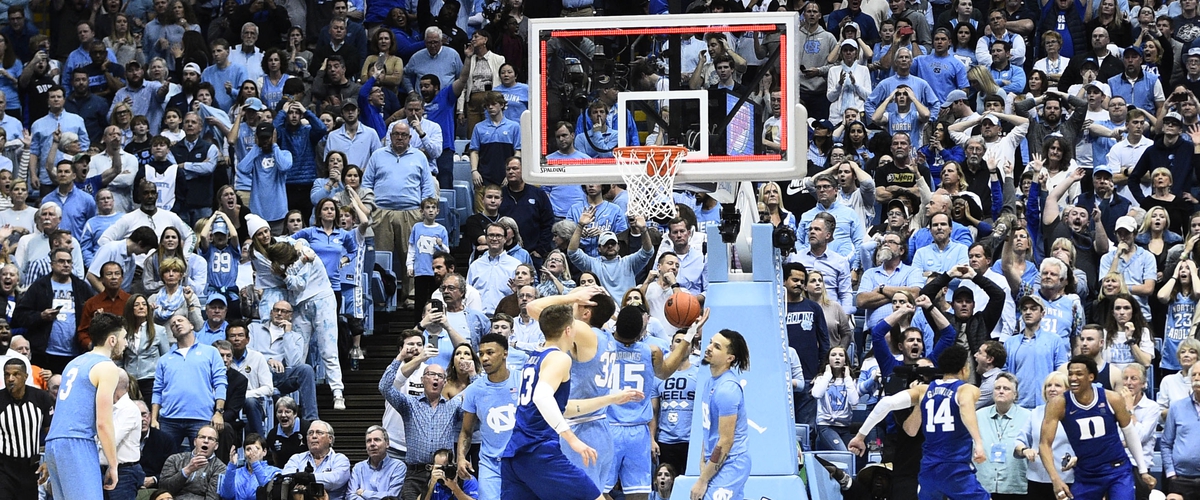 The Duke Blue Devils and North Carolina Tar Heels met in Chapel Hill on this Saturday for their usual rivalry weekend game.
Everybody was thinking this was going to be a Duke blowout, that was not the case however. This game ended up being an overtime thriller and Duke came back to beat UNC 98-96 in overtime.
The game was decided by two Duke players. The first being Tre Jones, he hit the contested shot to force overtime. The second player was Wendell Moore Jr., he hit the put back that gave Duke the win, it stunned the crowd in Chapel Hill.
Duke had the two stars of the game..
Tre Jones: he had 28 points, five rebounds, six assists, and three steals. He needed every bit of that tonight.
Wendell Moore Jr.: he had 17 points, 10 rebounds, two assists, one block and one steal. He had to have the double-double because if that didn't happen it would have been a much different outcome.
Coach K said afterwards, " we won because of that kid." Coach K was making reference to Wendell Moore Jr.
It was a miracle that Duke won this game, they trailed for almost the entire game, they only led for 1:47 all game long. With 4 1/2 minutes left in the game North Carolina was up by 13, Then The wheels fell off with a no call at the end of regulation. And that's when Duke started to fight back and they proved why they are at the top of the ACC.
North Carolina did have two stars in this losing effort..
Cole Anthony: he had 24 points, 11 rebounds, four assists and one steal. I feel bad for this kid, he had the game of his season and it's all for not.
Garrison Brooks: he had 18 points, five rebounds, two assists, one steal and two blocks. This is the way UNC's season has gone if this tells you anything.
UNC head coach Roy Williams had nothing to say except that "are season might be over." Williams was making preference to the fact that UNC is struggling this season. The Tar Heels have dropped to 10-13 overall and their ACC conference record is nothing to brag about.
I also have the final numbers for this game, it's a miracle Duke won.
Duke..
FG 34-60 42.5%
3PT 4-18 22.2%
FT 26-34 76.5%
UNC..
FG 36-69 52.2%
3PT 3-12 25.0%
FT 21-38 55.3%
Here's my take..
This game was you're usual Duke-UNC battle. The Blue Devils nation knows how North Carolina feels. Let's go back to 1995 when North Carolina traveled to Cameron indoor for their game, UNC was ranked No.2 in the country and Duke was looking for their first win ACC play the game went to double overtime and UNC prevailed 102-100 in a wild game.
If you look at every game that has been played between these two teams Duke leads by a basket, I'm not joking on that at all.
But as far as UNC's season being over, I think Roy Williams hit it on the nose because North Carolina has struggled all season and it showed, they had a chance to put it away and they blew. They we're up by 13 with 4 1/2 minutes left. Duke only led for 1:47 total, that was it for the Blue Devils. UNC falls to 10-13 on the season and they really need a miracle if they want to go to the big dance, now they have to win the ACC tournament, that will be a far stretch after what happened at home.
Now as far as Duke goes, they are on the two line as far as the NCAA tournament goes. I have Duke winning the ACC regular season and the conference tournament and here's why. They have the shooting and the players to do it. Wendell Moore Jr., he is the star for Duke and along with Tre Jones lookout come March because Duke will be unbeatable come ACC tournament time they will be the team to beat and you can go to the bank on that.
Bottom Line..