Indiana gets a huge win over No.21 Iowa in Big-10 Play.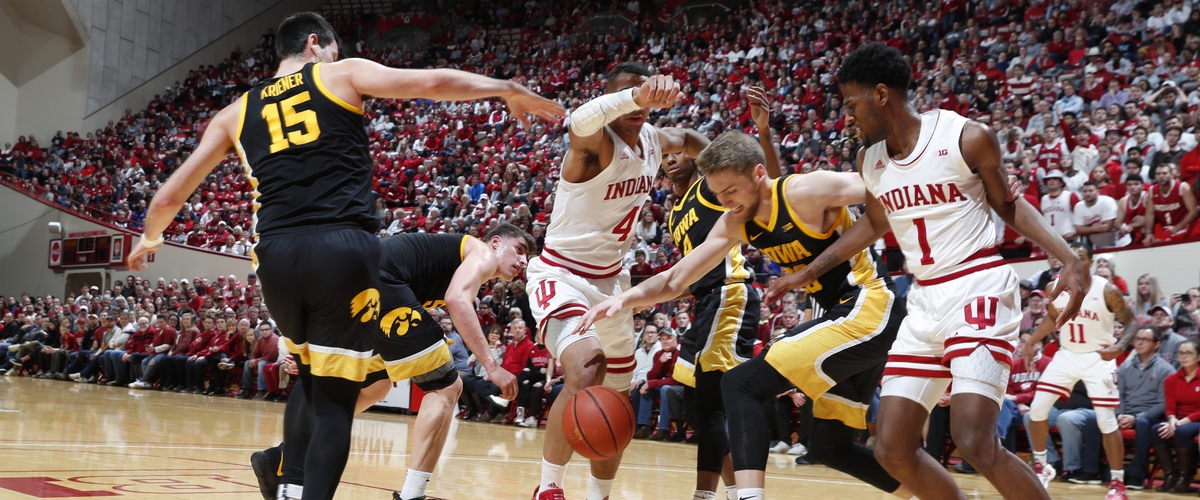 The Indiana Hoosiers got a very important win over the 21st ranked Iowa Hawkeyes 89-77 on Thursday night in Bloomington.
This was a very important win as the Hoosiers are on the 11 line for the NCAA tournament, and they're one of the last four into the field according to ESPN's Joie Lunardi.
As for the game itself the Hoosiers went on a three point spree like you would not believe. The Hoosiers went 11-21 form three point range, they also outrebounded Iowa 39-28. and the Iowa defensive woes were on display Thursday Night. Iowa committed 19 turnovers and only went 4-14 form three-point range.
Indiana had four big stars that shined when they needed it the most..
Devonte Green: he had 27 points, four rebounds, two assists, two steals and he went 7-11 form beyond the arc. Head coach Archie Miller needs him as a starter.
Trayce Jackson-Davis: he was a big help when it was go time. He had 17 points, ten rebounds, two assists, one steal, two blocks. He could have done more by himself.
Rob Phinsee: he might have not done much when you look at his numbers but he was their to. Let's try 12 points, two rebounds, five assists and he was a stealer with three steals if you get my drift.
Race Thompson: He was Iowa's other nightmare. He may have only had 10 points but four rebounds, four steals and two blocks makes up for it in my opinion.
Indiana head coach Archie Miller said afterwards "This team won because we were ready to play and we caught Iowa napping." Miller also went on to say that " we are not out of the woods yet because we have seven more games to go but this will be a good start going forward." Devonte Green was the star of the game for Indiana and he said this. "I am proud of the way I played tonight along with my teammates and we're going to make some noise down the stretch and we have a long season still to go, but I feel good about tonight."
The Hawkeyes only had two stars, well maybe one if you look at everything.
Luka Garza: he had 38 points, eight rebounds and four blocks. He was two points short of the all-time Assembly Hall record for most points by a visiting player. I my opinion I doesn't matter because Iowa lost.
Joe Wieskamp: he only had 16 points, six rebounds and two steals, compared to Garza that's Iowa corn feed in my estimation.
Luka Garza said afterwards, " I did everything I had to do. I can't do it all out there. Our defensive woes hurt us tonight in the loss and I am very disappointed in the way we played. Joe Wieskamp said afterwards, " I am very sick about the way we played tonight and we didn't have nothing for the Hoosiers, period." Nobody form the Hawkeyes outside of those two did not perform well tonight when they needed to and that's the truth of the matter.
Here's my take on the Indiana Hoosiers..
The Hoosiers improve to 12-4 at home in Bloomington, they're 16-8 overall and still one game under .500 in the BIG-10 and it does not get any easier for Indiana the rest of the way. The Hoosiers still have seven games to go on their schedule before the BIG-10 Tournament.
@Michigan
@Minnesota
No.13 Penn State at Home
@Purdue
@No.22 Illinois
Minnesota at Home
Wisconsin to end the season.
Of those seven game left for Indiana, I have concerns about four of those games. They have to face the Golden Gophers twice before the season ends and Minnesota is one of the first four out of the NCAA tournament and they're as hungry as Indiana is. My other concerns are No.13 Penn State and No.22 Illinois. Penn State, beat up Purdue the other night and they look like they could win the BIG-10. Illinois, is coming off of a loss to Michigan State 70-69 at home and the fighting Illini are in a bad mood. So those are the four game that would have Hoosier nation worried. Indiana needs to win all of those game or at least take three out of four if they want to make some noise come tournament time. If they can make to the BIG-10 Tournament final, that would help a lot along the way.
Here's my take on the Iowa Hawkeyes..
The Hawkeyes could not do anything against Indiana tonight. They had 19 turnovers, they also went 4-14 form three-point range. They were also outrebounded 39-28 on Thursday Night. The Hawkeyes have six games left on their schedule, and as it stands right now they are on the six line for the NCAA tournament and they would face the Florida Gators in the first round of the NCAA tournament. Who does Iowa have left, well here it is.
@Minnesota
Ohio State at home.
@Michigan State
No.13 Penn State at home.
Purdue at home
@ No.22 Illinois.
The Hawkeyes might be in better shape as far as the NCAA tournament goes but the BIG-10 is a different story. Ohio State has won 4-of their last-5 games. Minnesota is on the bubble, outside looking in. Penn State is a whole new team and they could take the BIG-10 title away. Illinois looks good despite losing on Wednesday night. Iowa has to fix their defensive woes if they want to make some noise. I know they shot over 50% form the field against Indiana but it can't be all Luka Garza all the time. Joe Wieskamp can not be do it all either. Iowa has a good team but everybody else needs to answer the bell besides Garza and Wieskamp and that is what happened against Indiana. The Hawkeyes still have work to do if they want to win the BIG-10 Crown. They looked bad against the Hoosiers and they can't play like that the rest of the way. The Hawkeyes have got to take at least four of the next six games on their schedule if they want to compete for the BIG-10 Championship, and that's all there is to it.
Bottom Line..
---