The Toronto Raptors Go Up 3-1 On Golden State.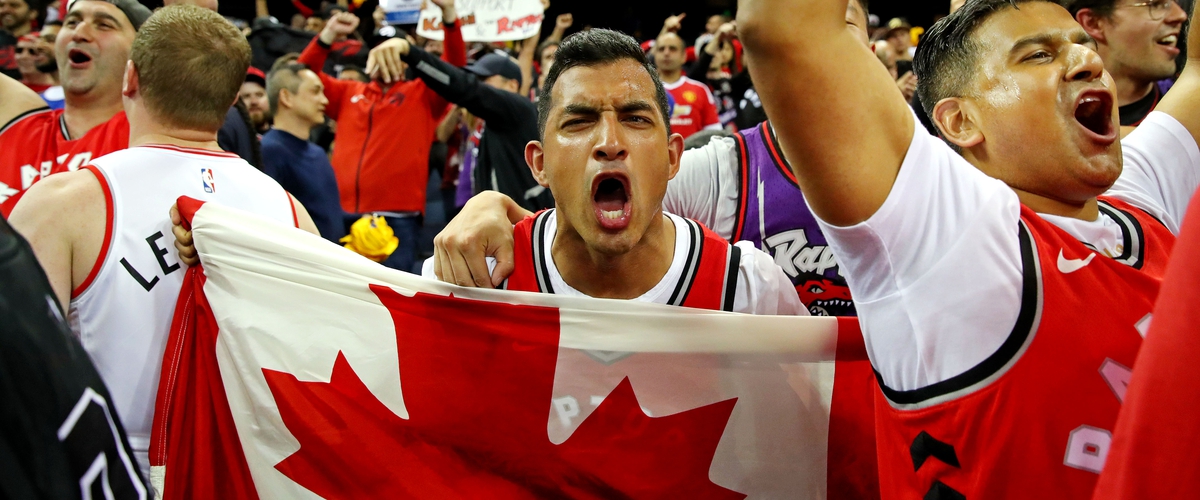 The Toronto Raptors Have a Chance To Put Away The NBA Finals In Game 5 On Monday Night. That Is Correct On What I Just Said The Toronto Raptors Have a Chance to Beat the Two-Time Reigning World Champion Golden State Warriors In Five Games. It's Hard to Believe But It Could Become Reality Come Monday Night In Game Five. The Raptors Beat The Warriors 105-92 In Game Four On Friday Night And It's Hard To Believe What's Going On In the Finals. As Game Four Was Coming to An End Some Raptors Fans Who Traveled To Oakland to Watch The Game Broke Out into OH CANADA!!!!!!.
Raptors Coach Nick Nurse Said This To Reporters After The Game...
" It Was Awesome What Our Fans Did Tonight, We Have Fans Who Travel Very Well On the Road With Us and We Our Proud Of Our Fans Who Travel With Us to Florida, California Or Even In Detroit Where Most Of Our Fans Travel to When Our Team Plays And Our Fans Have Been The Good Luck Charm In the NBA Finals."
Now As Far As The Game Goes Kevin Durant Did Not Play Tonight As He's Still Nursing His Injury and His Absence Was Huge Again As the Golden State Warriors Were Down On of Their Superstars. Now As Far As The Raptors Go The Starters and the Bench Stepped Up Tonight In this HUGE WIN!!!!. And Yes The Golden State Warriors Are On the BRINK Of Losing the NBA Finals.
For The Toronto Raptors, We Had Big Guys Step Up...
Kawhi Leonard, He Had a Double-Double On Friday With 36 Points, 12 Rebounds and Four HUGE Steals. He Can Help Put it Away On Monday Night.
Serge Ibaka, He Had 20 Points Along With our Rebounds and Two Blocked Shots. He Was Another Headache For the Warriors On Friday Night.
Pascal Siakam, He Had 19 Points Along With Five Rebounds, What a Team Player.
Kyle Lowry, It Didn't Look Like He Did Much, But He Did Have a Big Night. He Had 10 Points Along With Seven Assists and Three Steals, He Might As Well Committed Grand Theft Basketball In Game Four.
And Here Are the Other Numbers I Crunched After Game Four You Might Be Interested In... FG 36-86 41.9%, 3PT 10-32 31.3%, FT 23-24 95.8%. Those Are The Other Numbers I Look At Every Time. I Look At These Because It Gives Me An Idea On Who a Team Performs Under Pressure.
For The Golden State Warriors, They Are On The Brink...
Steph Curry, 27 points Along With Four Rebounds and Six Assists. He's Going to Have to Answer The Bell And Go to The Wall Almost Literally At The Same Time, Because Of No KD.
Klay Thompson, He Had 26 Points, Three Rebounds And Two Assists, He Has To Stay Healthy The Rest Of The Finals Because If Doesn't It's Over.
Draymond Green, He Did Have a Double-Double In the Game With 10 Points, Nine Rebounds and 12 Assists, He Needs To Average at Least 20 Points Per Game The Rest Of The Finals And He's Really Going To Have To Step Up the Rest Of The Way.
The Warriors Did Not Play Well As a Group and the Other Numbers I Looked At Will Tell The Story... FG 35-78 44.9%, 3PT 8-27 29.6%, FT 14-21 66.7%, Those Are the Other Numbers That Struck Me As the Numbers That Hurt Golden State In Game Four. Now As Far As Kevin Durant Goes, Golden State Head Coach Steve Kerr Told Reporters The Following... " I am Not Going to Give You An Update Everyday On Kevin Durant's Rehab, It's Getting Ridiculous Everybody, I am Sick And Tired Of Everybody Wanting To Know About Kevin Durant When We Have Other Guys Playing Their Butts Of and Not Getting Recognized For It. If You Want An Update I will Let You Another Time."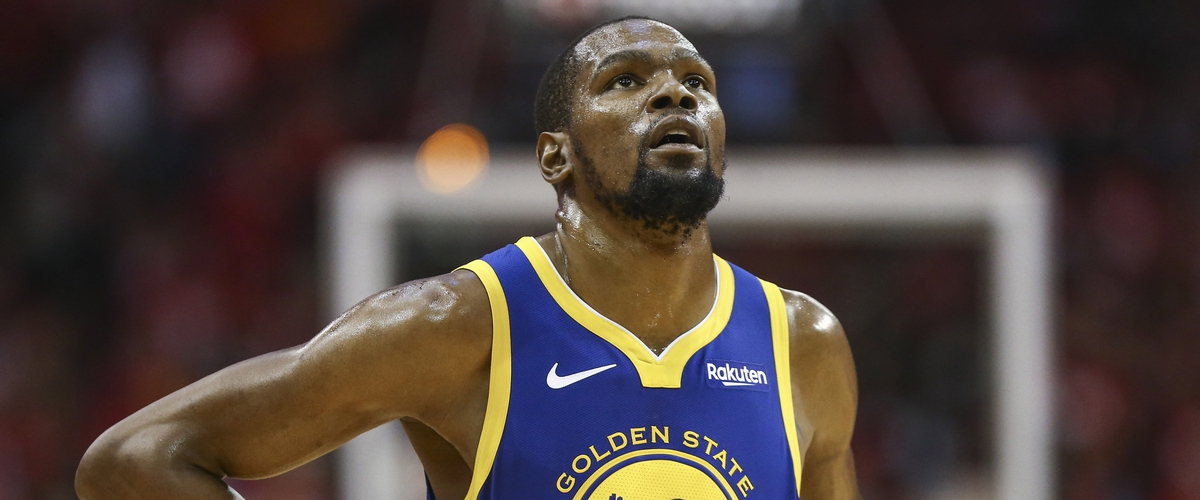 Now Here's My Take...
I Know That Warriors Head Coach Steve Kerr Is Tired Of Talking About Durant, However It Needs to Be Addressed. KD Has Not Played Since May 8th When He Got Hurt. But KD Needs to Tough It Out and Play Game Five On Monday Night Because the Golden State Warriors Find Themselves Of THE BRINK OF ELIMINATION. It's Hard to Believe I Know, But The Raptors Have Taken Advantage Of Kevin Durant's Absence In The Finals. KD Needs to Try To Give It a Go And Help His Team Because the Golden State Warriors Have Not Shown Me Much Of Anything At All. They Got Blown Away In The Last Games In Their Own Building And Oracle Arena Was Almost a Hushed Silence After Game Four.
The Toronto Raptors Beat The Golden State Warriors In Their House In The Last Two Games and Now We All Of The Sudden Find The Raptors In the Driver Seat To Clinch The First NBA World Championship North Of The Border In Toronto Canada. It's Hard to Believe That The Raptors, In their 24th Year As a Franchise In The NBA Are Knocking On The Door To The Promise Land. If they Beat Golden State In Game Five Jurassic Park In Toronto Will Go Crazy. If Golden State Wins We Go Back To Oracle Arena In Oakland For Game Six On Thursday Night.
This Is a Must Win, Go to The Wall For the Golden State Warriors The Rest Of the Way. As Far as Kevin Durant Goes He Has to At Least Give it a Go The Rest Of the Way Because the Golden State Warriors Are Totally Lost Without KD.
Toronto On The Other Hand, It's Very Simple, Win Game Five And You Will Be NBA World Champions and we will Have the First Championship North Of the Border.
---