Trail Blazers Beat Nuggets in 4 OT Thriller.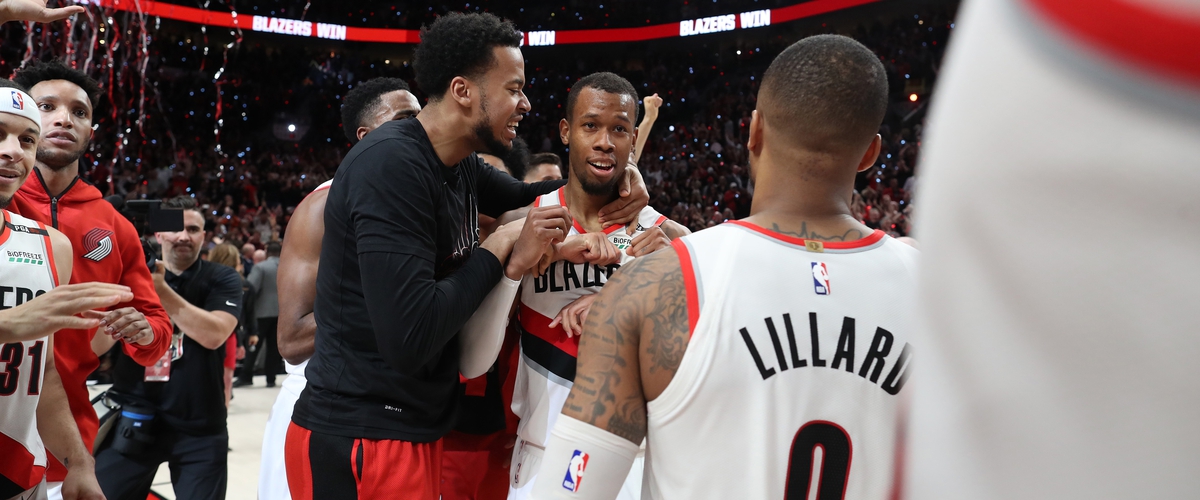 Well Everybody we Had the 2nd 4 Overtime Game In NBA Playoffs History On Friday Night as the Portland Trail Blazers beat the Denver Nuggets 140-137 In 4/OT's. The Trail Blazers Are up 2-1 In their 2nd Round Series Over the Denver Nuggets in the NBA West Playoffs.
This Game Had Everything Last Night From Clutch Three Pointers to Missed Free Throws Down the Stretch and I will get to everything.
CJ McCollum was the Star for Portland with 41 Points, He Matched His Career Playoff High and also Played For 60 Minutes, I'm Not Kidding.
Damian Lillard, Mr. Hero Against OKC had 28 Points on Friday Night. I Didn't Forget about the Clutch Three Pointer He had to Send Oklahoma City Home.
The Mr. Hero for Game Three On Friday Night Rodney Hood, He Hit the Clutch Three Pointer with just a Few Seconds Left to Give Portland the Win. Hood Had 19 Points In the Game.
But What About Denver, There's One Player I Feel Bad For Today, His Name Nikola Jokic. He Missed a Clutch Free throw with 5.6 Seconds Left in the Game. Jokic Had a Triple-Double in the Game with 33 Points, 18 Rebounds and 14 Assists in the Game. He also Played 65 Minutes In the Game on Friday Night, Two Shy of the Postseason Record. But the Missed Free Throw Down the Stretch is what He will be Remembered For in Game Three.
Denver Nuggets Head Coach Said this After the Game.
"We Fought, We Fought, we Fought, But Too Many Misses and To Many Second Chances Cost Us tonight."
Game 3 Was A Classic Now Here's My Take. This Was The Second 4 Overtime Game In NBA Playoff History. You Have to Go Back to 1953 To Look For the Only Other 4 Overtime Game In History and that was Between the Boston Celtics and Syracuse Nationals.
So Now Here's the $64,000 Question What Will Game Four On Sunday Bring, Will We have Another Overtime Thriller, We Nikola Jokic Get a Chances to Redemption or Will It Be somebody else that Comes Through on Sunday. We Will Find Out then But Game Three Had Everything Like I said Earlier And this Series Might Take A lot more out of Somebody, It Did On Friday So With Game Four On Sunday What Will Happen, We Shall See.
---