Fists Fly in the Bay
Monday was Memorial Day in America, which meant cool camouflage uniforms in the baseball world and (more importantly) honoring those who have given their lives in the name of freedom.
It was supposed to be a nice, quiet day of baseball across the country. After all, nothing is more American than having a barbecue while watching America's pastime, or maybe even taking in a game at the ballpark.
Well, San Francisco was a slight exception. It was nice and quiet for awhile, but things got pretty loud and hectic pretty quickly in the Bay Area.
The Washington Nationals were in town for a three game series with the Giants. Washington carried a two run lead into the eighth inning of game one, when San Francisco reliever Hunter Strickland would get to face Bryce Harper.
The last time the two saw each other was in 2014, when Harper took Strickland deep twice in the National League Division Series. Bryce watched his homers soar for quite awhile, and both players exchanged glares as the Nationals star rounded the bases.
Apparently Hunter Strickland is not a man of forgiving or forgetting. Three seasons later, on Memorial Day in 2017, the Giants pitcher would get his chance at revenge, and he would not waste it. Strickland drilled Harper in the hip on the first pitch of the at bat with a ninety-eight mile per hour fastball. Bryce didn't like that very much, so he decided to toss his bat and charge the pitcher's mound. The two exchanged multiple punches before both dugouts cleared and everyone joined in on the brawl.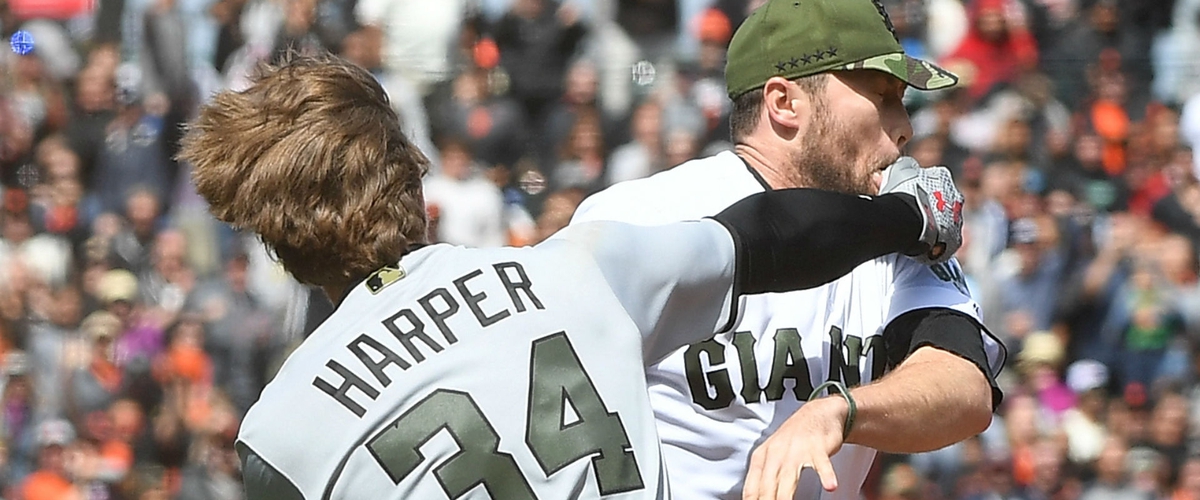 Harper charging Strickland resulted in a bench-clearing battle. Giants Michael Morse and Jeff Samardzija collided as they ran in to fight, leaving Morse with a concussion. Bryce was suspended four games, but the punishment was later reduced to three games. Hunter Strickland was left with a six-game suspension for initiating the brawl by hitting Harper with a pitch.
It's safe to say that there may be some tension between San Francisco and Washington when the two teams meet again in August. But maybe Harper and Strickland won't face each other this time. That would probably be best for both of them.
(Follow @ECSportsBiz on Twitter!)
(Like and Follow @ECSportsBiz on Facebook!)
---