Agree to Disagree: Mock Draft picks 1-16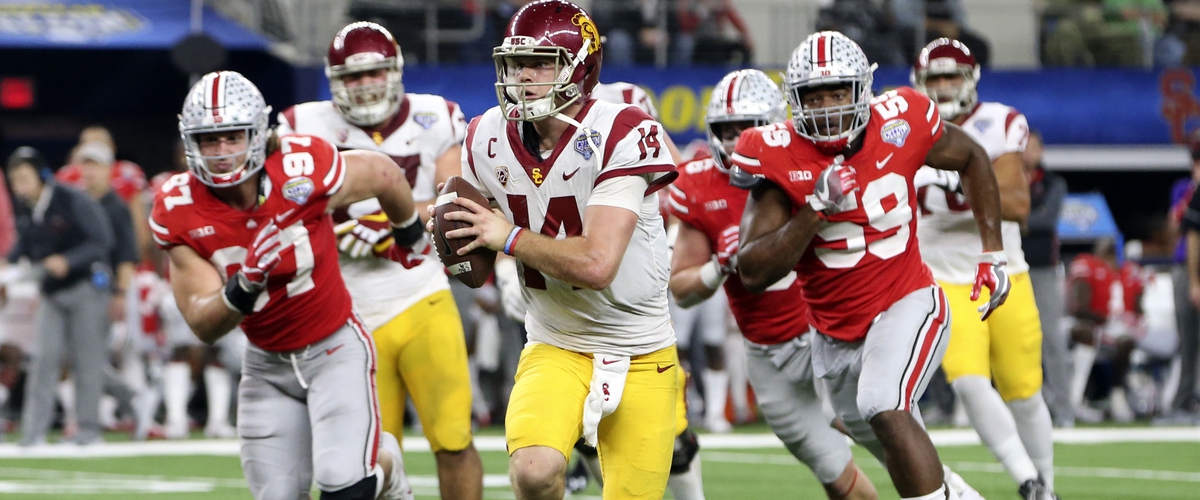 This Week we bring you a special Agree to Disagree Segment where we will be breaking down the first 16 picks of the NFL draft, in part one of a two part mock draft. Joining our discussion are...
NFL savant and Die hard Philadelphia Eagles fanatic, Justin Polasek (who you may remember from last week's segment).
And for the first on Agree to Disagree, Aggie Grad., and lover of all things college and pro Sports, Michael Marek.
Pick #1 Overall
Chris: Cleveland Browns- Sam Darnold, QB, USC
This Feels like a done deal, Darnold has a turnover problem, but he also has that "it factor" scouts rave about. The Browns are in a perfect situation to ease Darnold in and allow him to learn behind Tyrod Taylor. These aren't your slightly older brother's Browns.
Justin: Cleveland Browns-Sam Darnold, QB, USC
This is essentially a done deal, write it in stone and put it in the books. Sam Darnold has been touted as a better prospect than Carson Wentz, and the best in this draft. Will he get there? I don't know, but he certainly has the potential to be a great NFL QB. The Browns love him, and with QB needy teams between their top 2 picks, they'll take their signal caller now.
Michael: Cleveland Browns- Sam Darnold, QB, USC
This pick has been heavily trending recently and for good reason. Darnold's blend of arm talent, athleticism, size, and poise outweigh the sporadic lack of pocket presence and poor decision making. Pair him with a QB like Taylor that displays elite protection of the football and the Browns strike gold in a revamped offense for years to come with Taylor showing him the ropes.
Pick #2 Overall
Chris: Buffalo Bills(Via New York Giants)- Josh Allen, QB, Wyoming
Everything that the bills have done this off-season has been done with the objective to move to get their Quarterback, and while Allen is the #5 QB on my board, teams love his generational arm talent, size and hand size. If the Bills are able to keep him on the bench for a year, he could develop into the Best QB in this class. Certainly a good fit for a cold weather team like the Bills
Justin: Giants-Josh Rosen, QB, UCLA
I think that if the Giants don't trade down, which is possible, they are taking their QB of the future, and Rosen is the guy they like with Darnold off the board. Inside the pocket, he's the best QB in this draft. Some concern with his leadership ability, but I'm not sure that's enough to stop anyone from taking him very high and grooming him for the future.
Michael: New York Giants- Saquon Barkley, RB, Penn State
After fielding trade offers, the Giants decide that signing Nate Solder to a historic contract in the offseason means they should invest in a versatile franchise back to deliver behind the revamped OL. Knowing that Quenton Nelson isn't likely available with a possible trade partner's draft slot makes this decision easier for new GM Dave Gettleman.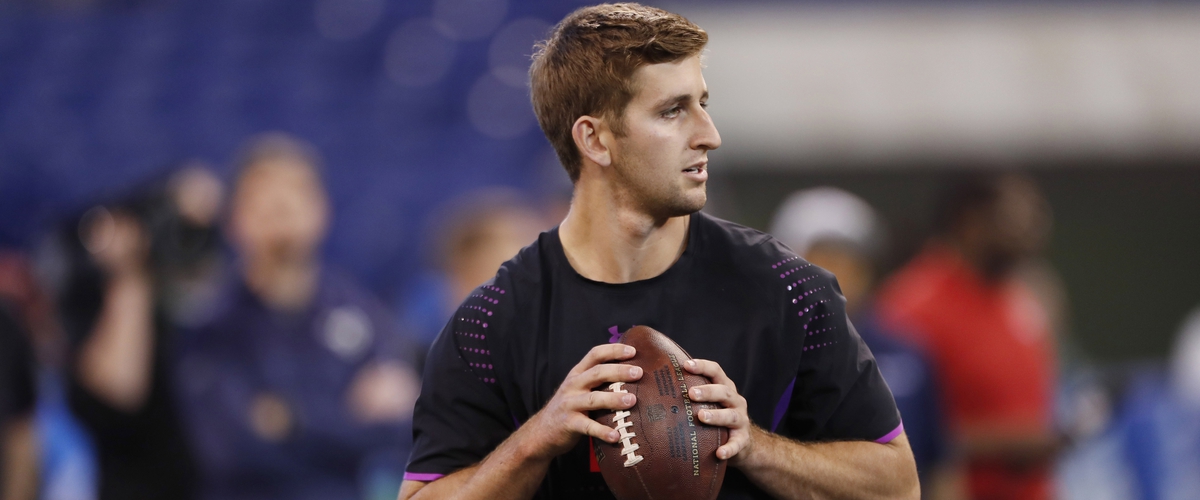 Pick #3 Overall
Chris: New York Jets- Josh Rosen, QB, UCLA
Of all of the Quarterbacks in this draft, Rosen is the most ready to start day 1. The Jets are lucky enough to have Rosen fall to them at #3. He has some durability concerns, and his attitude isn't for every market. I truly believe that his accuracy on the field and intelligence off of it will quickly win over the New York market.
Justin: Jets- Josh Allen, QB, Wyoming
Jets trade up and get their franchise QB, the guy who I believe to be the best QB in this draft. He may not have the greatest completion %, but when you turn on the tape you see an absolute stud. He compares to Carson Wentz on and off the field. Small school kid, plenty of adversity, great leadership, good, strong runner when needed, makes highlight throws, handles pressure well, and didn't have a lot of talent around him. Needs to work on his footwork and learn not to rush throws. He's going to improve drastically in the Pro's.
Michael: New York Jets- Josh Rosen, QB, UCLA
With offseason moves made at QB, the Jets get their QB after trading up with the Colts earlier during the free agency season. Rosen's injury concerns are real, but his graceful, almost effortless passing ability is alluring. His streaky play and clutch nature are welcome qualities for a franchise in desperate need of a spark. Could the Jets be drafting the 2nd coming of Broadway Joe?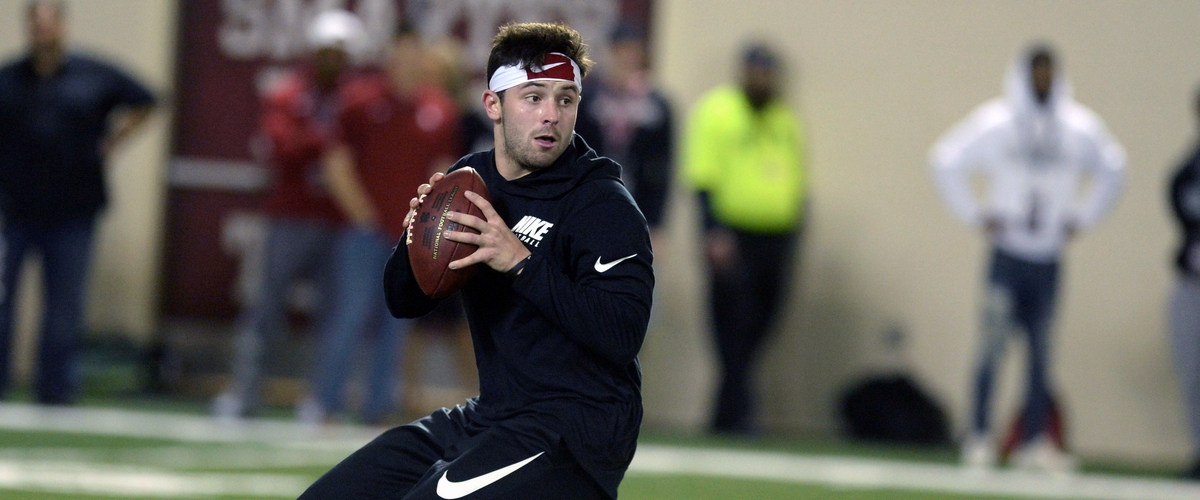 Pick #4 Overall
Chris: Cleveland Browns- Saquon Barkley, RB, Penn State
The Browns are in a unique position, they take full advantage by drafting the most talented prospect in this class at number four after already having their choice in QB's at the top of the draft. Think of Barkley as a 235lb Reggie Bush with better blocking ability.
Justin: Denver Broncos(via Cleveland Browns)- Baker Mayfield, QB, Oklahoma
Broncos trade up ahead of other QB needy teams to pick up a guy they have personally had their hands on at the senior bowl, has the fiery leadership that Elway admires, and plays a similar skill set as the guy who will groom him, Case Keenum. This is an ideal situation for both sides.

Michael: Buffalo Bills(via Cleveland Browns)- Josh Allen, QB, Wyoming
Cleveland is prepared for #4 pick where Saquon Barkley isn't available and grab multiple picks to solve more glaring needs. The Bills package of picks outweighs the Cardinals' yearning desire to get the rocket armed signal caller (see Patrick Mahomes interest circa 2016). With McCarron now in the fold, the Bills can let Allen's raw ability marinate. GM's previous stint at Carolina with Cam Newton at the helm convinces him of the necessity for a big, dual threat body in the pocket.
Pick #5 Overall
Chris: Denver Broncos- Quentin Nelson, OG, Notre Dame
The Broncos could opt to draft Mayfield here, but instead decide to draft the best Guard to come out since Zach Martin, who might actually be the safest pick in this draft. The Broncos could also consider trading this pick to a team that is after Mayfield.
Justin: Cleveland Browns (via Denver Broncos)- Saquon Barkley, RB, Penn State
The draft could not have fallen any more perfectly here for the Browns as they manage to get the QB that they view to be the best in the draft along with the guy I believe to be the best player in this draft, AND a few extra picks to continue their dominant control of this 2018 draft.
Michael: Miami Dolphins (via Denver Broncos)- Baker Mayfield, QB, Oklahoma
With the run on QBs in full effect, the Dolphins aren't waiting any longer. Baker Mayfield's playmaking ability can offer some hope for a new look Dolphins group devoid of the big names, but plenty capable of proving themselves. Mayfield walks into a situation where he can learn the ins and outs of a pro style system without being expected to carry the load. While his maturity is a valid question, Mayfield makes those around him better and Gase gets someone he can trust to get the locker room in order.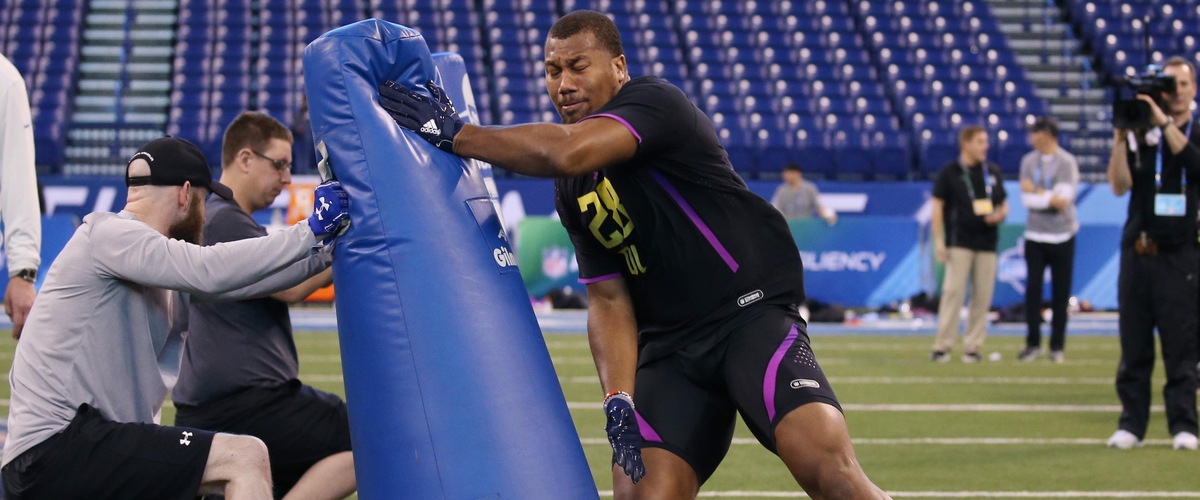 Pick #6 Overall
Chris: Indianapolis Colts- Bradley Chubb, DE, NC State
Although INDY would love to see Barkley on the board here but instead take the top pass rusher in this year's draft class. I don't see him as having a ceiling as high as someone like Myles Garrett, but he seems to almost be a lock for success due to his athletic ability, intelligence, and high motor.
Justin: Indianapolis Colts- Bradley Chubb, DE, NC State
Now that the run on QB's will calm down, and the draft truly begins, the Colts land an Edge rusher who has been touted as being an even better prospect than Myles Garrett to fill a huge need of the Colts over the last few years.
Michael: Indianapolis Colts - Bradley Chubb, DE, NC State
The Colts are able to upgrade the pass rush with what many analysts project to the be the best defensive player in the 2018 draft. Chubb looks the part and plays the part. He possesses a high end motor, pedigree, and years of production which make his floor relatively high.
Pick #7 Overall
Chris: Tampa Bay Buccaneers- Minkah Fitzpatrick, DB, Alabama
The versatile Fitzpatrick may help fill several spots on a depleted Bucs defense, as he has played at a very high level at all positions in Nick Saban's defense over the years. I could also see them taking Denzel Ward, who at this point has been flying up the draft boards as of late.
Justin: Tampa Bay Buccaneers- Minkah Fitzpatrick, DB, Alabama
Quenton Nelson could very well be the pick here, as he is the better player. However, the Bucs need secondary help in the worst way and Minkah fills a bigger need. Here they just so happen to land a prospect who has a very rare ability to do it all. This man can play over top, in the box, at corner, you name it, he can do it.
Michael: Tampa Bay Buccaneers- Denzel Ward, CB, Ohio State
Ohio State has garnered a reputation for developing elite CBs for the pro ranks and Ward only cements that legacy. Tampa Bay put major work into buffing up the DL this offseason and despite Quentin Nelson still on the board and a major need at guard, they continue to upgrade the defense in an effort to defend the high powered offenses that inhabit the NFC South.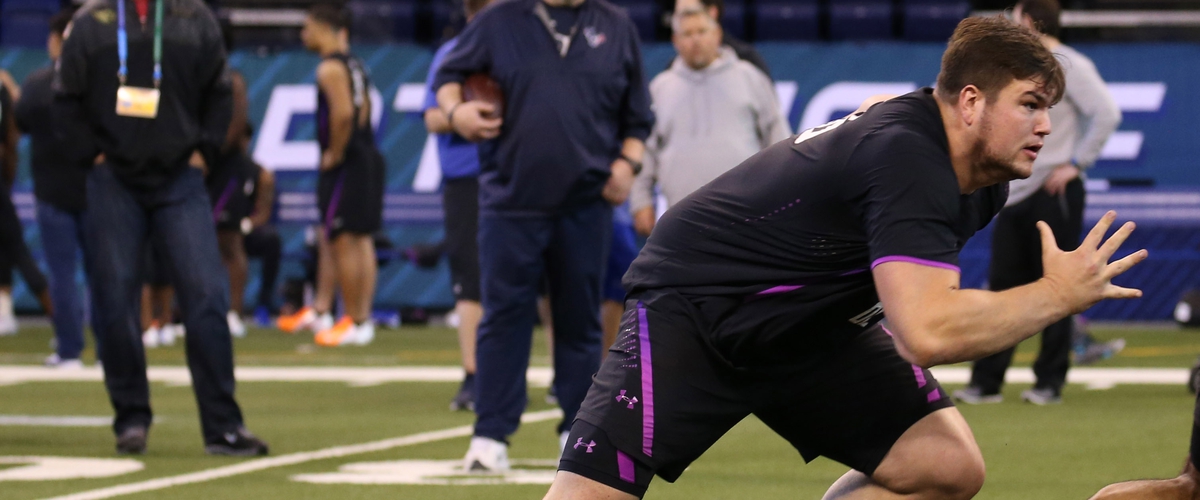 Pick #8 Overall
Chris: Chicago Bears- Calvin Ridley, WR, Alabama
Da Bears signed Allen Robinson in free agency but decide to add another weapon for Mitch Trubisky here, effectively turning the least effective unit in the NFL last year into a much much better one in 2018. Calvin is very polished route runner, who despite testing well, doesn't pop off the tape athletically. Ridley will be among the league's most dependable receivers from day 1.
Justin: Chicago Bears-Quentin Nelson, OG, Notre Dame
I'm not sure how, but the best Gaurd to come out of the draft since Brandon Scherff, maybe even farther back then that, fell right into the lap of a team who DESPERATELY need help at Guard. If he gets past the Buc's I fully expect the Bears to run to the podium and wipe their butts after turning in the card to get Quenton Nelson.
Michael: Chicago Bears- Quentin Nelson, OG, Notre Dame
The Bears land the best prospect in the draft and pair him with his former college OL coach, Harry Hiestand. Adding Nelson into a young offense with a franchise QB and the dynamic 2 back duo of Jordan Howard and Tarik Cohen seems like a no brainer. Offensive guru head coach Matt Nagy gets another elite young talent in the fold on offense and at a great value.
Pick #9 Overall
Chris: Arizona Cardinals(via San Francisco 49ers)- Baker Mayfield,QB, Oklahoma
If Mayfield is still on the board, Arizona will trade to get in front of Miami in order to sign it's QB of the future. Mayfield's fiery leadership style isn't for everyone, but I believe in the locker room he will be the perfect player to take the mantle from Larry Fitzgerald. On the field, Mayfield, though small, is very accurate, and is easily the best RPO passer I've ever scouted. If he stays out of trouble I firmly believe Mayfield will be a Star in this league.
Justin: San Francisco 49ers- Roquan Smith, LB, Georgia
after taking a chance on Rueben Foster last year, the 49ers are in need of a linebacker yet again as he gets arrested twice in a month. Even If they don't cut him, the 49ers have nothing around him and now get a very good player at LB in Roquan Smith.
Michael: Los Angeles Chargers (via San Francisco 49ers) - Vita Vea, DT, Washington
Not willing to rest on their laurels with a booming pass rush that made its presence known in their 2nd half surge, the Chargers add another top notch option on the interior that just needs a little seasoning to flourish. Vea has star potential, but lacks consistency. He can affect the run and passing game and is a physical specimen with above average athleticism for his size. They jump ahead of the Raiders, anticipating him being selected at #10.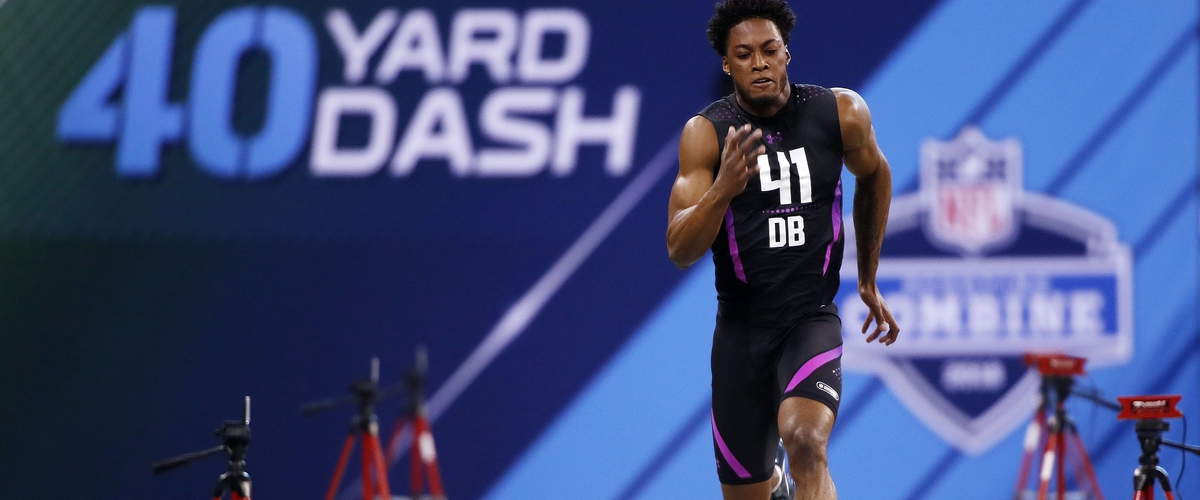 Pick #10 Overall
Chris: Oakland Raiders- Denzel Ward, CB, Ohio State
The Draft's fastest Riser, could easily wind up going higher, but if he's here Oakland sprints to the podium. Ward compares well to his former team mate Marshon Lattimore, and is a better athlete.
Justin: Oakland Raiders -Denzel Ward, CB, Ohio State
yet another case of a very good player falling farther than they should. The Raiders fill a huge need while picking up the best corner in the draft in Denzel Ward.
Michael: Oakland Raiders- Roquan Smith, LB, Georgia
After trade talks with the Bengals in acquiring Vontaze Burfict stalled due to another suspension for Burfict, the Raiders turn to a high character option at a position of need. Smith and Burfict both possess a relentless drive in pursuit of the ballcarrier. Smith is a fantastic coverage LB and is a necessary force in a division with Travis Kelce and Hunter Henry.
Pick #11 Overall
Chris: Miami Dolphins- Da'Ron Payne, DT, Alabama
The Fins have a Ndomakong Suh sized hole in the middle of its defense, Payne, although not as talented as Suh, should be able to contribute from day 1. Payne has improved every year in Alabama and is a solid scheme fit.
Justin: Miami Dolphins-Tremaine Edmunds, LB, Virgina Tech
Dolphins have quite a few needs that could be addressed here, such as DT and QB, but with all of the Fantastic Four QB's off the board early, the Dolphins will wait on a QB and get a man who should be a very good starting LB for the next 5-10 years.
Michael: Green Bay Packers (via Denver Broncos) - Minkah Fitzpatrick, DB, Alabama
The Packers need secondary help after trading away arguable their best asset in that department, Damarious Randall, to the Browns. Fitzpatrick is a versatile defender who was Alabama's best defender for the majority of his time on campus. Fitzpatrick is a great run defender, pass rusher, and has an uncanny ability to explode towards the ball when it seems he is a step behind the receiver. He is an elite special teams player and has years of production against top competition to justify his draft grade. Big game baller.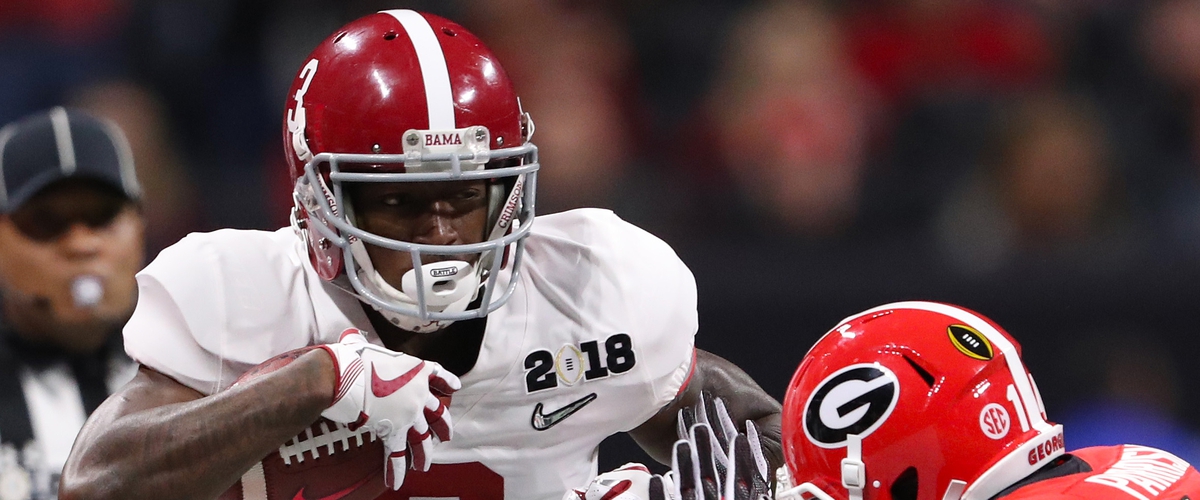 Pick #12 Overall
Chris: New York Giants(via Buffalo Bills)- Macus Davenport, EDGE, UTSA
The Giants find their JPP replacement after trading back, Davenport is not as polished as Bradley Chubb, and there are concerns over his level of competition, but he is explosive and would work nicely on a line with Harrison and Vernon
Justin: Buffalo Bills- Calvin Ridley, WR, Alabama
after missing out on trading up for their QB, the Bills will look to improve the offense by adding another receiver to play opposite Benjamin. Ridley is the best receiver in this draft and should start immediately.
Michael: Cleveland Browns (via Buffalo Bills)- Mike McGlinchey, OT, Notre Dame
With the retirement of Joe Thomas, tackle is now the #1 need. They will move over Shon Coleman to LT and will likely slot newcomer Chris Hubbard to RT, but these don't seem like permanent solutions. McGlinchey can play either tackle position, but he is more comfortable at RT and has the technique and knowledge to make an early impact. If he can prove stronger, he can be a bookend for the next 10 years in this league.
Pick #13 Overall
Chris: Washington Redskins- Josh Jackson, CB, Iowa
The exit of brashuad breland opens the door for the redskins to draft an upgrade
in round 1. Jackson has the size and physicality to fit well opposite of Josh Norman.
Justin: Washington Redskins- Vita Vea, DT, Washington
this pick could certainly be Derwin James. However, the Redskins need a guy who can stop the run and demand double teams. Vita Vea can do that very well
Michael: Baltimore Ravens (via Washington Redskins)- Calvin Ridley, WR, Alabama,
With Vea long gone, the Redskins want to move back and with Calvin Ridley still available, the Ravens pick up the phone. The Ravens offense at times has looked stale and with most of their 2017 receiving production gone, they need a top notch player at the position. Ridley can get separation with his fluid, effortless speed at all levels of the field. If he can develop a physical presence to ward off press corners, then he can be an All-Pro caliber receiving threat,
Pick #14 Overall
Chris: Green Bay Packers- Roquan Smith, LB, Georgia
Green Bay's defense needs playmakers, and Smith brings instincts and athleticism that the Packers desperately in the second level. This pick could take some pressure off of Clay Matthews, and allow him more freedom to rush the passer, similar to first few seasons in the league
Justin:Green Bay Packers-Derwin James, S/LB, Florida State
the Packers need help in the secondary with the loss of Morgan Burnett. Derwin James has been projected by some to be the best safety in the draft. He will be a leader in any locker room, has some learning to do in single high coverage, but is amazing when going downhill.
Michael: Denver Broncos (via Green Bay Packers)- Will Hernandez, OG, UTEP
After trading down twice, the Broncos go with a guard they have graded out slightly lower than Quentin Nelson. They still tackle the OL issues and get massive extra draft compensation in the
Process. Hernandez was an entrenched starter at UTEP since his freshman year and is a productive, strong guard prospect limited almost exclusively his lack of length. Strong, nimble, and efficient, a top 15 pick is worth the gamble.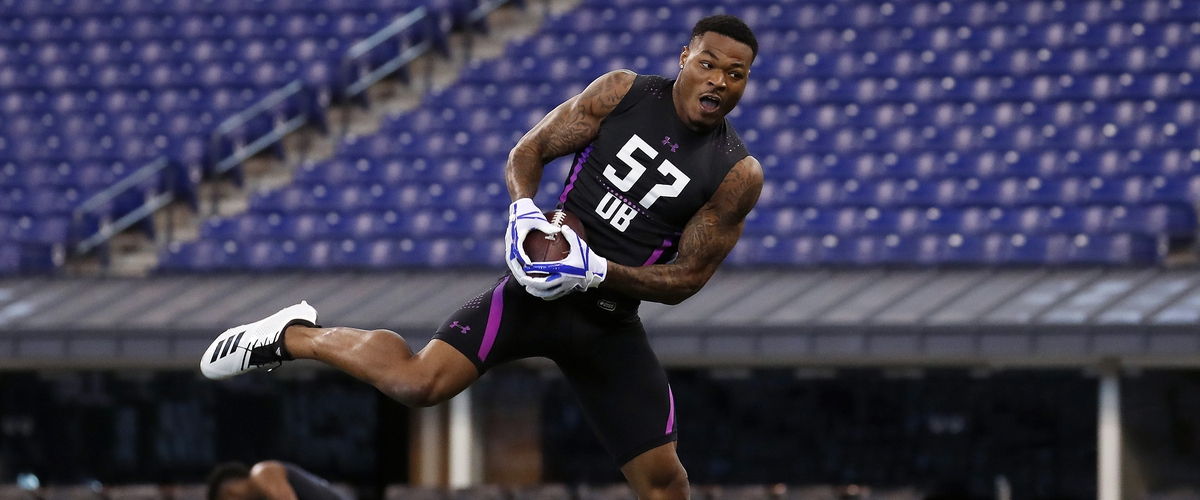 Pick #15 Overall
Chris: San Francisco 49ers(via Arizona Cardinals)-Derwin James, S/LB, Florida State
John Lynch continues to do an amazing job by trading down and still landing a blue chip prospect in James. James could be Eric Reid, or the team could use him as a LB in some sets.
Justin:Rams(via Arizona Cardinals)-Marcus Davenport, EDGE, UTSA
The Rams have been very aggressive this offseason and as one of the top edge rushers in this draft starts to fall, they swing in to catch him. With Donald and Suh on the inside, Marcus will be given a golden opportunity to rush freely off the edge and really solidify that Rams defense.
Michael: Arizona Cardinals- Derwin James, S/LB, Florida State
The Cardinals are notorious for taking the best player available on their board. After striking out on moving up to grab Josh Allen, the Cardinals fall into one of the more bantered about defenders in this draft. After releasing Tyrann Mathieu and with a notable penchant for taking hybrids like Deone Bucannon, the Cardinals get a high ceiling playmaker in James. He is rangy, explosive, versatile, and possesses elite athleticism for his size. Budda Baker, Derwin James, and Patrick Peterson have new coach Steve Wilks dreaming of a new Legion of Boom in the NFC West.

Pick #16 Overall
Chris: Baltimore Ravens- DJ Chark, WR, LSU
The Ravens are one of a few receiver starved teams in the draft, specifically pertaining to deep threats. They have signed Jeremy Macclain and Mike Wallace, but after both failed the Ravens will reach for the Combine darling Chark to run the routes Flacco is most successful throwing.
Justin:Baltimore Ravens -Mark Andrews, TE, Oklahoma
the Ravens need receiving options for Flacco if they want him to be relevant again. Andrews has a lot of work to do as a blocker, but as a receiver he is a first round prospect all day. He will help out in the red zone and passing game immediately and has the potential to be the best TE in this draft once he gets better as a blocker.
Michael: Washington Redskins (via Baltimore Ravens) Da'Ron Payne, DT, Alabama
Knowing that Payne's value isn't near the previous pick selection's value, the Redskins traded back to get an extra pick and still hit their #1 post free agency need on defense. Payne is an elite run stuffer on the interior and has the tools to be a better pass rusher. He dropped weight to increase his motor and endurance to become more than a run down specialist. He improved in each year at Alabama and his blend of athleticism and size are not coachable assets.
If you'd like to keep up to date on the latest news, and analysis on the hottest topics in sports, hit the like and follow buttons at the top of the page
And as always, thank you, to Justin and Michael for contributing to this segment.
You can find part two, picks 17-32 at https://www.sportsblog.com/ballislife/agree-to-disagree-mock-draft-picks-17-32-2/