Royals make a business decision sign Lucas Duda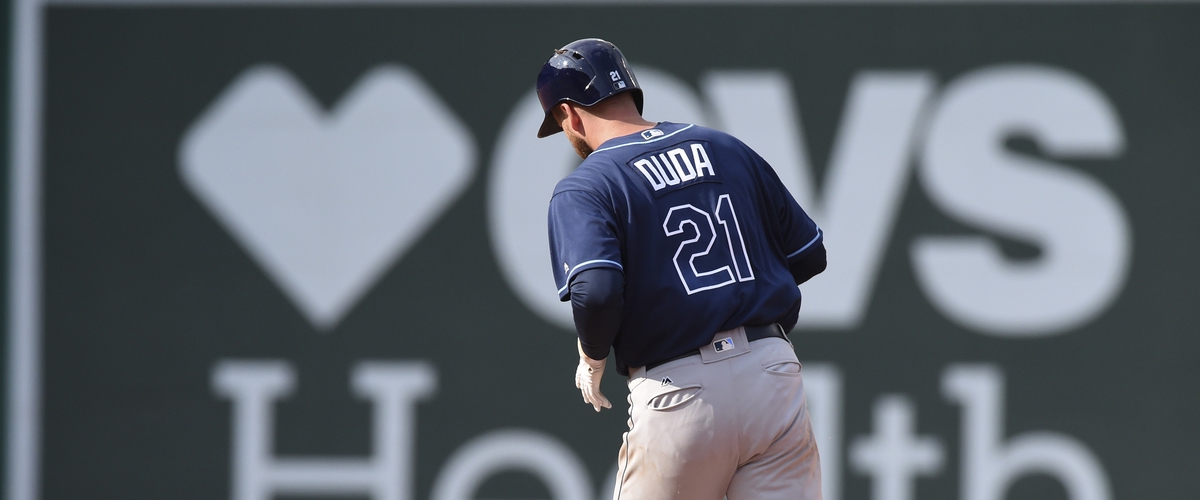 Today the Royals signed a veteran first baseman that played in the 2015 World Series. No, not Eric Hosmer. Lucas Duda.
The 32-year-old Duda agreed to a 1-year, 3.5-million dollar deal. Famous for his erred throw home on Hosmer's mad dash home in game 5, Duda now joins the boys in blue for the 2018 campaign.
As Duda has to pass the beautiful painting of the Royals celebrating on Citi field on that cold New York night after besting Duda for the World Series, seeing the 2015 World Series Champions flag wave in the Kansas City wind for 81-home-games, and knowing he will have a special place in Royals lore not for his play in what will be a losing season in Kansas City during the 2018 season, but rather what he did to help lift KC to their first title in 30-years, this move continues to be puzzling.
A year ago, Duda clubbed 30-homers with split time between the Mets and Rays, he hit for an average of .217, while getting on base at a .322-clip, and slugging .496 over the course of 127-games.
Signing a veteran on a flier deal does not usually constitute outrage, but for the 2018 Royals it does.
Many think the Royals have the weakest roster in the Majors. While that is a step too far, it is true that the Kansas City Royals are in for a long summer. Signing Lucas Duda does not change that. All signing Lucas Duda does, is take away the chance of developing a Hunter Dozier, Ryan O'hearn, Frank Schwindel, and the likes at the big league level at first base. This is also said about Alcides Escobar, who adds nothing of an upgrade for the Royals, rather makes the rebuild and development harder. Unlike Duda, Escobar adds nothing; An above-average defender, and the worst hitter in baseball, while clogging up the position that your top prospect plays. Adalberto Mondesi, the artist formerly known as Raul Mondesi, is having a killer start to spring training, and eventually needs time to develop as a Major League player. He has hit the cover off the ball to start the spring *Insert a pile of salted grains here* while being a better defender than Escobar. With his spring resurgence, if Mondesi earns the right and claws his way into the lineup, it muddies things up for Kansas City. Sure, he can and will slide to second; But then what do you do with your best position player, Whit Merrifield? This problem could have easily been avoided, by not throwing money away on the worst position player in baseball.
If losing is good for a rebuild, and you have young guys you want to develop and at least see what you have in them before moving on, why bring in these over-the-hill veterans? Are the Royals, scared they will lose their new generation of fans once the losing starts again? Are they scared that when the TV contract is finally up, and they have a chance to cash in the ratings will not be what they were during the wonderful three year stretch? Well, they are right. As quickly as fans jumped onto the Royals big blue bandwagon, they can--and some will--jump right off, losing interest when the dog days of summer rolls around and the Royals are buried in the standings. However, after the rebuild is done, those same fans will be crawling back. That is the way of life in 2018. Fans have so many more options for entertainment they do not need to stick with a losing sports team night-in-and-night-out.
Signing Lucas Duda will not get the Royals back into contention, but it will keep them within spitting distance, like last year when sure the standings told a story that the Royals were contenders, but the on field product--the eye test--told another. Anyone who watched last years club knew they were never really in it, as one hot streak would be quickly followed by a brisk cold streak. Signing Duda, and re-signing Esky gives casual fans a sense of comfort, because they have heard of these guys. It was a business decision by the Royals, rather than a baseball decision. I would counter with: A few years ago, those same casual fans never heard of Whit Merrifield. But alas those casual fans are the fans Dayton Moore and the organization are chasing. If you took time out of your day to read a lengthy article about the Royals signing a mediocre first baseman they already have your dollars/eyeballs, they need to make sure they retain the attention of those that are not so invested in the Royals.
For more news, notes, opinions, and game updates, follow @Rylan_Stiles on twitter.
---