Lakers Trade Rumors: Brandon Ingram To Spurs For Kawhi Leonard Could Work, 'ESPN' Reports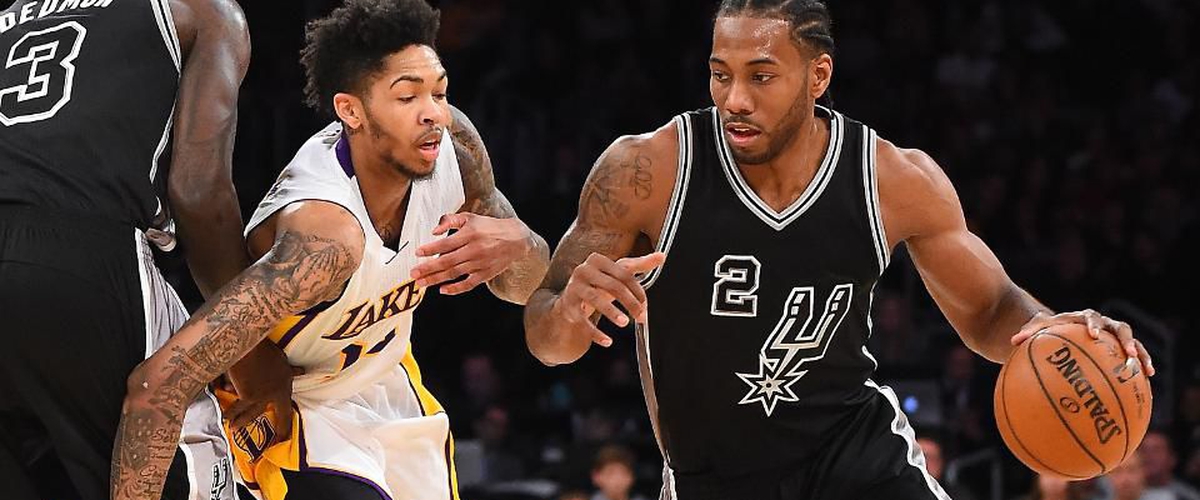 (Photo by Jayne Kamin-Oncea/Getty Images)
The San Antonio Spurs' season ended on Tuesday after their 99-91 Game 5 defeat to the Golden State Warriors. It was a tough series for the Spurs as they have continued to play without their best player, All-Star forward Kawhi Leonard, who continues to be sidelined by a quad injury he suffered since before the beginning of the season.
Leonard, 26, missed the first 27 games of 2017-2018 before ending up playing only nine games for the rest of the way. He averaged 16.2 points, 4.7 rebounds, 2.3 assists, 2.0 steals, and 1.0 blocks in only 23.3 minutes per game, the lowest numbers in his last four seasons.
The former NBA Finals MVP is eligible to receive a five-year, $219 million contract this summer, a "supermax" extension as some have coined it. However, he spent most of the year away from the Spurs, rehabilitating his leg injury, which could reportedly make the club think twice about offering him such a deal.
Leonard did not even sit on San Antonio's bench during their battle with Golden State, which sparked rumors that the two-time All-Star's relationship with the club has been deteriorating. Further speculations have emerged that he could be placed on the trade block this coming offseason, and several teams are said to be interested in trading for the two-time NBA Defensive Player of the Year.
One of the teams heavily-linked to Leonard is the Los Angeles Lakers, the player's hometown squad. ESPN recently listed the "four best Kawhi Leonard trades" that could happen this summer and one of them is a straight swap between the Spurs and Lakers involving Leonard and Brandon Ingram.
Basketball analyst Kevin Pelton said in the ESPN article that the Lakers "wouldn't be willing to offer any more than Ingram" as Leonard's current contract would be expiring next summer. However, getting Leonard one year early would benefit the team in terms of signing another max player like LeBron James and at the same time retaining Julius Randle next season.
Pelton believes that Ingram is a dispensable part of the Lakers' young core "despite the promise he has shown at age 20." The reporter also noted that other teams, such as the Boston Celtics, are able to offer more players and even future draft picks. This means that this trade could only push through if the Spurs think that there is no other player available who is a "better prospect" than Ingram, Pelton said.
---