NBA Trade Rumors: Hornets Could Offer Kemba Walker, Jeremy Lamb, Draft Pick To Spurs For Kawhi Leonard, Per 'FanSided'
(Photo by Streeter Lecka/Getty Images)
After missing the playoffs for the second consecutive year, speculations abound that the Charlotte Hornets are planning to make a major rebuild in the coming offseason. Foremost of the names that have been mentioned in the latest trade rumors belong to the team's best player, Kemba Walker, who will become an unrestricted free agent at the end of next season.
Walker, who turns 28 next month, has been was linked to several teams, such as the New York Knicks, Indiana Pacers, Milwaukee Bucks, Detroit Pistons, and Cleveland Cavaliers, even as he recently became the Hornets' all-time leading scorer.
Last month, Kevin O'Connor of The Ringer said that "NBA executives expect Kemba's name to be floating around the rumor mill again this summer." Walker was actually a hot topic at this year's trade deadline that team owner Michael Jordan reportedly had to personally call the two-time All-Star to explain to him that the rumors were not true.
While the Hornets franchise are consistent about their message that Walker is not going anywhere anytime soon, potential trade scenarios involving the former Connecticut star have been emerging across the internet.
One such scenario is from FanSided's Brad Berreman, who suggested that Walker should be the centerpiece of a trade package the Hornets could offer the San Antonio Spurs for his fellow NBA All-Star Kawhi Leonard.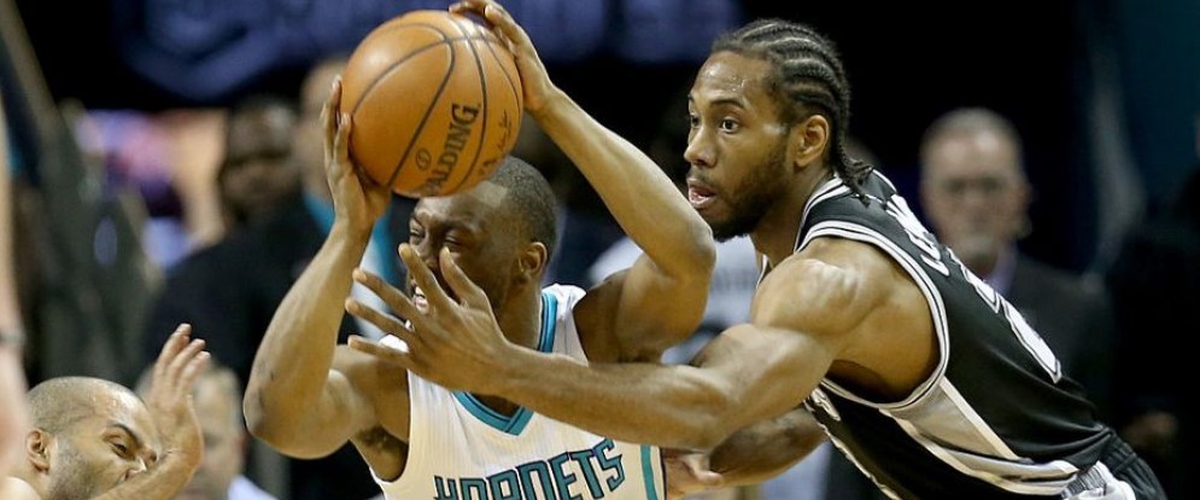 Kawhi Leonard (right) defends against Kemba Walker. (Photo by Streeter Lecka/Getty Images)
Berreman said that a package consisting of Walker, wingman Jeremy Lamb, and Charlotte's 2018 first-round draft pick might draw the Spurs' attention. Like Leonard, Walker is also a certified league superstar. Although obviously not as big as the former, last year's NBA Sportsmanship Award recipient also has the skills and name retention that belongs to the upper tier of today's players.
The inclusion of Lamb, who will also enter unrestricted free agency in the summer of 2019 like Walker and Leonard, and especially the first-round pick makes the package much sweeter for San Antonio.
If the Spurs believe that it is time to let go of Leonard, or if Leonard does not want to play in San Antonio anymore, then such a trade package in exchange for the former NBA Finals MVP is not that bad.
---