NBA Playoffs 2018: Celtics Arrange East Finals Showdown With Cavs After 114-112 Win Over Sixers In Game 5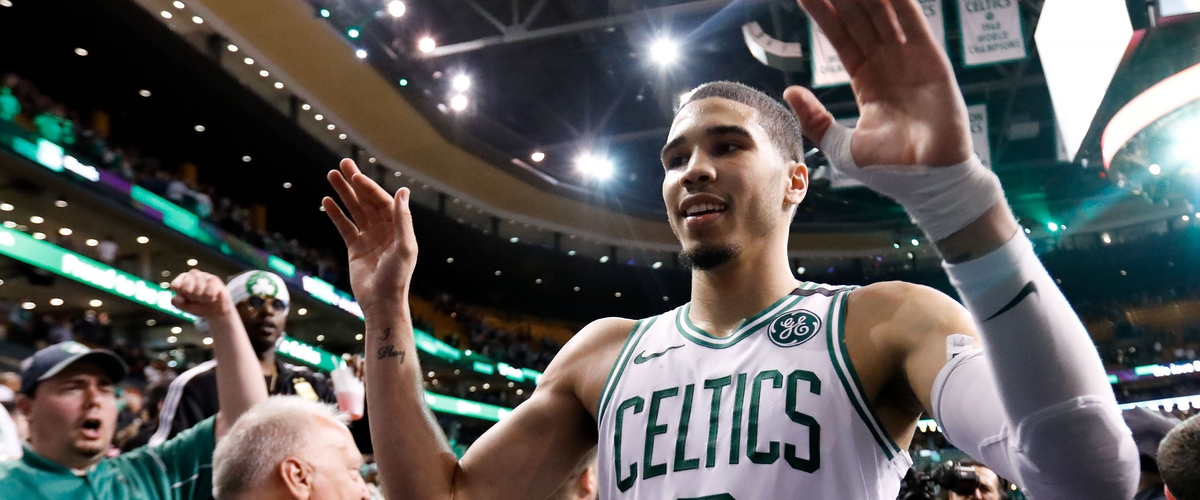 The Boston Celtics defeated the Philadelphia 76ers, 114-112, in Game 5 at TD Garden on Wednesday to set up an Eastern Conference Finals clash with the Cleveland Cavaliers. It is the second straight year that Boston and Cleveland will face each other for the chance to advance in the NBA Finals.
Rookie sensation Jayson Tatum led the Celtics with 25 points, three rebounds, and four assists while fellow young star Jaylen Brown added 24 points, four boards, two assists, and two blocked shots.
All five Boston starters scored in double-digits with Terry Rozier netting 17 points, Al Horford scoring 15, and Aron Baynes finishing with 13 points and nine rebounds while shooting 5-for-8 from the field. Baynes also held his own on defense against Sixers giant Joel Embiid, especially in the dying moments.
Backup point guard Marcus Smart was also instrumental in the win with 14 points, six boards, six assists, and three steals in another effective all-around performance.
Embiid and Dario Saric both scored 27 points for the Sixers, who are back in the playoffs for the first time in six seasons. Embiid and Saric also contributed 12 and 10 rebounds respectively with four assists each, but they were not enough to put Philly over the hump.
Ben Simmons had 18 points, eight boards, and six assists while J.J. Redick finished with 14 points, two rebounds, and three steals.
The Celtics ended the first half leading by nine points, 61-52, after finishing the second quarter on an 8-0 run. However, the Sixers pulled off a 21-5 salvo in the third period to make it a one-point game entering the fourth quarter, 83-82.
Philly took the lead, 90-88, with 9:49 left on a Robert Covington three-pointer off a Simmons assist. The Sixers brought it to four points, 94-90, after free throws by Ersan Ilyasova and a layup by Saric, but the Celtics fought back and equalized it again with two foul shots by Tatum.
It was a nip-and-tuck affair from there with the Sixers building a four-point lead, 107-103, with two minutes left in the game. Tatum sank free throws then assisted to Horford for a dunk before Smart tipped in his miss to tie it again, 109-all, time down to only a minute.
Tatum then made a layup with 22.5 seconds remaining before Embiid missed a point-blank shot under the basket against Baynes. Embiid lost the ball out of bounds as Saric fouled Rozier.
Rozier made the two free throws with less than 10 seconds left. Redick then sank a three-pointer to make it a one-point game, 113-112, 4.7 seconds remaining in the clock.
Game 4 hero T.J. McConnell then fouled Smart in the ensuing play. Smart missed the first, and while trying to also intentionally miss the second, sank it for a two-point Boston lead, 114-112.
Simmons made a baseball pass to try and create one last shot for his teammates, but Smart stole the ball as the buzzer sounded.
https://www.youtube.com/watch?v=Ap7bimyu9fA
---