College Basketball Notebook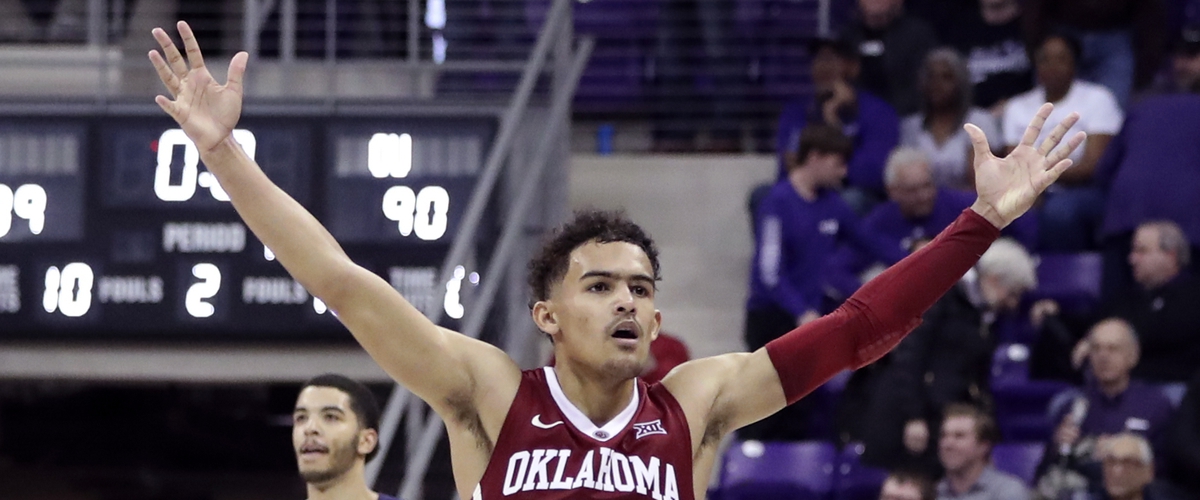 -As promised, we are ramping up our content posting for 2018, and in addition to our NFL article dropping this morning, we are giving you the ultimate NCAAM notebook right here. We are roughly two months into the college basketball season, and needless to say, madness has already struck. Teams that looked like Final Four contenders at the PK80 tournament have fallen (Florida, Gonzaga); key injuries have struck tournament hopefuls (UConn, Wisconsin), and with conference play just starting up, this truly is the best time of the year for college basketball junkies (except for March Madness, of course). Below, I'll highlight some impact players we have seen so far (hint: Trae Young), some teams to watch (for those of you who research for the bracket), and some games to watch for the upcoming week.
Impact Players:
-Obviously, PG-Trae Young (Oklahoma Sooners) is a stud, and arguably the frontrunner for the Naismith College Player of the Year award. Trae Young has led the Oklahoma Sooners to an 11-1 record along with the #7 ranking in the AP poll, and are arguably the biggest surprise of the season so far, as the Sooners missed the tournament altogether last season. For the season, Trae Young is averaging 29.6 PPG, 10.7 APG, 3.5 RPG, 1.8 SPG and is shooting 41.3% from 3-PT and 85.6% from the FT line. While Young is averaging around 4 turnovers per game, he truly has limitless range on his jump shot, and has consistently been compared to Stephen Curry and Steve Nash.
-The Duke Blue Devils team this season eerily reminds me of the title team they had in the 2014-2015 season, when Duke had one senior (Quinn Cook), and were dominated by freshman (Jahlil Okafor, Tyus Jones, Justise Winslow, and championship hero, Grayson Allen). This year's team has a lone senior, Grayson Allen, and is loaded with freshman such as Marvin Bagley III, Wendell Carter, Gary Trent Jr. & Trevon Duval. If Trae Young is listed as 1A for the Naismith Award, then Bagley has to be 1B. For the season, MB3 has averaged 21.9 PPG, 11.6 RPG and 0.9 BPG while shooting 63.0% from the field. Bagley is a stud, and he has such a high motor to match his talent that he is a near impossible cover for opposing teams. If Duke can figure out their defensive woes, then they definitely should be considered the title favorites.
-The Arizona State Sun Devils have probably been the most pleasant surprise in college basketball this season, as Bobby Hurley has this Arizona State team rolling. The Sun Devils were the last unbeaten remaining in D-1 basketball, before falling in Tucson to the Arizona Wildcats on Saturday night. The Sun Devils are led by the best player in the country that nobody is talking about, G-Tra Holder, who is averaging 22.0 PPG, 5.1 RPG and 4.5 APG while shooting a scorching 45.6% from 3-PT range. Having fellow senior guard Shannon Evans III share a backcourt with him makes life easier, but if you want a sleeper candidate for the Naismith Award, look no further than Holder.
Teams to Watch in Conference Play:
Virginia Cavaliers:
-The Virginia Cavaliers are an interesting team, as I expected them to take a big step back this season as all of the players from those great teams a few years back had graduated (London Perrantes, Malcolm Brogdon, Justin Anderson). The Cavaliers didn't have many impact players from last year's team returning, but Tony Bennett keeps churning out hard-nosed and underrated teams in Charlottesville. The Cavaliers currently sit with a record of (12-1, 1-0), and kicked off ACC play with a win over the sneaky good Boston College Eagles. The Cavaliers are currently ranked 8th in the nation, and ACC play should be a key litmus test for them. Virginia had impressive non-conference wins over Rhode Island and Davidson, but didn't have many tough games (while they beat Wisconsin & Vanderbilt, both teams have had down years), and lost their one marquee game against the West Virginia Mountaineers. A key game for UVA comes this Saturday, when they welcome in the UNC Tar Heels to Charlottesville. If Virginia can win that game, I might really start believing in this team.
Key Players: G-Kyle Guy, G-Devon Hall, G-Ty Jerome
Key Statistic: Virginia has the 3rd best FG% defense in NCAA (opp. shooting 36.4%)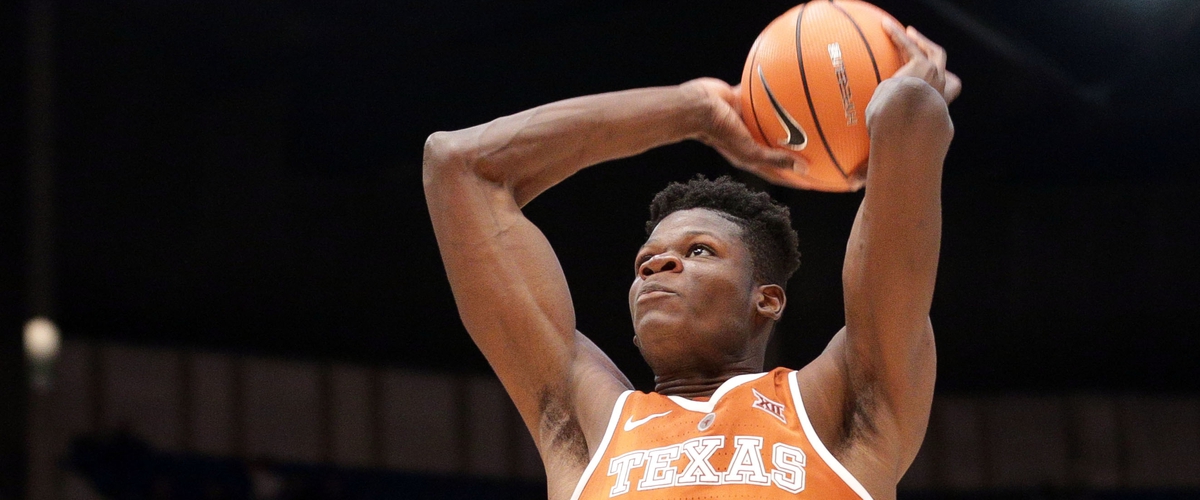 Texas Longhorns:
-The Texas Longhorns, led by the always awesome Shaka Smart, I believe are a tournament team, but they're going to have to impress in Big 12 play to make it there. The Longhorns currently sit at (9-4, 0-1), but luckily, 3 of their 4 losses are to AP-Top 25 teams, and the other loss came against the Michigan Wolverines. The bad news? Texas had Duke on the ropes in the PK80, they also blew a winnable game to the Gonzaga Bulldogs, and just lost a great resume boosting opportunity when Kansas beat them in Austin. Texas has a ton of talent, and they are headlined by 7'0 stud Mohamed Bamba, who looks like a future star in the NBA thanks to his 7'9 wingspan and 9'6 standing reach. Bamba is such a dominant defensive anchor that if Texas could get consistent offense out of him, and others, they would probably be an elite team. The Big 12 is loaded this year, so Texas has plenty of opportunities for key wins, starting with January 6 on the road against Baylor, followed up by a January 10 tango with the TCU Horned Frogs. If Texas can finish conference play at 10-8 or 11-7, they will most likely be going dancing.
Key Players: F/C-Mohamed Bamba, F-Dylan Osetkowski, G-Andrew Jones
Key Statistic: Texas is the 5th worst 3-PT shooting team in the nation (27.9%)
St. Bonaventure Bonnies:
-St. Bonaventure might be the best mid-major team in the country (URI and Nevada may beg to differ), and they are led by a dynamic backcourt duo of Jaylen Adams & Matt Mobley. Adams missed the first 6 games of the season with a foot injury, but has been nothing short of spectacular since he returned, averaging 20.1 PPG, 5.4 APG and 4.3 RPG. His backcourt mate, Matt Mobley has been equally as impressive, averaging roughly 18 PPG. And the Bonnies aren't your typical mid-major either; St. Bonaventure beat Maryland without Jaylen Adams, and when Adams was healthy, they went into the Carrier Dome and shocked Syracuse. St. Bonaventure is a team you'll hear a ton about come March, but better to get a head start and look into them now. This backcourt is legit, and if they can beat URI (January 13), then they will be the favorite to win the A-10.
Key Players: G-Jaylen Adams, G-Matt Mobley, F-Courtney Stockard
Key Statistic: St. Bonaventure has the 15th best turnover margin in the country (+4.8)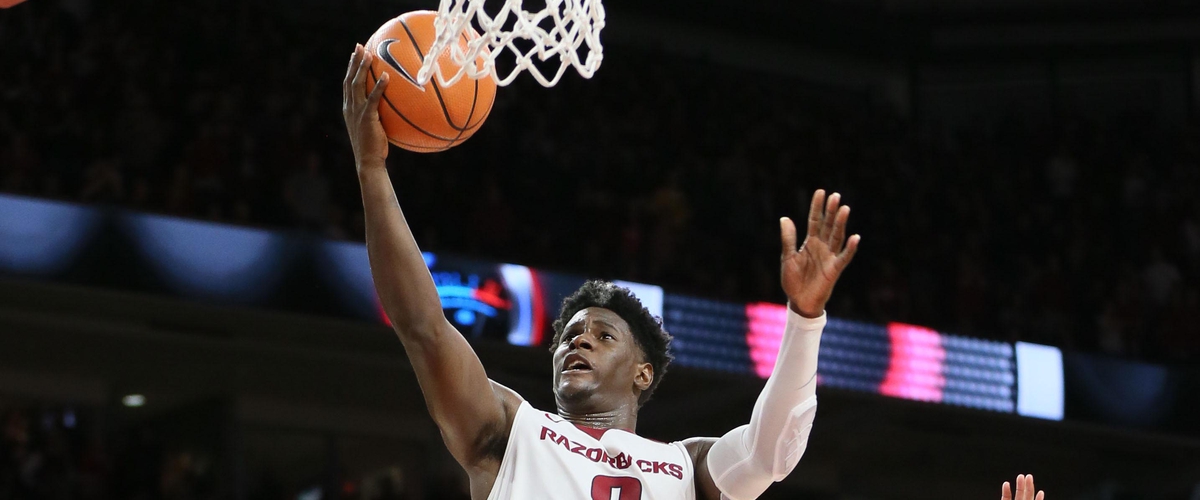 Arkansas Razorbacks:
-The Arkansas Razorbacks always seem to fly under-the-radar, but they have been a solid program for a few years now, ever since Bobby Portis lit up Fayetteville a few years back. The Razorbacks record is pretty (11-2, 1-0), and they are coming off of an epic win against the Tennessee Volunteers, a very good team in their own right. Arkansas has lost to UNC (by 19 in the PK80 tournament), and they had an ugly loss against the Houston Cougars (by 26), but they do have an impressive resume, which includes wins over the Oklahoma Sooners (their only loss), the Minnesota Golden Gophers, and now, the Tennessee Volunteers. Similar to St. Bonaventure, Arkansas is led by two stud senior guards; Jaylen Barford (19.3 PPG) & Daryl Macon (16.7 PPG). If the Razorbacks can get continued development from rising star freshman Daniel Gafford (has averaged 11.8 PPG, 7.4 RPG, 3.4 BPG over his last 5, and gives them height at 6'11), then Arkansas is a real sleeper to potentially win the SEC. Saturday's game against Auburn (on the road), should tell us a lot about the Razorbacks.
Key Players: G-Jaylen Barford, G-Daryl Macon, F/C-Daniel Gafford
Key Statistic: Arkansas has the 19th best FG% in the nation (50.6%)
Key Games to Watch:
-Luckily for us college basketball fans, 2018 is starting off hot, as conference play is picking up steam. Below is a day-by-day mini itinerary detailing some of the key games for the day: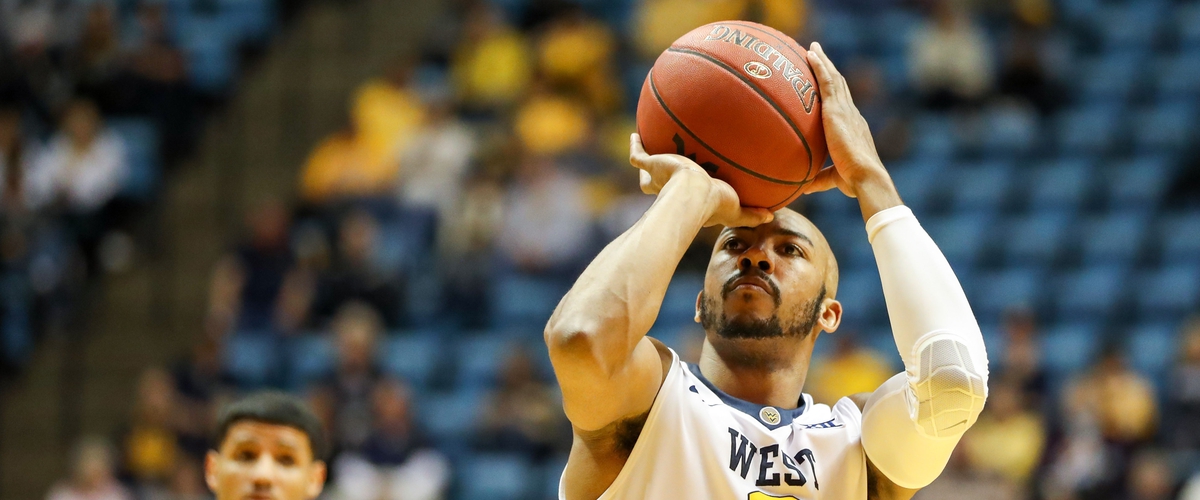 Tuesday, January 2:
Butler Bulldogs @ Xavier Musketeers (7:00-FS1)
-This is a great Big East Battle, as Xavier has been great all season, and Butler is coming off a statement win against previous #1 Villanova. I expect Butler to have a letdown this game, and for Xavier to win by double digits.
Auburn Tigers @ Tennessee Volunteers (7:00-ESPNU)
-Auburn was left for dead it seemed when the FBI investigation got one of their assistant coaches and arguably their two best players. Bruce Pearl has righted the ship, and has led Auburn to a superb 12-1 record. Tennessee has also been a pleasant surprise, and this is a big game for both teams. I'm not sure if Auburn is for real quite yet, and I've seen enough of Tennessee to think they'll win a close game.
Florida Gators @ Texas A&M Aggies (9:00-ESPN2)
-The Florida Gators have stumbled since the PK80 tournament, where they truly looked like a Final Four caliber team. Stud G-KeVaughn Allen has been mired in a long shooting slump, and the Aggies look like the best team in the SEC so far. Texas A&M will be missing one of their key players, as D.J. Hogg (14.6 PPG) will still be suspended for the contest. I think the Gators show up for this one and spring the upset.
Wednesday, January 3:
North Carolina Tar Heels @ Florida State Seminoles (7:00-ESPN2)
-The Florida State Seminoles are coming off of a tough loss to Duke in Cameron Indoor, and will have to turn right around and welcome UNC to Tallahassee. FSU has been a pleasant surprise as well this season, and will need strong backcourt play to neutralize Joel Berry & Theo Pinson. Florida State has the defense to do it, and blossoming big Ike Obiagu has been a terror inside. I like the Seminoles to beat Carolina in this one.
Thursday, January 4:
Maryland Terrapins @ Michigan State Spartans (8:00-FS1)
-This will be a tough game for the Terps to win, as they announced their stud forward Justin Jackson will miss the rest of the season. Maryland has lost two important rotation players in the past week, and going on the road and facing the best team in the country is a near impossible task. Michigan State wins, big.
Friday, January 5:
Northwestern Wildcats @ Penn State Nittany Lions (8:00-FS1)
-Northwestern has been a disappointment this season after making their first ever NCAA Tournament appearance, while Penn State has been a pleasant surprise. This one could end up as a battle between two senior guards; Scottie Lindsey of Northwestern & Tony Carr of Penn State. If it is, I think Northwestern just might beat Penn State on the road.
Saturday, January 6:
North Carolina Tar Heels @ Virginia Cavaliers (1:00-ESPN)
-As I mentioned earlier, I'm not completely sold on UVA as a team yet, and I think this is a statement game for the Cavaliers. I'm predicting UNC will be coming in pissed after their loss to Florida State (that I predicted). UNC has more talent than UVA, they have experience against this slow pace that Tony Bennett likes to play, and they will beat UVA in one of the best environments in college basketball.
Notre Dame Fighting Irish @ Syracuse Orange (3:15-ESPN2)
-Notre Dame has been solid, but not spectacular so far this season. Led by seniors Matt Farrell & Bonzie Colson, the Irish have a lot of talent. Syracuse is a young team that also happens to be the biggest in D-1. Luckily for Notre Dame, Bonzie Colson is the perfect antidote to a 2-3 zone. Notre Dame wins, a very close game.
Oklahoma Sooners @ West Virginia Mountaineers (7:15-ESPN2)
-This should be the best game of a loaded Saturday slate, as Trae Young and the high-powered OU offense meet Bob Huggins and "Press Virginia". A knock on Trae Young is that he averages around 4 turnovers per game, and WVU is 6th in D-1 for steals per game. I think Trae Young will still finish with 20+ points, but I think Jevon Carter and West Virginia rattle him. I like the Mountaineers to quiet the Trae Young hype train, for a night at least.
Kansas Jayhawks @ TCU Horned Frogs (9:15-ESPN2)
-TCU lost to Oklahoma on Saturday to end their undefeated season, and will have to face a solid, but not spectacular, Kansas team this Saturday. Kansas has limited to none frontcourt depth, although they did land Silvio de Sousa, who just completed his coursework from the IMG Academy. Luckily for the Jayhawks, TCU isn't a very big team, and will struggle to contain one of the best backcourts in the nation. I like KU to take this one in Fort Worth.
---