NFL Round 1 Mock Draft
It is #MockDraftSzn, and with Mel Kiper Jr. and NFL.com releasing their first Round 1 mocks of the year, BeastLine Sports has decided to throw our hat into the ring, and make our own predictions on what we think Round 1 might look like. Before we begin, these predictions are extremely early, as the NFL Combine and Pro Days haven't even happened yet. Plenty of things will change, medical checkups could reveal some concerns for players, so don't take these predictions religiously. Then again, no BeastLine Sports prediction has been wrong yet, so we very well might go 32/32.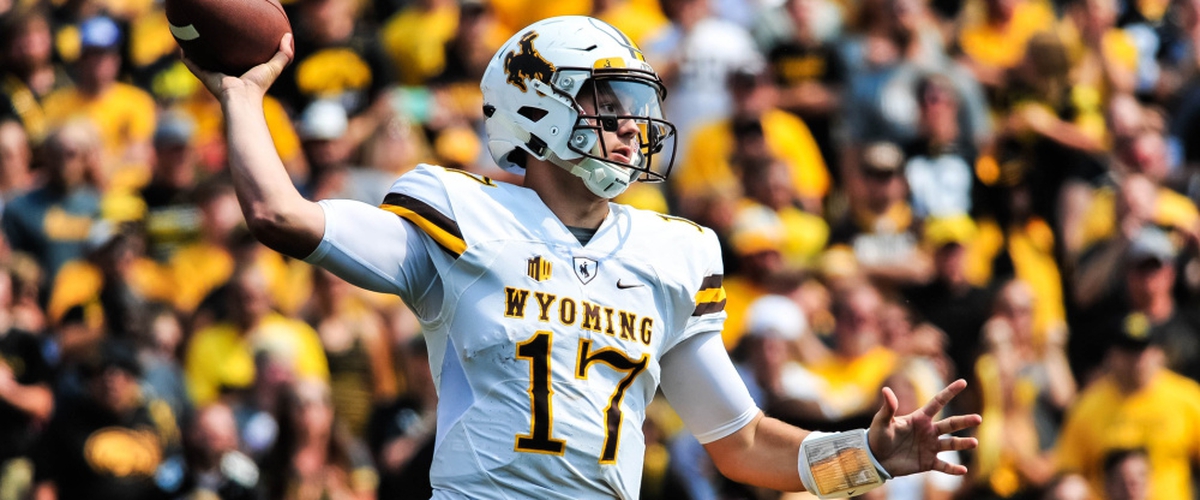 Pick #1: Cleveland Browns (QB-Josh Allen, Wyoming)
-Josh Allen isn't our favorite QB in the draft, and we don't believe he is the best, but early rumors seem to point Allen to Cleveland. New General Manager John Dorsey is apparently enamored with him (Peter King of MMQB has said that one veteran scout stated there is "no way" that Browns GM John Dorsey passes on Allen). Maybe the Browns want a small-school, physical beast of a player since they inexplicably passed on Carson Wentz two seasons ago. Allen is a physical freak, as he stands at a towering 6'5 (way above Hue Jackson's ridiculous height threshold) and he has a cannon of an arm. Josh Allen is turnover-prone, and is commonly labeled as a "gunslinger". Allen also didn't take a big leap forward this year at Wyoming, and many scouts and people cite his supporting cast as a reason why, which I could believe. I think Josh Allen is much more of an NFL-style quarterback than a college player, and while I think there are better QB prospects in the draft, it seems like the Browns, so far at least, are enamored with the potential of Josh Allen.
Pick #2: New York Giants (QB-Sam Darnold, USC)
-I am still a believer in the New York Giants rebounding next season, as they were hampered by injuries, an awful offensive line, a terrible head coach, and complete dysfunction. With Dave Gettleman coming in as the new GM, and presumably hiring Vikings offensive coordinator Pat Shurmur, the Giants should be in much better shape next season. I don't see any particular dominant offensive lineman in this class that are worthy of a top-3 pick, and I think New York wants to lock up their future QB here. Enter Sam Darnold, arguably the best prospect in the class. Darnold is a great athlete with a strong, accurate arm who had a solid season at USC (4,143 passing yards, 26 TDs, 13 INTs). Darnold is a bit turnover prone, which is understandable for a young quarterback, and he has plenty of time to mature. I think New York is the ideal landing spot for Darnold since he can use a few years to continue to grow, and the Giants can still start Eli Manning for at least 1 more season. Allowing Darnold to grow behind a hall of fame quarterback should work wonders for his confidence, and his development.
Pick #3: Indianapolis Colts (DB-Minkah Fitzpatrick, Alabama)
-There are a lot of early rumors that Saquon Barkley is the early favorite for this pick, but I think Indianapolis has bigger needs than RB. Minkah Fitzpatrick can fill one of those needs, which is secondary help. The Colts have begun to makeover their secondary; releasing Vontae Davis, adding two rookies in Quincy Wilson & Malik Hooker, and they found a diamond in the rough in Rashaan Melvin. Despite this overhaul, the Colts still got shredded through the air, and adding Minkah Fitzpatrick would work wonders for this defense. Fitzpatrick is a versatile player that can lineup in the slot, in the backend as a nice complement to Hooker, or by the line of scrimmage. Additionally, Minkah was an elite tackler and playmaker for the Alabama defense, and he was easily their best defensive player. With so many holes in the Colts defense, adding someone with the versatility of Fitzpatrick can really boost a defense, and start building a nice defensive core of Hooker, Fitzpatrick, Melvin and Wilson.
Pick #4: Cleveland Browns (RB-Saquon Barkley, Penn State)
-I love this scenario for the Browns, and I haven't seen in it floated around all that much. Imagine this; the Browns have already snagged what they hope to be their franchise QB with the first pick, so why not reduce the pressure on him by snagging the best RB in Saquon Barkley with the 4th pick? Barkley is an electric running back; he can catch, break tackles with his underrated strength, and outrun almost anybody. He is an elite running back prospect, and his main weakness is he can be indecisive at times. How can Cleveland hide this weakness? By using their oodles of cap space and signing some of the best offensive lineman in free agency, and by drafting one in the second round. The Browns' defense is underrated, and when Danny Shelton is healthy, they have a top-5 run defense. If Cleveland can add an impact offensive player next to Josh Allen or whoever they were to take with the #1 pick, they could possibly win 4-5 games next season (if Hue Jackson learns how to coach, which is a big IF)
Pick #5: Denver Broncos (QB-Baker Mayfield, Oklahoma)
-I love Baker Mayfield, and I think he's the best quarterback prospect in the class. That being said, I think Cleveland will go Allen (for the reasons above), and I don't know if New York would be willing to take a chance on Baker. While Mayfield may have maturity issues (I call them being competitive), I think John Elway is the type of guy to take a chance on him, as Mayfield can be special. Baker is an electric passer, especially on medium throws (10-20 yards), and he has underrated mobility that can allow for bootlegs and RPOs, which are becoming more popular in the NFL. Additionally, the Broncos are set up well to add a rookie QB, as Demaryius Thomas & Emmanuel Sanders are one of the best receiving duos in the NFL, and the AFC West has two of the worst pass defenses in the NFL (Raiders, Chiefs). I truly believe that Baker Mayfield will be a steal, and I think Denver is the perfect place for him to land.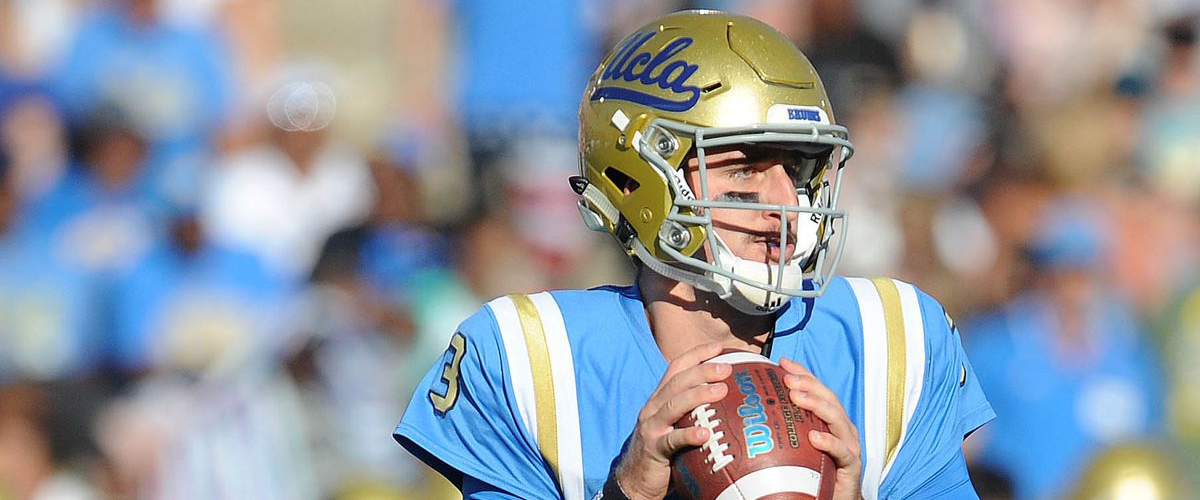 Pick #6: New York Jets (QB-Josh Rosen, UCLA)
-Josh Rosen might have the most natural talent of any QB in this draft class, but serious questions remain. I, personally believe Rosen will be a solid QB, not great, but I think he can lead a team to a conference championship game at one point. Rosen is an extremely gifted passer, and he can make throws that only a few passers can make on a consistent basis. Josh, like Baker, has some maturity question marks (including his school comments and reported rumors about him not being a true leader), but I just can't picture them turning a team off. Truthfully, I kind of like Josh Rosen, and I think his comments, while they are bold, highlight the truth about college athletes. Rosen did have a shoulder issue last season, but he did look good this year for the Bruins, including a magical comeback against the Texas A&M Aggies, a game where he convinced me of his talent. I don't think many Jets fans will be unhappy if Rosen landed in the Big Apple.
Pick #7: Tampa Bay Buccaneers (DE-Bradley Chubb, NC State)
-If so many teams didn't need to draft a quarterback this season, then we might be talking about Bradley Chubb as the first pick in the draft. Chubb is easily the best pass rusher in the NFL Draft, and is coming off a phenomenal senior season for the Wolfpack, where he had 10 sacks in just twelve games. Chubb is an explosive athlete, who can also wreak havoc against the run. The Tampa Bay Buccaneers had one of the worst pass-rushes in the league last season, and their Tampa 2 defense is predicated on getting pressure with a four-man front. Adding Chubb to go along with perennial underrated stud Gerald McCoy and Robert Ayers gives the Bucs a really good offensive line, and possibly renewed hope at a playoff berth in 2019.
Pick #8: Chicago Bears (OG-Quenton Nelson, Notre Dame)
-The Chicago Bears have a huge hole at WR, and while I love Calvin Ridley as a prospect, I think Quenton Nelson is way too good to pass up. Nelson has been heralded as a better prospect than Zack Martin was when he came out of Notre Dame, and as we all know, Martin is probably the best guard in football right now. Nelson is a powerful guard (330 lbs.), and excels in both run and pass protection. The Chicago Bears have a pretty solid offensive line, and adding Nelson allows them to potentially move Kyle Long back to RT, and possibly bring back Josh Sitton. Either way, passing on an offensive lineman with the talent of Nelson is something I wouldn't recommend the Bears to do.
Pick #9: San Francisco 49ers (S-Derwin James, Florida State)
-Derwin James was a likely top-3 pick before the season started, and while he got off to a slow start this season recovering from a torn ACL, he finished the year really strong, and boosted his draft stock. James is more of an in-the-box safety (somewhat in the Kam Chancellor mold), and is a tremendous athlete. The San Francisco 49ers' defense improved dramatically after Jimmy Garropolo took over, but there are still plenty of holes to fill. The 49ers have some solid pieces in the secondary (Jimmie Ward, Jaquiski Tartt), but Eric Reid is a free agent. Having a hybrid safety/linebacker like James could give the 49ers an elite weapon to help out against the run, or shore up the back end of their secondary.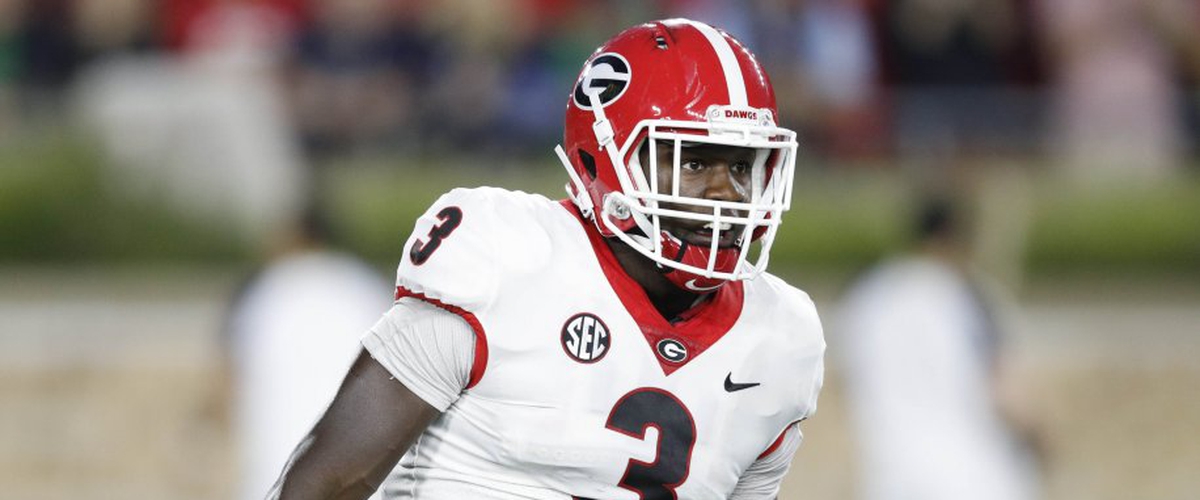 Pick #10: Oakland Raiders (ILB-Roquan Smith, Georgia)
-Roquan Smith is a beast, and he is easily the top linebacker prospect in the 2018 Draft. Smith was all over the field in every game for the Bulldogs this season, including an outstanding performance in the National Championship game, as he finished with 13 tackles and 1 sack. Smith shines brightest in the biggest stage, and the Oakland Raiders have multiple holes to fill on their defense. First, the Raiders might switch to a 4-3 scheme now that Paul Guenther is their new defensive coordinator, which means that Khalil Mack might move to DE full-time. Secondly, the Raiders are awful in defending the run, which makes adding a linebacker of Smith's caliber would greatly boost their rush defense. I can already imagine Jon Gruden licking his lips if Smith is still available at Pick 10, and he would be a great fit in silver and black.
Pick #11: Miami Dolphins (OT-Mike McGlinchey, Notre Dame)
-As you can tell so far, Notre Dame had one of the best offensive lines in college football this past season. McGlinchey, one of Notre Dame's starting tackles, had an amazing year, as he excelled in pass protection, and especially run blocking, as the Irish were a top-10 running offense for most of the season. The Dolphins offensive line has struggled it seems like for years now, and while Laremy Tunsil is a solid piece, they desperately need another player. McGlinchey can slide in at RT and be the immediate starter there, or he could play LT, which could bump Tunsil back inside. Either way, McGlinchey would be a solid fit in South Beach.
Pick #12: Cincinnati Bengals (OT-Orlando Brown, Oklahoma)
-The Cincinnati Bengals offensive line was awful last season, and it really set this offense and team back. Joe Mixon, their prized rookie, couldn't find any room to run all season, and Andy Dalton rarely had enough time to make the right play. Enter Orlando Brown, a behemoth of a tackle (6'8, 360 lbs.), who could immediately enter as either the starting LT or RT. Cincinnati desperately needs to overhaul their offensive line, which makes Brown such a perfect fit as the best offensive lineman remaining. Additionally, Brown was Joe Mixon's teammate at Oklahoma, which could be useful for chemistry purposes.
Pick #13: Washington Redskins (DT-Vita Vea, Washington)
-With this pick, I'm going to assume Kirk Cousins stays in Washington. If Cousins were to leave, odds are the Redskins would look at Lamar Jackson & Mason Rudolph here. But, for all intents and purposes, let's say Cousins stays in Washington, then the Redskins should put a point of emphasis on their front four. The Redskins currently have Ziggy Hood occupying the nose tackle position, and while he's solid, he isn't the long-term answer. Enter Vita Vea, arguably the best player remaining. Vea is a freak athlete, and one of the best run defenders in the class. If Vea can play consistently at a high level, then he's a top-5 talent. However, his effort is questioned enough for him to fall to the Redskins.
Pick #14: Green Bay Packers (CB-Denzel Ward, Ohio State)
-The Green Bay Packers have made some attempts to shore up their secondary, but nonetheless, it was pretty awful this season. To give you an example, DeShone Kizer threw for 4 TDs against them. Green Bay just drafted Kevin King last season and he showed some potential, but they could really use another guy. Denzel Ward has serious shutdown potential, and could have a Marshon Lattimore-type impact on Green Bay. Ward was a true lockdown corner this season for Ohio State, and he consistently improved as the season went on. Ward is a little undersized (5'10), but his ball skills and technique more than makes up for it. He would be a really solid addition to shore up the Packers' back line.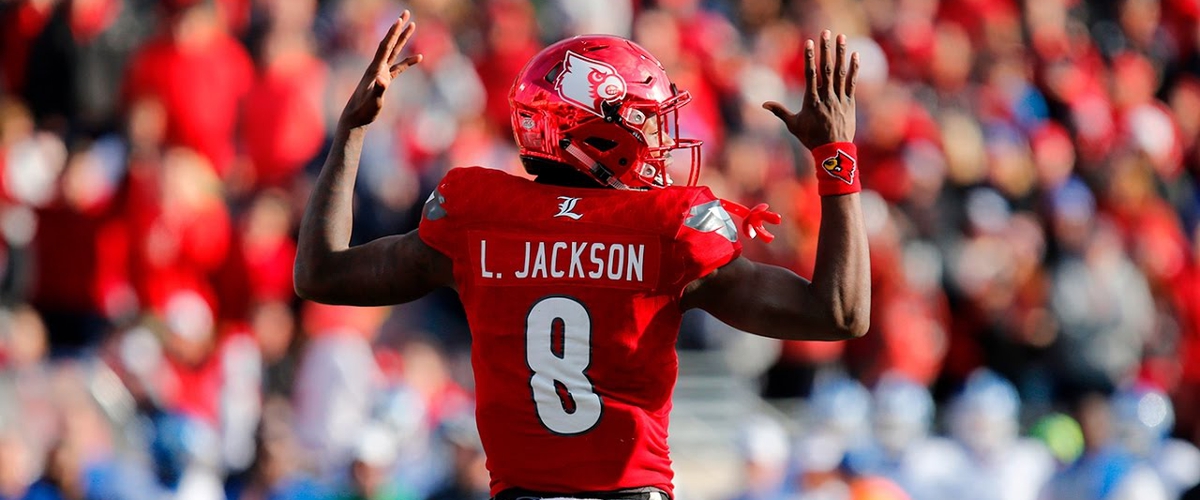 Pick #15: Arizona Cardinals (QB-Lamar Jackson, Louisville)
-The Arizona Cardinals need a quarterback now that Carson Palmer has retired, and with a new head coach entering as well, they might as well take a chance on a player with arguably the highest-upside in the draft. Lamar Jackson is a freak athlete, and I personally think he can be a successful QB at the next level. Jackson is inconsistent as a passer, but he has a strong arm, and elite mobility. Defenses will have to completely change their game-plans to contain Lamar, and if Arizona were to hire an offensive coordinator that would implement some read-option and RPO style plays, Jackson could take off. I think Arizona should take a shot on LJ here, as he can really turn that franchise around in a hurry.
Pick #16: Baltimore Ravens (WR-Calvin Ridley, Alabama)
-Truthfully, the wide receiver class isn't all that great this season, but Calvin Ridley has the potential to be an elite wide receiver. Ridley's numbers aren't eye-popping, but mainly because Jalen Hurts was his quarterback for the past two seasons. Ridley is a smooth route runner with good hands, and while he's not an elite athlete or a 50/50 ball type of guy, he's more than capable of breaking a big play. I still believe Joe Flacco is a really good NFL QB (I'll stop short of calling him elite), he just needs competent weapons. Ridley would immediately become the number 1 option on Baltimore, and would probably help propel Baltimore back into the playoffs next season.
Pick #17: Los Angeles Chargers (DT-Maurice Hurst, Michigan)
-The Los Angeles Chargers have a really good team, and if they hadn't have gotten rid of Josh Lambo, they would probably have been a playoff team. The Chargers had a top-5 scoring defense, in large thanks to their strong secondary. However, the Chargers had one of the worst run-defenses in the NFL, and could really use a boost on their defensive line. That's why Maurice Hurst is such a good fit. Hurst is another great athlete who can really dominate, and control the line of scrimmage. Adding Hurst into a rotation with Brandon Mebane and Corey Liuget can help LA remain fresh up front, and gives them a big boost to stopping the run.
Pick #18: Seattle Seahawks (OT-Connor Williams, Texas)
-Connor Williams was regarded as one of the top offensive line prospects in the country before he suffered a knee injury this season. While there will be some medical concerns and talk about how good he truly is, he's definitely still a first-round talent. The Seattle Seahawks offensive line is consistently the worst in the NFL, and they have to upgrade it if they want to make the playoffs next season. Connor Williams would be a great addition as he can start at RT, and give them at least three solid linemen in Duane Brown, Justin Britt and Williams.
Pick #19: Dallas Cowboys (WR-Courtland Sutton, SMU)
-This would be an intriguing pick for the Dallas Cowboys, and I believe wide receiver is a need for Dallas. When Ezekiel Elliott got suspended, Dallas' offense was exposed, mainly because they had no weapons who could make plays. Courtland Sutton could change that, as he is an explosive receiver who broke 26 tackles over the past two season. Sutton (6'4), has ideal size to give Dak Prescott a red zone threat not named Dez Bryant, which should tremendously help their efficiency. Sutton might not be the pick Cowboys' fans hope for, but he would be a solid addition.
Pick #20: Detroit Lions (DE-Marcus Davenport, UTSA)
-Marcus Davenport would be an immediate boost to the Detroit Lions front line, especially since Ezekiel Ansah is a free agent this off-season. The Lions consistently struggled to pressure the quarterback this season, and to stop the run. Luckily, Marcus Davenport is still available at pick 20, and his insane size (6'7) and ability to rush the passer makes him a really nice fit in the Motor City. Davenport isn't a well-known commodity, but he sure was productive, as he had 8.5 sacks and 3 forced fumbles in just 11 games this season. The Lions desperately need an improved pass rush, and Davenport would give new HC Matt Patricia a great weapon along the defensive line.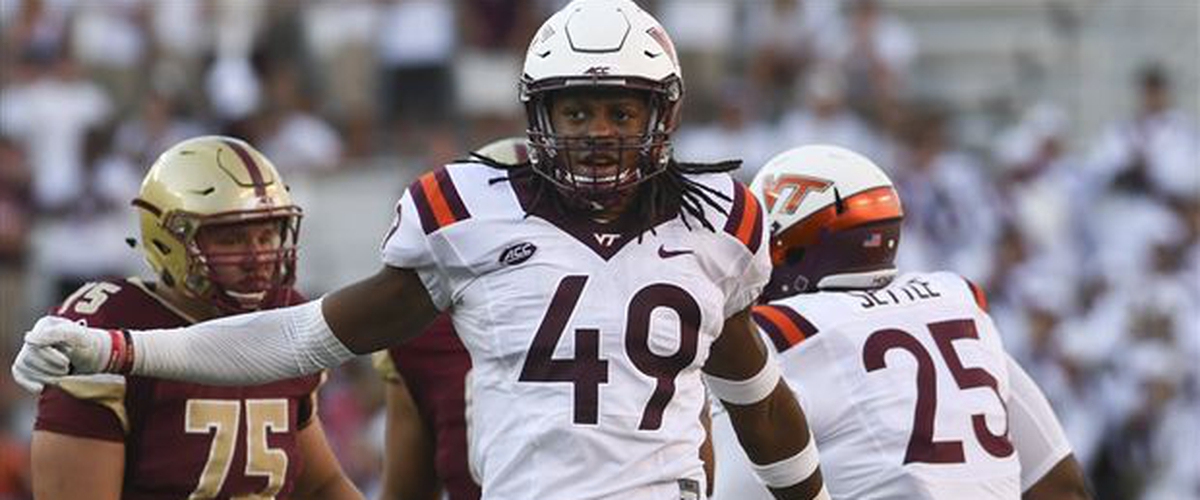 Pick #21: Buffalo Bills (LB-Tremaine Edmunds, Virginia Tech)
-The Buffalo Bills were a pleasant surprise in the 2017-2018 season, despite trading away a lot of talent. Sean McDermott established himself as a terrific NFL head coach, and his defense consistently played at a high level. However, Buffalo could still use an impact linebacker, as they were one of the worst defenses against the run in the NFL. Tremaine Edmunds could really help out here, as he is a lightning-fast linebacker that NFL Media Analyst David Jeremiah compared to Anthony Barr. Edmunds is fantastic against the run and can play inside, but his best fit might be as a rangy outside linebacker that could stop the run, and potentially cover some tight ends. He would be a great fit for the Bills.
Pick #22: Buffalo Bills (WR-Christian Kirk, Texas A&M)
-The Buffalo Bills acquired this pick from the Kansas City Chiefs in the Patrick Mahomes trade last year, and it could come in handy for the new regime in Buffalo to draft their type of players. Christian Kirk is an electric receiver out of College Station, and similar to Calvin Ridley, he was held back by poor quarterback play. Kirk can be a star in the NFL, as he has tremendous big-play ability while being a smooth route runner. Kirk can line up in the slot and be an immediate weapon for Tyrod Taylor, or whichever QB the Bills opt to sign in free agency (if they go that route). Adding Kirk would certainly give the Bills offense a big boost.
Pick #23: Los Angeles Rams (CB-Josh Jackson, Iowa)
-If Josh Jackson falls this far into Round 1, then the Rams would get a steal. Josh Jackson has all of the tools of an elite cornerback in the NFL; he has prototypical size (6'1), and tremendous coverage ability (he had 18 pass breakups this season). Jackson led the FBS in interceptions, as he picked off eight passes in thirteen games, including a game against Wisconsin where he had 2 touchdowns. Jackson is a solid tackler who can defend against the run, but he has real shutdown ability as a cover corner. The Rams could shore up their secondary, especially with Trumaine Johnson headed for free agency. Jackson would be a perfect fit in Southern California.
Pick #24: Carolina Panthers (OT-Kolton Miller, UCLA)
-The Carolina Panthers always seem to have an underachieving offensive line, and they definitely need to shore up that position group this off-season. Their star interior lineman Andrew Norwell will be a free agent, and it might be hard for the Panthers to retain him. Kolton Miller would be a nice addition to the Panthers' offensive line, as he could start at RT, or possibly play his college position of LT. Miller is huge (6'8, 310 lbs.), but isn't particularly a dominant prospect. However, his large frame and solid technique makes him a good pick for the Panthers, as he has plenty of room to continue to grow in the NFL.
Pick #25: Tennessee Titans (DE/OLB-Arden Key, LSU)
-Arden Key was another player projected to be a top-5 pick when the season started, but injuries, ineffectiveness, and possible off-field issues have seen his stock plummet. When engaged and healthy, Key is a terror on the edge, and he can consistently generate pressure on opposing quarterbacks. New Head Coach Mike Vrabel is looking for a player like Key, as the current rotation of Derrick Morgan, Brian Orakpo, and Erik Walden wasn't good enough in 2017. The Titans struggle in the secondary, so adding a star pass rusher in Key could help cover some of the deficiencies Tennessee experiences while trying to stop the pass.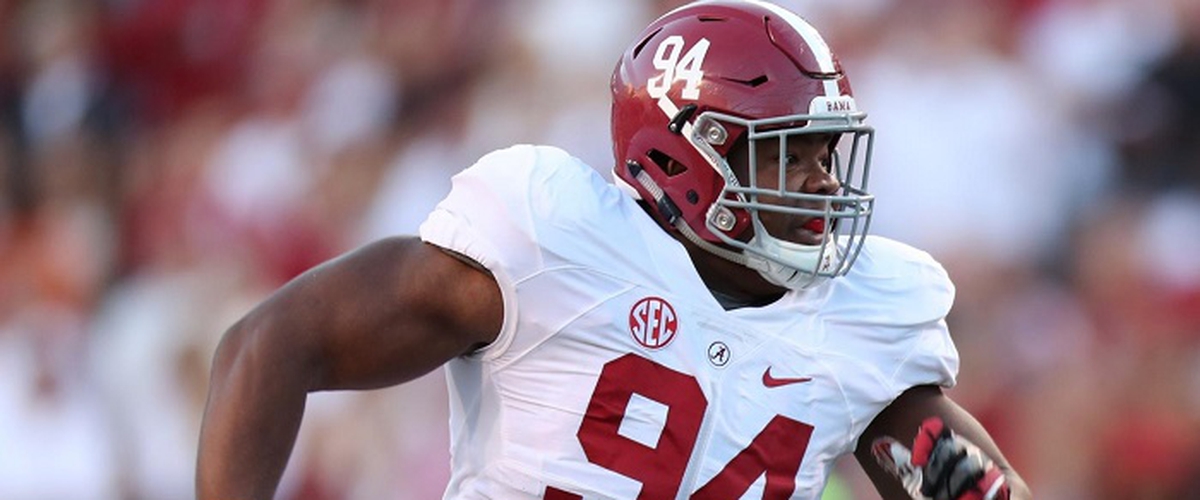 Pick #26: Atlanta Falcons (DT-Da'Ron Payne, Alabama)
-Da'Ron Payne is an awesome talent, and for a player of his size (6'2, 308 lbs.), he is a tremendous athlete, evident by his touchdown reception against the Clemson Tigers in the College Football Playoff. Payne is an explosive athlete who can disrupt the run, or occasionally pressure the quarterback. Dan Quinn is a tremendous defensive coach for the Falcons, and drafting a player like Payne who can lineup all over the defensive line is a huge plus. A defensive line featuring Vic Beasley, Grady Jarrett and Da'Ron Payne is certainly exciting, and should give the Falcons one of the best pass-rushes in the league next season.
Pick #27: New Orleans Saints (DE/OLB-Sam Hubbard, Ohio State)
-Sam Hubbard was an extremely productive player in his three seasons with the Buckeyes, as he finished this season with 7 sacks, and 2 forced fumbles, including particularly strong performances at the end of the season, as he had 5 sacks and 1 forced fumble in the final three games. Hubbard is an explosive pass-rusher that would be a great fit opposite Cameron Jordan for the Saints. Hubbard will probably be limited to pass-rushing opportunities as a rookie, but he has an elite amount of upside to be an every down player, and a terror for opposing offenses.
Pick #28: Pittsburgh Steelers (ILB-Rashaan Evans, Alabama)
-When Ryan Shazier went down with an extremely serious injury against the Cincinnati Bengals, it seemed as if he would have a hard time possibly playing football again. We are rooting for him to pull through, but his injury did highlight a need, linebacker. Vince Williams was solid, but running a 3-4 scheme, the Steelers could never find the right guy to put next to him. Rashaan Evans is a great fit here, as he is an extremely fast and athletic linebacker. Evans can make a ton of plays, and really thrived in his first season as an inside linebacker. He would be a player that can help bring back the glory days of the Steelers' defense.
Pick #29: Jacksonville Jaguars (TE-Mark Andrews, Oklahoma)
-There are three really good tight end prospects in the draft class (Andrews, Hayden Hurst and Dallas Goeddert), but I believe Andrews is the best of the three. Mark Andrews is a polished route runner who was one of Baker Mayfield's favorite targets, as he caught 62 passes for 958 yards and 8 TDs this past season. Andrews has great size for a tight end (6'5, 254 lbs.), and could be a premier red-zone threat for the Jaguars, especially if Allen Robinson leaves in free agency. Andrews has to improve as a blocker, but he would give the Jaguars' QB another solid weapon come the start of the season.
Pick #30: Minnesota Vikings (OT-Tyrell Crosby, Oregon)
-If you watched the NFC Championship Game, you saw that while Philadelphia smacked Minnesota's defense around, the main problem with the Vikings' offense was their inability to protect Case Keenum. Minnesota has to upgrade their offensive line, and Tyrell Crosby is a great player to do so. Crosby was given a pass-blocking rating of 99.2 by Pro Football Focus, which was the best among all draft-eligible tackles. Crosby can immediately step in as a starter on their offensive line, and his ability to protect the passer should have Mike Zimmer and the Vikings' faithful smiling ear-to-ear.
Pick #31: Philadelphia Eagles (OT-Chukwuma Okorafor, Western Michigan)
-To start, I list the Eagles at pick 31 just because their record (including tiebreakers), is worse than the Patriots. I'm not listing Philadelphia here because I think they will lose. The Eagles have a really solid team, and surprisingly, have few holes on their roster. However, LT is a problem for Philly, as star Jason Peters tore his ACL & MCL and missed the rest of the season. Philadelphia should begin to look for his replacement, as Peters is 36 years old. Okorafor is an interesting prospect, as he is a great athlete who would fit Doug Pederson's offensive scheme well, and he can play both tackle spots, giving Philly some great versatility along the offensive line, while grooming him to be Jason Peters' replacement. This would be a solid pickup for the Eagles.
Pick #32: New England Patriots (DE/OLB-Harold Landry, Boston College)
-Harold Landry is a tremendous pass-rusher, one who had 16.5 sacks in the 2016 season for the Boston College Eagles. Landry has tremendous speed off of the edge, and could be a potential 15-sack player if he reaches his potential. While many would want to see the Patriots draft a QB here to add some intrigue to New England, the truth is that the Patriots pass rush is pretty weak. James Harrison was the one to get consistent pressure on Blake Bortles, and adding Landry to a solid young core of Trey Flowers and Deatrich Wise Jr. could give New England a really nice pass rush.
-Thanks for reading, make sure to follow (@BeastlineSports) on twitter, and tweet us with where you think we went wrong, mistakes in the article, or picks you want to see your team make! Check back later today, or possibly tomorrow for our article detailing the Atlantic 10 conference in college basketball!