Face It Tampa: Jameis Winston is not an elite franchise quarterback.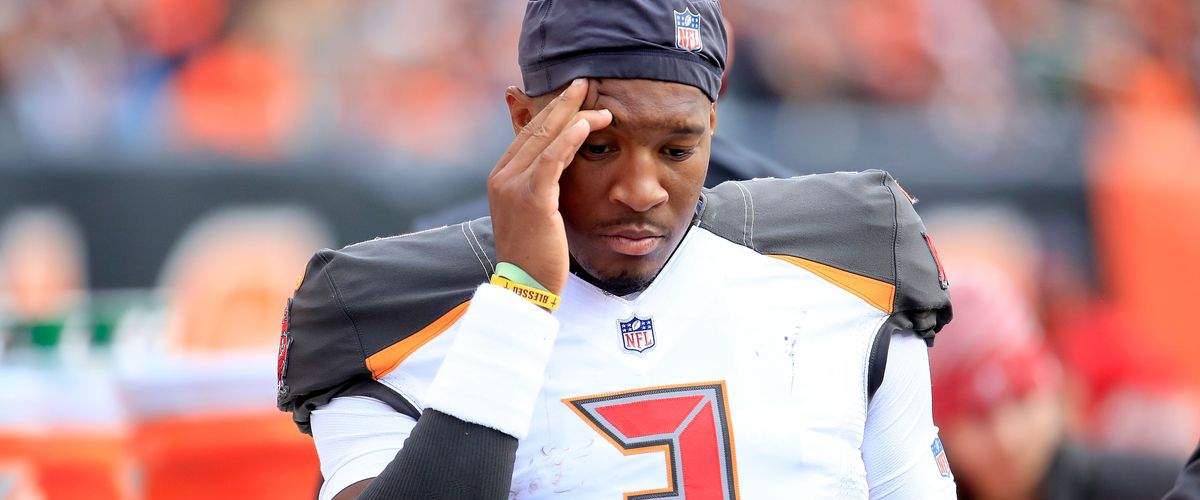 In 2015, the Tampa Bay Buccaneers drafted quarterback Jameis Winston out of Florida State, Winston was an hiesman trophy winner and a national champion. The Buccaneers drafted Winston to be the next face of the franchise and to get the Bucs out of a slump that the franchise has been for years.
But his off the field troubles never went away, in college he was accused of rape and got caught shoplifting at a local Publix. Than in 2016, he was accused of gropping an Uber driver and got suspended the first four games earlier this season. Winston came back and replaced Ryan Fitzpatrick in week 4 at Chicago but wind up throwing 2 interceptions, if that wasn't bad enough, he threw four interceptions before getting benched late in the third quarter against Cincinnati on Sunday. Jamies Winston has now thrown for a combine of 10 interceptions in just four games, Winston now has 50 career interceptions, 35 fumbles, and 71 turnovers.
So now It's time to face It in Tampa, Jameis Winston is not an elite franchise quarterback. Pastore I never like to Jameis Winston since he was at Florida State, yeah he was talented and still gifted but his off the field troubles is what was irritating. Winstone continues to miss behave and now that he's in the professional football league, Who should have grown up by now but instead he still acting like a child. Plus he has failed for the past four years to be that team leader and to get the Buccaneers to the playoffs and make them contenders, he's continuing to let his off the field troubles get the best out of him and is why he continues to struggle, Winston is lacking athleticism, playmaking, leadership, and dare I say maturity. The turnovers and troubles are continuing to hurt Winston and now because of that, the Buccaneers are having a quarterback problem between him and Ryan Fitzpatrick.
Listen I do not wish for Jameis Winston to fail, I hope that he succeeds, I hope that he turns out to be great by he's got to act mature and stop getting into trouble. He is got to be more committed to his team and find a way to get better on the football field but because he lacks all of that is the reason why he is not an elite franchise quarterback. It is never too late to go off and it is never too late to change and Jameis must start now,
if he cannot mature and play better, the Tampa Bay buccaneers are going have to find another franchise quarterback that will make the changes that Jameis must make now before he'll become a bust.
---