It's official: Jimmy Garoppolo is out for season with torn ACL.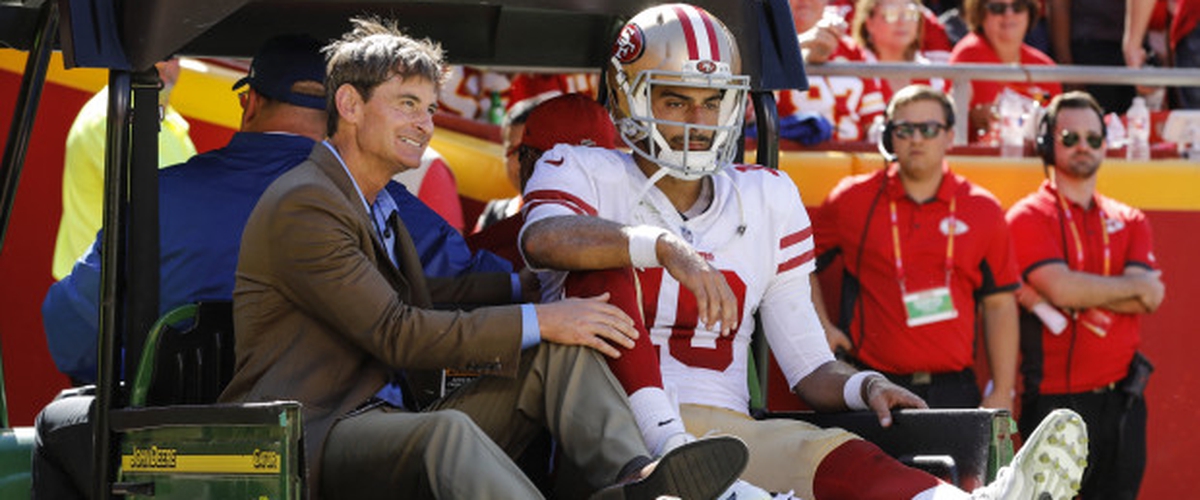 The San Francisco 49ers are going to have a big pI'll to swallow because quarterback Jimmy Garoppolo is out for the season due to a torn ACL. Garopollo suffered a left leg injury on Sunday after scrambling for more yardage while seeing his left knee buckle, Garoppolo was carted off the field and went for an MRI on Monday, the Niners now confirm that the MRI shows that Garopollo has torn his ACL and will miss the rest of the season.
Jimmy Garoppolo began his careerr with the New England Patriots, In 2016, Garoppolo started three games during atom Brady's suspension in which he completed 43 passes for 502 yards and four touchdowns. Last season, the Patriots shipped him to San Francisco and Garoppolo start the team's final five games with 1,560 yards and seven touchdown passes.
This offseason, the 49ers signed him to a five year deal worth $137 million. The Niners entered the 2018 season with hopes that Garoppolo can turn the team around and get them back into the postseason but now he torn his ACL and sent the 49ers back into a hole. Garoppolo finishes his season with 53 completed passes for 718 yards and five touchdowns.
What's next?
It seems now that the Niners are going with C.J. Beathard as their starting quarterback, unless they can traded for another quaterback or say sign a free agent like former Niners quarterback Colin Kaepernick but due to his kneeling for the anthem and all the media attention, I am not sure if the team is willing to make that move and bring him back. Things are looking bad now for the Niners, they lost Jimmy G for the year, they lost running back Jerick McKinnon to an ACL earlier this month, and they lost cornerback Richard Sherman to a calf injury for 2-3 weeks at least. The 49ers were looking to be on the rise in the NFC along with the Eagles, division rival Rams, Packers, Falcons, Saints, any contending team you can name but now they are back in that deep hole yet a
---