Robert Griffin III and Lamar Jackson have a lot to prove on the Baltimmore Ravens.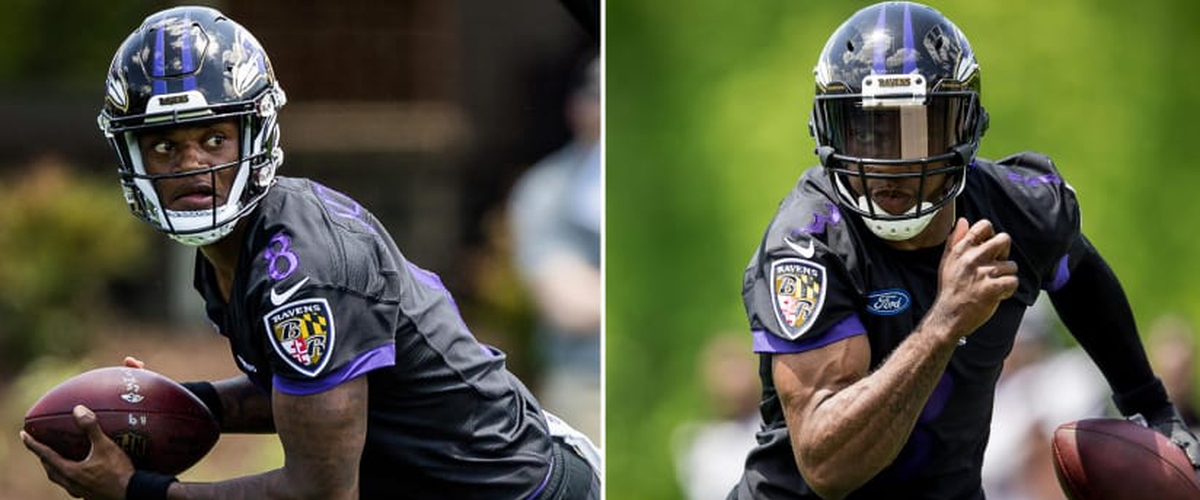 Thursday night was the first official NFL preseason game held in canton, Ohio. The Baltimore Ravens took on the Chicago Bears two days before former middle linebacker Ray Lewis who played for the Ravens from 1996-2012 winning two super bowl titles is set to be inducted into the pro football hall of fame. But if this pre season game mean't anything to anybody than It mean't to two people, both quarterbacks Robert Griffin III and Lamar Jackson and they got a lot to prove. RG3 started the game in most of the first Thirsday night, throwing his first touchdown pass since 2016 to tight end Max Williams completing 7/11 and finishing with 58 yards and an interception. Lamar Jackson only completed 4/10 for 10 yards with one touchdown and one interception while he played the entire second half. However, Joe Flacco will remain the starting quarterback but both Griffin and Jackson will be fighting for the number 2 spot and I warn that one of them could be cut before the regular season is under way.
Robert Griffin III was drafted second overall by the Washington Redskins in 2012 behind Andrew Luck, Griffin played three seasons with the Redkins. Griffin finished his first season as the rookie of the year finishing with 3,200 yards and 20 touchdowns and was selected to the pro bowl but was delayed due to his ACL and LCL ligaments his right knee and was replaced by Drew Brees. Griffin winded up suffer more minor injured such as an dislocated left ankle and a concussion the next year. Grffin lost the starting job to Kirk Cousins (now with the Minnesota Vikings) and was released by the Redskins in 2016.
Grffin signed with the Cleveland Browns three days later and Hue Jackson named him as the starting quarterback, Griffin went on to suffer a shoulder injury in the season opener against the Eagles. He only played five games completing 87 of 147 attempts for 886 yards two touchdowns and 3 Interception, Griffin also rushed for 190 yards and two touchdowns. He was cut by the Browns in March 2017 and 13 months later signed a one year contract with the Baltimore Ravens. Griffin is given another chance to redeem is NFL career, If Drew Brees can do It than he can too and this stunt with the Ravens could very well be his last chance, Griffin has to prove that he still belongs in the NFL whether he is a starter or a back up.
Lamar Jackson was drafted as the 32 overall pick by the Ravens in this year's NFL draft, the rookie complete four out of ten attempts for 33 yarda with a touchdown pass to one of the Ravens other first round choices Hayden Hurst and Jackson had an interception. Jackson was a sensation at Louisville, he won the heisman trophy in 2016. He finished with 9,043 passing yards and 27 passing touchdlwns along with 4,132 rushing yards and 50 rushing touchdowns. Jackson fell as the final pick in the first round of the NFL draft as other quarterbacks were picked before him such as Baker Mayfield, Sam Darnold, Josh Allen, and Josh Rosen. Many fans felt like Jackson got discriminated due to the fact that he was a black player but for Jackson, he should use the not getting picked up early in the draft as motivation to prove to the other teams that they made a mistake by not drafting him. Many quarterbacks that were drafted later in the draft have proven to be great, I mean just look at Tom Brady and Russell Wilson.
Both Griffin and Jackson have a right to prove, yeah they're not gonna be able to start over Joe Flacco but It's important for them to claim the number two spot, that may very well be important to both men and their careers. For RG3, this may very well be his last chance in the NFL. For Lamar Jackson, this may very well be once of a lifetime opportunity. Because being a back up quarterback you just never know they are willing to shine, Drew Bledsoe went down and look where that took Tom Brady's career. Last season Carson Wentz went down with an ACL injury no one expected Nick Foles to win the Super Bowl for the Eagles. So yeah are being a back up quarterback is important for both Griffin and Jackson because It may be their big chance to possibly remain in the NFL, or if Flacco goes down to give them an opportunity to shine, and if they play well to win a starting job whether It's in Baltimore or else where. If the first preseason game was not enough, It's gonna be a wild ride for both men and It's only just the beginning.
---