The Philadelphia Eagles are slowly pushing for Carson Wentz to start in week 1.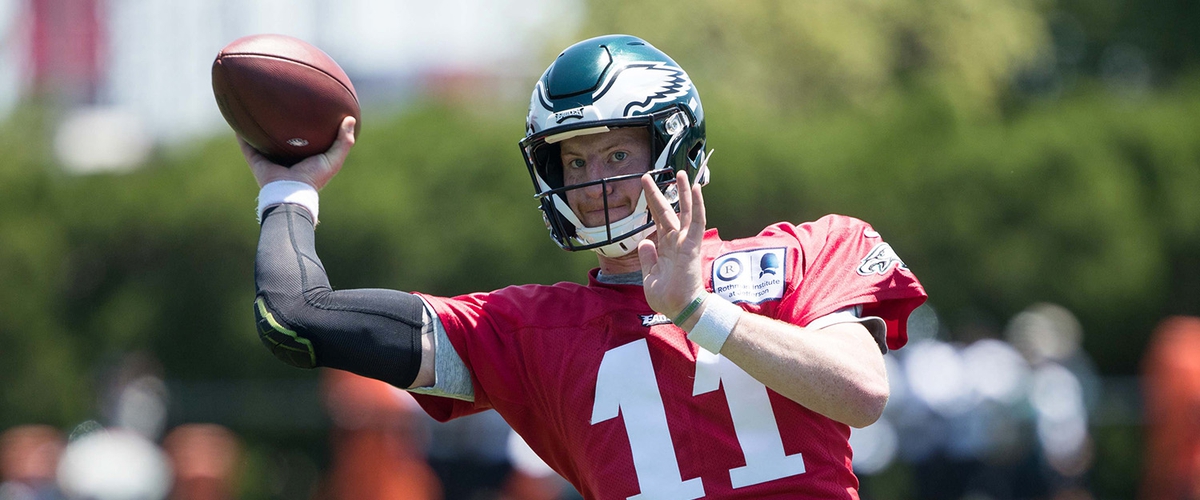 NFL season is almost here and the Philadelphia Eagles are on a mission to repeat as the Super Bowl Champions, the Eagles are set to host the Atlanta Falcons on September 6th season opening and the focus for them right now is to get quarterback Carson Wentz ready. Last season Carson Wentz went down with a torn ACL and LCL, he finished the season with 3,296 yards and 33 touchdowns with a percentage of 60.2. The Eagles went on to defeat the New England Patriots in the Super Bowl with backup quarterback Nick Foles, the Eagles have made It clear that Carson Wentz is the team's number one quarterback and I am sure Foles may very well be at peace with It.
Wentz participated in the 11 on 11 drills and teammates are amazed on how more motivated he is to get back on the field, even head coach Doug Pederson. Pederson says that Wentz is showing a few signs of injuries but that the team will take It slow to make progress to get him ready for week 1. The Eagles drafted Wentz as the second overall pick in 2016, last season he put up really good numbers and lead the Eagles as the top seed in the NFC and was selected into the pro bowl until he went down.
Now the Eagles are determined to win another Super Bowl and Wentz wants to be part of It next time around, the only thing he has to do is play like his old self. If Wentz is able to go in week 1 as he is likely to and he plays like his old self again, the Eagles may very well have a really good shot at another Super Bowl Championship but like Doug Pederson says, the team will take It slow in process to get him ready and the plan will work It's self out.
---