There needs to be some serious changes in Miami.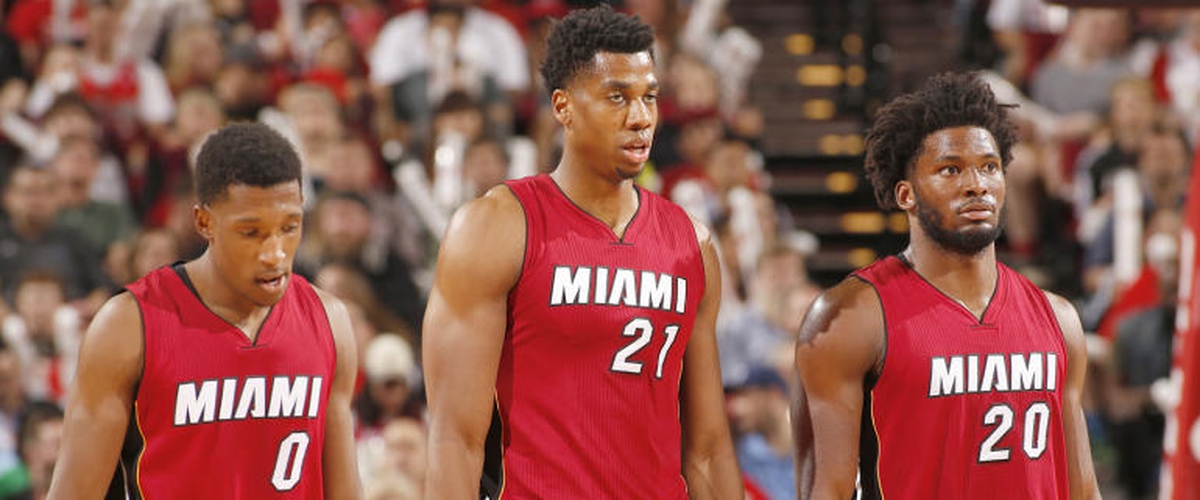 The Miami Heat had a good year, clinch the 6th seed and at least made It to the playoffs only to get eliminated in the first round, not good enough. The Heat got eliminated in the first round Thursday night following the teams 104-91 loss in Philadelphia, I was in the mind set that Heat president Pat Riley should resign from his position. After all, for the past four years, he lost out on LeBron James in free agency. He gave Chris Bosh $118 million for five years but Bosh suffered from not only one but two blood clots that bow has shorten his career, by the way that was the biggest mistake Riley had ever made as an executive. Than allowed Dwyane Wade to walk out in free agency in 2016 and lost out on Gordon Hayward last summer. But maybe Pat Riley shouldn't go just yet, he should still be able to stay in his role unless the Heat lose in the first round again next season. And I cannot forget Heat coach Erik Spoesltra, well I think his job is safe.
But there needs to be changes, this franchise has been snakebitten for the past four years. The Heat were the fourth seed by all star break and winded up dropping to 8th but luckily was able to secure the 6th spot, the Heat only one won game in this series and that was game 2 when Dwyane Wade turned back the clock with 28 points and than the Heat lost both games 3 and 4 at home, how embarrassing. This team is no where near a championship contender, the team will need some serious changes and leave It up to Pat Riley himself to make those changes. Right now Heat fans, your just going have to trust the process. Here are some changes that Miami needs to make?
1. SHAKE UP THE ROSTER
The Heat needs to shakeup the roster, the first move is to trade Hassan Whiteside. Whiteside is not the same shinning star that rose in 2014, he has lost his edge. I mean he only had 2 points and 5 rebounds in game 5, that sounds like Kendrick Perkins to me. Whiteside complained about not getting enough minutes on the floor and which he was fined by the team for, the relationship between him and the Heat have been going down the ground as of late. Since Whiteside only has two years left of his deal and since he won't get the Heat a title, why not trade him but It would not be easy to trade away a big man like him.
Next, I do not like Justice Winslow. I don't think he's a great defender and I don't think he's a great shooter either. The Heat need a player that can defend and shoot at the same time, Winslow is not that player and he's got to go. Than the Heat need to trade Dion Waiters, In 2016-17 season, I thought Waiters had the best year of his career. Waiters lifted the Heat after starting 11-30 to 30-11 before falling short of the postseason by avaeraging 15.8 PPG. But this season Waiters had only one big game with 33 points against the Timberwolves back in October and since January, he's been sidelined with a left ankle injury and is recovering from a fractured bone in his left ankle. The rising star in Dion Waiters from last season did not show up this year.
2. TRADE FOR A SUPERSTAR
The Heat need to acquire a superstar and after losing out on Gordon Hayward to the Boston Celtics last summer, Well this is Pat Riley's chance to redeem himself. First name comes to mind is Kawhi Leonard, Leonard's relationship with the San Antonio Spurs has hit a rocky road and rumor is going around that the Spurs may very well trade Leonard this coming summer. If the Spurs decide to make Kawhi avalible, Miami Heat needs to make that phone call and make huge offer. I know that both franchises had battles in back to back finals in 2013 and 2014 and which in 2014 Leonard won finals MVP but landing him in South Beach would be huge. I think Kawhi Leonard would love to play for an organization like the Miami Heat, plus the Heat have great medical staff and will help Kawhi rehab a lot quicker. So whatever they have to trade, Hassan Whiteside, Justice Winslow, Tyler Johnson, hell Bam Adebayo or Goran Dragic if they have to. The Miami Heat must throw whatever they have on the table to someway acquire Kawhi Leonard and make a deal with the Spurs to say yes to.
The next name to come to mind and I cannot believe I'm saying this but Russell Westbrook, If the Oklahoma City Thunder lose in round one to the Utah Jazz. Paul George may very well leave for LA and Carmelo Anthony may opt out of his contract, maybe the Thunder may consider dealing Westbrook if both PG and Melo leaves OKC. If the Thunder decide to put Russell Westbrook on the trading block, Riley may want to really consider trying to acquire him. Riley was able to acquire Shaquille O Neal in a trade with the Lakers in 2004, he can do the same in acquiring Westbrook. Westbrook signed a five year and $205 million deal in September and is guaranteed $233 million, the Heat may have to give up Hassan Whiteside, James Johnson, and Tyler Johnson who they owe a combine a $58 million next season. The Heat would have to deal Goran Dragic as well, who is owe $18 million next season. However, I do not see the Thunder trading away Russell Westbrook but if they decide that they want to than Pat Riley is got to at least try but Westbrook will cost a lot of money but for a guy that averaged back to back triple double seasons, he's worth every penny.
3 LURE A BIG NAME FREE AGENT
Free Agency is set to hit in July and a lot of big names are going to be in the market, LeBron James will be a free agent once again, who once played in Miami before returning to Cleveland in 2014. So no, LeBron is not coming back to South Beach. Than you have Paul George but if he leaves OKC, he's likely heading to Los Angeles. I would say that if the Heat get rid of Whiteside, they should go after Demarcus Cousins. But there is just one little problem with that, Cousins suffered a left torn Achilles injury in January. He maybe considered the best big man in the game but signing him would be a huge risk, I mean an Achilles injury. Not many players have recovered from that and an injury like that has put an end to careers such as Charles Barkley and Kobe Bryant to name a few. But the one big name free agent that I think the Miami Heat should really want is Isaiah Thomas, I still consider Thomas one of the biggest names on the market. Thomas spent two in the half seasons with the Boston Celtics where he developed into superstar and carried the Boston Celtics to the conference finals in 2017 before being traded to Cleveland for Kyrie Irving. Thomas was yet dealt again in February to the LA Lakers, this is a player that is not getting enough respect from the league. Thomas can still play and he can still score, I still think he is one of the best point guards in the NBA and he's the kind of player that Pat Riley should want. If the Heat have to deal away Goran Dragic to land Isaiah Thomas, I would do It quick in a heartbeat. Plus Isaiah Thomas is still got to be angry about being traded from the Celtics and to add him to the Heat in Miami's epic rivalry with Boston over the years, Thomas would love to get his redemption on Danny Ainge. So Isaiah Thomas is the big name free agent the Heat should go after.
Look I do not know what kind moves Pat Riley is going to make but Miami Heat fans need to put their trust in him to make some moves this offseason, but if the Heat missout in free agency yet again and next year If they do not get passed the first round, It maybe time for Pat Riley to step down. But some serious changes needs to make cause Riley should know that keeping everything as the same isn't going to get the Heat anywhere.
---