3 NFL Week 3 Picks
What else can happen this year? Last week it was 30 total interceptions thrown, this week it was 19 total kicks missed; at least 7 of which could have been game tying or game winning. Now former Browns kicker Zane Gonzalez, alone, left 8 points off the board by missing 4 attempts against the Saints; the final score being 21-18 in favor of New Orleans. It's okay Cleveland fans, I think you'll get over it after what happened on Thursday. The Browns are 1-1-1 in the standings, but are 3-0 against the spread. It may not seem like a lot to the casual NFL fan, but the Browns could be/should be 3-0 right now. The Browns have been in the news the last two days, however, so enough about them.
There are only two observations I had after going 2-1 in picks last week. First, when did the Tampa Bay Buccaneers become good? That's more of a question than an observation, but come on! This team was supposed to be trash. I was talking to my friend, Robbie, about the Buccaneers head coach, Dirk Koetter, being the first coach to be fired this season. It can still happen if Tampa Bay's luck completely changes in the coming weeks. I guess for now, we just have to live in the midst of Ryan Fitz-Magic and enjoy one of the best stories in football while it lasts. Their Monday night match up against the Pittsburgh Steelers will be a good test of how much Fitz-Magic is left. The other observation I had was Nick Foles is officially not fit to be a QB for a contending NFL team. Sure, he won the Eagles three of their biggest games last postseason, but that same success has not been replicated this season. Part of this can be blamed on the lack of offensive weapons Foles has had with starters Alshon Jeffery and Jay Ajayi consistently on the injury report. Nonetheless, the true starting QB for the Eagles, Carson Wentz, is due to make his first start coming off of his ACL injury last season. I'm still going to stay away from making any Eagles bets for a while until they get healthy again.
Oh, and I almost forgot to mention Patrick Mahomes and the Kansas City Chiefs. I gave them a wonderful write up last week raving about their impressive passing attack to go along with their pedestrian defense. I said they needed to get off to a quick start and they did. If the Chiefs can hold teams to under 24-28 points on defense, they have a good chance to be the best team in the AFC. It's still fairly early, but I am jumping on the Mahomes, Hunt, and Hill hype train. Enough about last week, there's money to be made this week.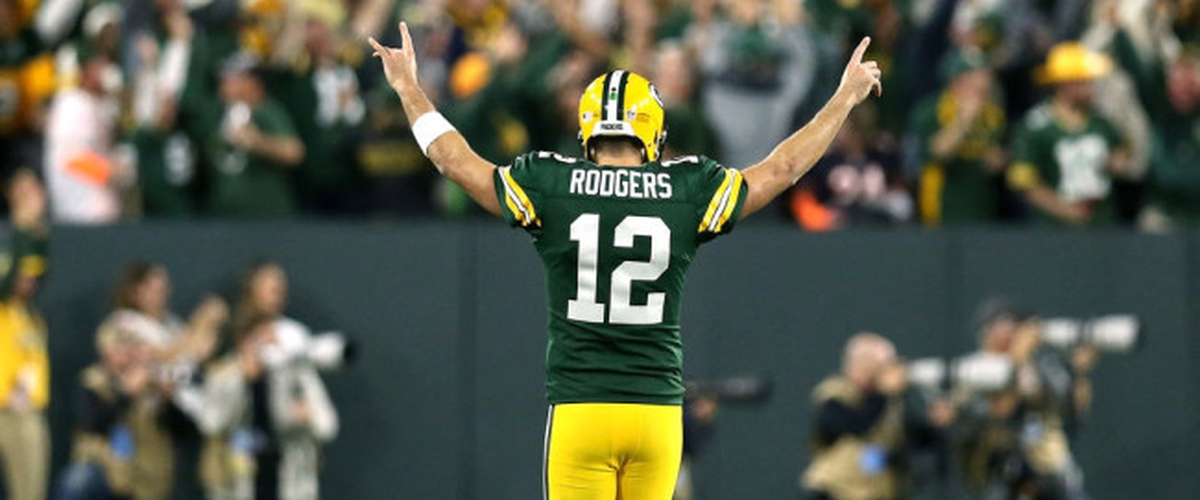 Green Bay Packers (-3) at Washington Redskins (-105)
What can the man pictured above not do? His track record is already so long with incredible comebacks and amazing throws, but I think we may take for granted how truly amazing Aaron Rodgers truly is. Obviously, he is not amazing enough to get more than a 3-point favorite on the road from Vegas bookmakers but, I think this line is astronomically low for how much better the Packers are than the Redskins. The Redskins looked good against the Arizona Cardinals, not that great of a feat since the Cardinals are one of the worst teams this season, Week 1. That success did not transfer to Week 2 against the Colts. The Colts held the Redskins to just 9 points and they don't even have what would be considered a good defense. The Packers have a much-improved defense and win this game by double digits easily. I have never been so shocked to see a line so small in my short time betting. *Disclaimer* If Aaron Rodgers does not start this Sunday, DO NOT BET THIS GAME! Everything I just said should be lit on fire and thrown into a barrel full of gasoline.
Denver Broncos (+5.5) at Baltimore Ravens (-105)
This is going to be a super uninteresting game unless you are an unfortunate fan of either team. The Ravens beat the Bills, the only team worse than the Cardinals, Week 1 and have been overrated by Vegas and the media ever since. The Ravens are not good, and neither are the Broncos. When two bad teams face off against each other, however, I like to take the underdog. Especially if the line is around 4-6 points like this game. The Broncos should have lost against the Raiders last week, but put together a quick drive late in the 4th quarter to kick the only game winning field goal to go through the uprights during Week 2. The Broncos didn't show anything overly special in that win except the ability to pull a win completely out of their ass. I'll be following this Sunday morning game will writing a paper for one of my classes. I hope it turns out to be a close, high scoring game, but I'd probably still be dreaming.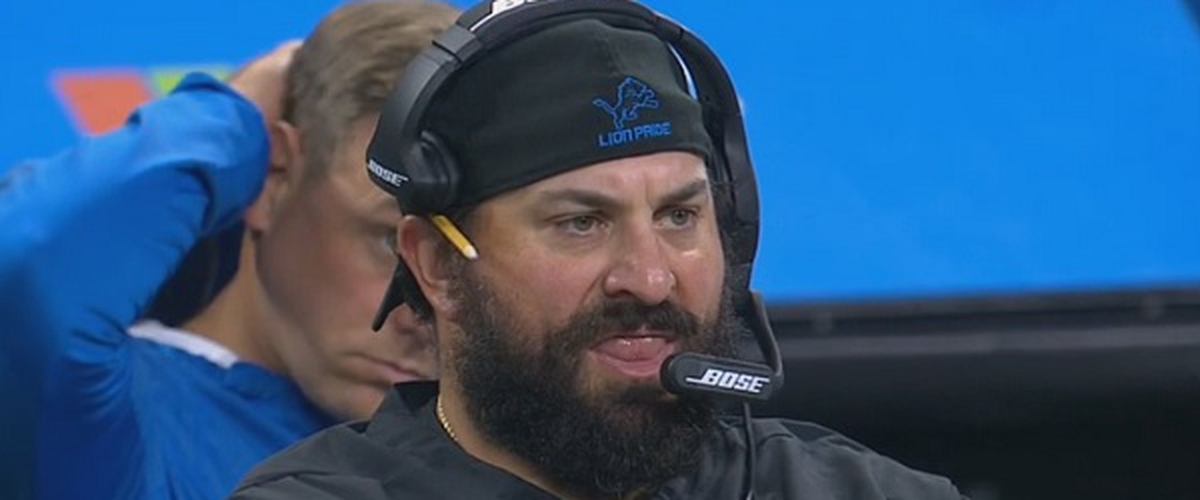 New England Patriots (-7) at Detroit Lions (-115)
I hate finding pictures of these guys that make them look like complete idiots, I really do. This particular one was just too hard to pass up. For the readers who don't know who this is, it's Matt Patricia. Patricia is the Lions first year Head Coach who was formerly the Defensive Coordinator for the Patriots the last six seasons. Not only does he look like an idiot in this picture (notice the pencil in his ear? He uses a laminated play call sheet. What good is a pencil on a laminated sheet?!), he has led a fairly talented Lions team to an 0-2 record. They did play better against the 49ers last week, but that still doesn't take the bad taste of losing by 31 to the Jets in Week 1 out of my mouth. I think the Patriots, who recently added WR Josh Gordon to their team on Tuesday, will trounce the Lions by at least two touchdowns this Sunday night. The only other outcome I can see happening is Matt Patricia throws everything he has at the Patriots in an effort to not go 0-3. I don't think it will be enough, however, the Patriots are just too good coming off a loss and will definitely use this game to prove to critics they are just as good as they have always been.
Bonus Pick: New Orleans Saints at Atlanta Falcons - Under 53.5 points
On account of there being no sexy or eye-opening picks this week, I decided on a bonus pick. I hate betting on or against the teams I like, in this case the Saints, but this over/under prop is just flat out wrong. The Saints and Falcons are both known for having prolific offenses, but never seem to have high scoring games against each other. Last season, each team won in their regular season series with the scores being 23-13 New Orleans and 20-17 Atlanta. The Falcons are battered on both sides of the ball and the Saints have yet to find their groove on offense and defense. Of course, that means both teams will find their way in this game and it will be a high scoring shootout. If history decides to repeat itself, however, I can see this being a low scoring, close affair with the Saints hopefully coming out on top.
Final odds of all three picks parlayed: +613
Final odds of all three picks with the bonus pick: +1291