Team Previews: #49, San Diego State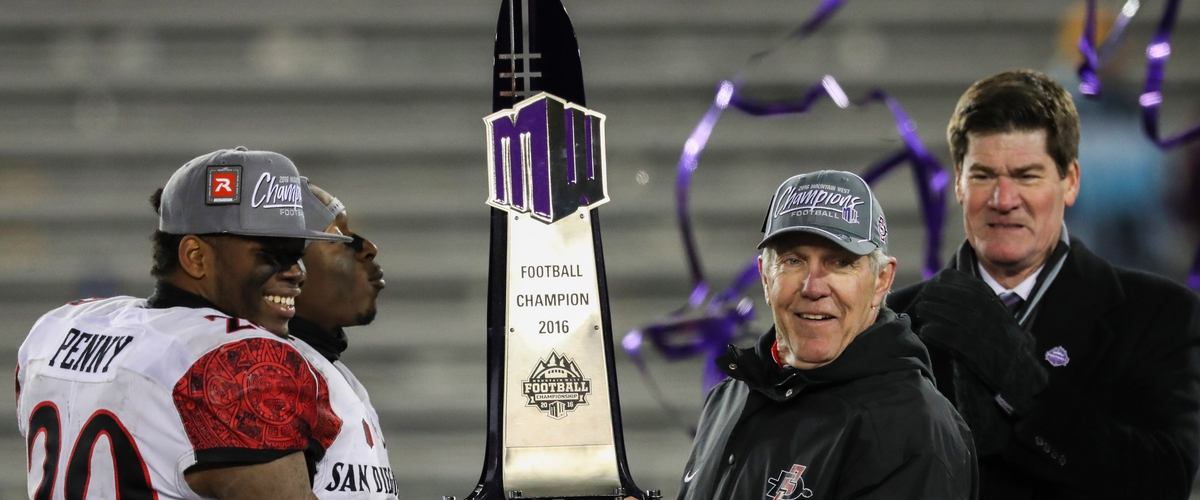 Welcome to the 2017 CollegeSportsCoverage Top 50 preview. Every other day we preview a new team in my top 50 rankings. Todays team is:
The San Diego State Aztecs
Conference
Mountain West (West)
2016 Record
11-3
Mountain West Champions
Las Vegas Bowl Champions
Head Coach
Rocky Long (54-26, 7th year)
Coordinators
OC- Jeff Horton
DC- Danny Gonzales
Players Lost
RB Donnell Pumphrey
OL Nico Siragusa
CB Damontae Kazee
DE Alex Barrett
DE Kyle Kelley
Key Players
RB Rashad Penny
RB Juwan Pennington
QB Christian Chapman
Six Members of 2016's OL two deep (starters+second strings)
DL Dakota Turner
Top Recruits/Class Rank
National Rank: 74
Mountain West Rank: 3
Top Recruits
RB Kaegun Williams
CB Darren Hall
QB Cam Roane
CB Tayari Venable
2016 Recap
In 2016 the Aztecs were lead by one story and one story only. Donnell Pumphrey's quest to break the NCAA all time rushing record. This year however, SDSU will be left without one of the best rushers the game has ever seen. But they still boast one of the best backfields, if not the best, in the Mountain West as they bring back 1,000 yard rusher Rashad Penny and a new back in Juwan Pennington. On the other side of the ball the Aztecs don't bring back the firepower they do on offense. The defense loses multiple players from last years squad at every level, but is loaded with young talent that was one of the most efficient at stopping explosive plays last year.
Schedule
Sep 2. UC Davis
Sep. 9. @ Arizona State
Sep. 16. Stanford
Sep. 23. @ Air Force
Sep. 30. Northern Illinois
Oct. 7. @ UNLV
Oct. 14. Boise State
Oct. 21. Fresno State
Oct. 28. @ Hawaii
Nov. 4. @ San Jose State
Nov. 18. Nevada
Nov. 25. New Mexico
Record Projection
W
L
L
W
W
W
L
W
W
W
W
W
(9-3)
MVPs
RB Rashad Penny
DL Dakota Turner