Team Previews: #50, Houston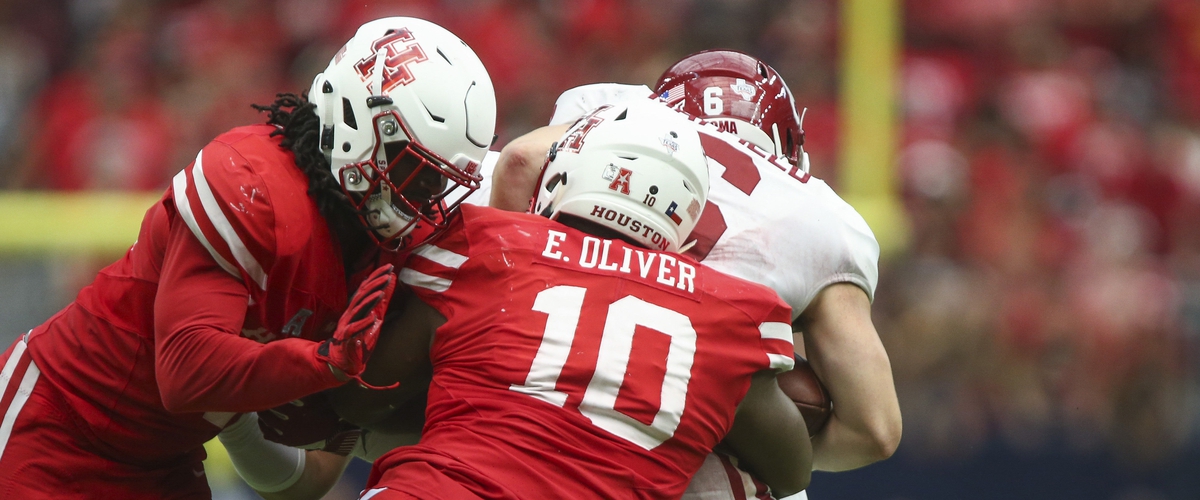 Welcome to the 2017 CollegeSportsCoverage Top 50 preview. Every other day we preview a new team in my top 50 rankings. Todays team is:
The Houston Cougars
Conference
American Athletic (West)
2016 Record
9-4
Head Coach
Major Applewhite, 0-1 (interim)
Coordinators
OC: Brian Johnson
DC: Mark D'Onorfio
Players Lost
QB Greg Ward Jr
LB Tyus Bowser
DB Howard Wilson
DB Brandon Wilson
Key Players
DL Ed Oliver
QB Kyle Allen (Texas A&M transfer)
RB Patrick Carr (Colorado transfer)
LB Cameron Doubenmier
CB Jeremy Winchester
Recruiting
National Rank: 70
AAC Rank: 4
Top Recruits
DE Bryan Jones
LB Amaud Willis-Dalton
WR Jeremy Singleton
DE Noah Jones
2016 Recap
After exploding onto the scene in 2015 the Cougars had very high expectations entering the 2016 season. After upsetting Oklahoma in week one, Houston opened the season 5-0 but couldn't maintain the strong start. They closed the season 4-4, including a 24 point blowout loss to San Diego State in the Las Vegas Bowl. The disappointment didn't end there however, as Tom Herman announced he would become the new head coach at Texas. Herman's replacement, Major Applewhite, faces an uphill battle as he loses Greg Ward Jr. who was quite literally the entire Cougars offense last year.
Schedule
Sep. 2: @ UTSA
Sep. 9: @ Arizona
Sep. 16: Rice
Sep. 23: Texas Tech
Sep. 30: @ Temple
Oct. 7: SMU
Oct. 14: @ Tulsa
Oct. 19: Memphis
Oct. 28: ECU
Nov. 4: @ USF
Nov. 18: @ Tulane
Nov. 24: Navy
Record Projection
W
L
W
L
L
W
W
L
W
L
W
W
(7-5)
MVP:
Offense: Kyle Allen
Defense: Ed Oliver
Note: There will be a new post on this list every other day as there are 50 teams and 100 days until kickoff, but to get back on schedule the next post will be tomorrow.