Dallas Cowboys Weekly: The Amari Cooper Impact, Looking Ahead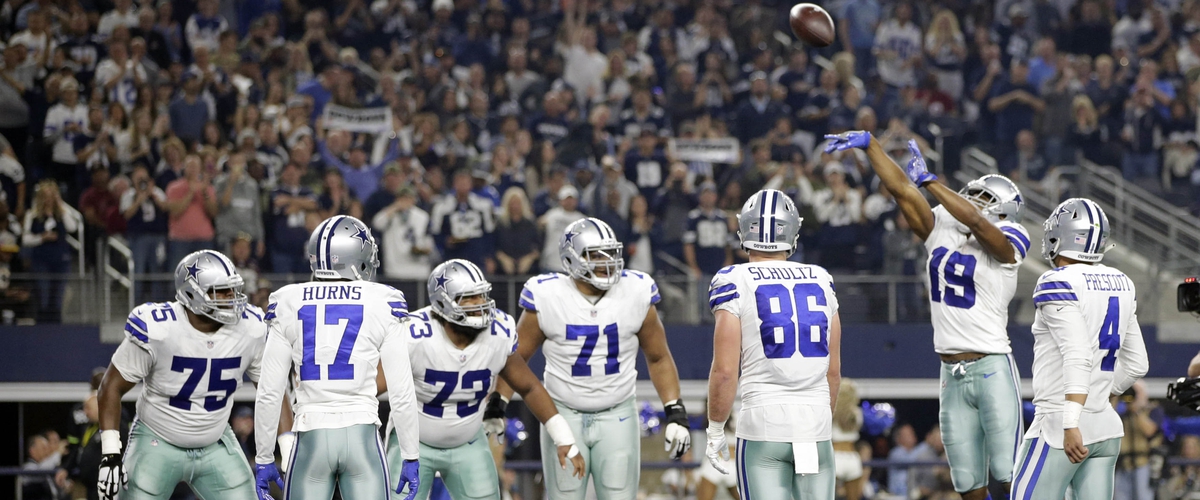 The Cowboys are celebrating a do or die divisional victory over the rival Washington Redskins as they now stand at a record of 6-5 and top of the NFC East. It's fascinating what one month of a new mentality and personnel decisions can do to impact a team. One month ago the tides were flipped. Dallas came off a road loss which featured an embarrassing offensive performance, to the point where Jerry and Stephen Jones, Will Mcclay, and even Coach Garrett knew things had to be changed to get this team right. It was no secret what problem number one was, no outside threat. Ever since Dez Bryant was released two weeks before Dallas selected the stud linebacker from Boise, the media and even most opposing teams realized Dallas wasn't going to do much offensively. What made matters worse was when Dallas was blindsided by two things that severely decreased the offensive production. First was the retirement of the great Jason Witten. Even at 35, Witten excelled consistently where he was a reliable safety blanket for Dak Prescott and can help as that 6th man on the offensive line. Once he was gone, Dallas lost a go-to guy in the locker room that most players could communicate their opinion about the team too or do what they can to imitate his success. The second blow was four months later when Travis Frederick was diagnosed with Guillain-Barré syndrome, a disorder in which the immune system attacks the body's nervous system in response to illness. The good news is that he is starting to regain feeling in his hands again however that is the only news. The Cowboys have gone through something very similar with this as of recent, Jaylon Smith. Sure it's two completely different diagnoses but Dallas has most importantly shown patience in situations like this as they do what is best for the player and continue to rely on the depth of their roster. Joe Looney has been serviceable and has not been stinking it up. He also seems to be a funny entertaining character that others enjoy in the locker room. We've all seen it too, notably wearing the Ezekiel Elliott jersey out to practice two years ago when Dallas held first place in the NFC. But those two were reliable, cornerstone pieces for this franchise, while Joe Looney and Geoff Swaim have been solid in their own rights, they're not pro bowl players. This was already going to hurt the blocking but they made a regrettable coaching change. Last offseason, now Bengals Offensive line coach Frank Pollack was let go by the Cowboys as Garrett decided to bring in Paul Alexander instead. Alexander preferred a more catch block technique as in where the veterans on the line preferred to play more physical and more of a punch technique at the line of scrimmage. In result, Dak Prescott was being sacked more than ever and the run game showed inconsistencies that they were not used too. When the run game does not work, it sends a ripple effect through this offense forcing Prescott into third and long unfavorable situations. To makes matters worse, Prescott didn't have a receiver team feared. Most opponents finally realized about a year ago how underrated Cole Beasley was and how you can't give him single coverage in the slot but, that wasn't enough. With no outside threats and a failed committee approach by the cowboys, Prescott was doomed and the offense was going to severely lack production. Relying on your defense to keep you in games in an offensive league won't generate wins.
The last stanza was all factored into Jerry, Stephen, and Will's decision to pay full price and trade their 2019 first round pick to the Oakland Raiders for Pro Bowl wide receiver Amari Cooper. The front office and coach Garrett came to a consensus that they dreaded an outside threat and needed to resolve the issues with the offensive line, all to help Dak Prescott. With the offensive line, they have appeared to revert back to old ways under Coach and former Cowboy Marc Colombo. The group has massively improved as Ezekiel Elliott soared past 100 yards for the third consecutive game and Prescott has been sacked slightly less (big weakness still) and turning it over much less. This current three-game win streak is all credited to the acquisition of Cooper. Many thought Dallas overpaid due to Cooper's lack of success last year statistically and some rumored he wasn't focused as his drop rate was near 15%. The Cowboys called BS. They understood that even if it was an overpay it could be a game-changing move and looking back, had this move not been made Dallas would be swimming in the same pool as the Giants while getting excited about a player that has no NFL experience. The first round miss rate for receivers has been alarming these past 5 years. The Cowboys certainly took note and quickly realized if they were going that direction anyway, Cooper would be the wiser move at just 24 years old with 3 years experience and two pro bowls. This also gives time to further evaluate Dak Prescott even though Jerry Jones came out after the Atlanta victory and said he wouldn't trade him for two first round picks. Ownership wanted the Cowboys to be in the playoffs and felt they had a great chance with a weaker division. This trade sends that message to the locker room and gives a lot of much-needed juice on the offense. Cooper has shown some nice traits early on that Dallas coveted. He has great hands that make his catch radius wide, he's a nuanced route runner that gets plenty of separation for Prescott to throw to him, and shows dominant run after the catch ability. The underrated stat is how reliable he is on the Cowboys biggest problem on the offense through the first half of the season, third down. The Cowboys are hitting at nearly 50% on third downs now and Cooper has been the difference.
Now one month later on Thanksgiving, the Cowboys and Amari Cooper are on top of the division staring at the playoffs. Cooper made a plea for an extension according to Jerry Jones with his dominating 8 catch, 180-yard performance with to cope with 2 touchdowns, something a Cowboys receiver hasn't done all year. Cooper had a TD on back to back drives when he caught a 40-yard pass followed up by the knockout 90-yard score. The fan in me said knockout as I didn't see Colt Mccoy making wise decisions on the Dallas defense. But this game was heading south if not for Cooper. Dallas opened up the game beautifully with an effortless opening TD drive and were held to a field goal from there until the backend of the third quarter. Colt Mccoy just led Washington in the end zone for the second time capped by a 10 yard TD catch by Trey Quinn to take a 13-10 lead. Fast forward to a critical third down in Washington Territory Amari runs a crisp slant route, leaving the Redskins defensive back Quinton Dunbar on the turf while taking it to the house, the stadium lit up and there was energy for everybody on the team. Dallas then gets a stop and boom, Prescott throws a 30-yard dime over the middle into hefty coverage as Cooper snags the ball and breaks free again. This didn't just get the offense and fans riled up it more importantly motivated the defense. On the following drive for Washington, Demarcus Lawrence records his first career interception and Dallas goes down and scores on an outstanding warrior like running by Dak Prescott on third and goal. The score was 31-13 and the redskins hope to pull the upset was gone, you can feel it without even being on the sideline.
This whole game revolved around Cooper's success had this been a 50-yard performance and the Cowboys would likely be on the couch in January. But the much-needed mojo this gives the whole team is essential especially with the league's hottest team coming to town in four days. Most thought that mojo would be given once they made the trade but that wasn't the case as they went out on Monday Night Football and put up a 14 point stinker, something Cowboys fans have seen throughout the year. Now coming off a 31 point performance vs a respectable defense, teams will have to gameplan around Amari. The Redskins figured they could get by with the same defensive gameplan other teams have done, stack the box and leave single coverage on the outside. If teams continue to do that, Dallas will have to find every way possible to get Cooper and even Michael Gallup the ball so the box can open up. The underlying factor to their recent offensive success is the improvement of the offensive line. They still need to improve in pass protection as Prescott was sacked four times in the first half vs Washington but they're opening up lanes for Zeke. If Zeke is productive, the stats show the cowboys wins over 70% of the time which is the recipe for success.
It'll be interesting with the New Orleans Saints coming to town as they have been the hottest team in the league with QB Drew Brees having a career year. Brees can find the open man vs any defense, it's a matter of how Dallas can stop the two-headed monster at RB and how can they pressure Brees. The Saints are an offensive juggernaut however the Cowboys are no slouch on defense. But the Cowboys must play well and apply pressure early and throughout the game. If Brees gets a clean pocket, he will pick apart the defense and the Cowboys will lose because no team can win in a shootout vs Brees, especially the Cowboys. On offense, Dallas must control the pace of the game by keeping their defense off the field and using Ezekiel Elliott to wear down the Saints and eat clock. Elliott must eat himself though. The Saints are ranked the number one rush defense only allowing an average of 73 total rush yards per game. From watching the tape, it looks like that is due to the fact most teams abandon the run game in the second half from being behind by two or three scores. If the Cowboys do that, they will not win. Amari Cooper poses a challenge as he will likely line up across Pro Bowl cornerback Marshon Lattimore. Cooper did well vs another Pro Bowl cornerback last week however Lattimore can run with any receiver. A weak spot on the Saints defense is their lack of solid depth at cornerback. They recently traded for CB Eli Apple, a familiar face to the Cowboys having seen him twice a year for the Giants. Aside from Apple whos been average at best, the Saints have PJ Williams who teams like to pick on. This leaves a big task for WRs Michael Gallup and Cole Beasley to deliver but more importantly, Dak Prescott has to make the throws necessary. The Saints know Elliott and Cooper are the only two weapons that have made big-time plays so that's who they'll game plan against. But Dak Prescott is going to need to make plays, a lot of them.
I see this game going one way or the other, it's just about who can control the pace from the start. Cowboys fans would kill me for using the word "unique" in the same sentence while talking about the Dallas offense but it is something contrarian to the rest of the league. Jason Garrett's formula to win these big games vs top teams is hammering the ground game and playing good defense. It's something he saw the Cowboys excel at while he was a player. If the Cowboys are able to excel at both those things in this game, I would give them a very good chance to win. But they must do both. If they do none of those or even half, they won't stand a chance, plain and simple. Other top teams that have played the Saints this year thought their passing attack can duel with the Saints and they were all kidding themselves. I'm sure the Cowboys have already accepted the fact that they won't stand a chance like that and that they must stick to executing with what they know best, the same denominator to all six victories this year. The defense must hold the Saints to three to four touchdowns and Ezekiel Elliott must eat.
Follow me on Twitter and Instagram: @emmetweinman