"The Stack" 10-18-19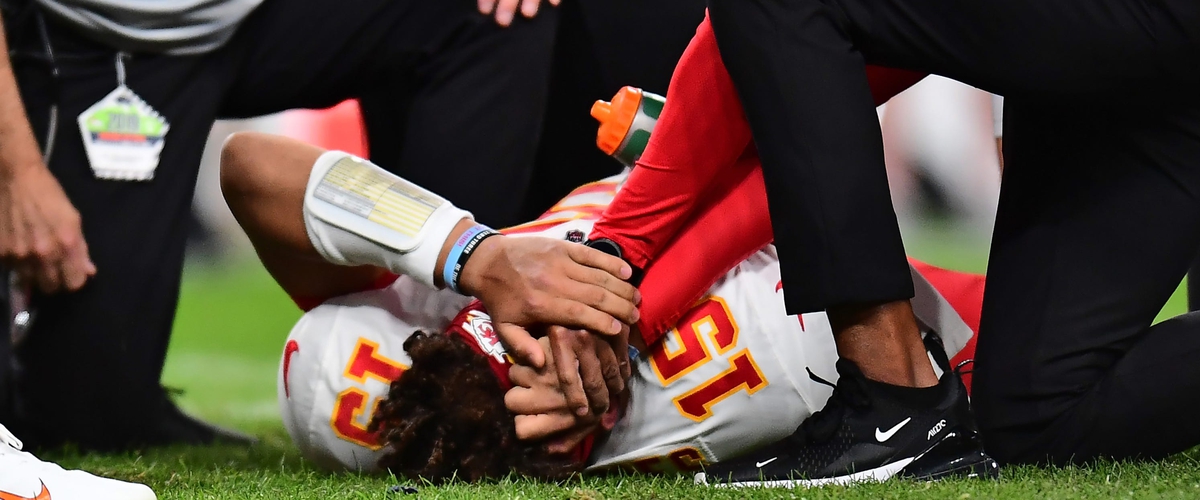 Hall-of-famer (okay, future hall-of-famer) Patrick Mahomes left Thursday night's game against the Denver Broncos with a knee injury after sneaking for a first down on 4th and 1. Reports are that he will be out minimum three weeks. We'll find out more later today.
The Stack is back on this third Football Friday in October and there was an NFL game last night and the major headline is the health of Kansas City Chiefs hall-of-fame quarterback Patrick Mahomes who left the game after sneaking for a first down in the first half against the Denver Broncos. It didn't look good. It looked like the trainers snapped his knee back into place and he limped off the field. He was walking under his own power, but with a noticeable limp. We'll find out more later today I would imagine, but it sounds like he's going to miss minimum three weeks with what reports say is a dislocated kneecap. Not good. The world is a little darker this morning. Oh yeah, the Chiefs won 30-6. They embarrassed the Broncos. The Chiefs defense came to play sacking Joe Flacco nine times. It was an awful performance by the Broncos. Let's see how many games we can get right in week 7 as we look in "the stack" for today, Friday, October 18th:
5-0 San Francisco 49ers @ 1-5 Washington 1 PM ET FOX
Does anyone really expect Washington to win this game? After 49ers head coach Kyle Shanahan had some less than flattering things to say about the organization, do we really expect him to lose to Washington? I didn't think so either.
Prediction: 49ers 30 Washington 10
2-3-1 Arizona Cardinals @ 2-4 New York Giants 2-4 1 PM ET FOX
Battle of rookie quarterbacks in this one and it should be an entertaining game. Kyler Murray, the number one overall pick against Daniel Jones, the number six overall pick. Murray and the Cardinals offense looks like it is starting to really click and the Giants defense isn't very good. However, Jones isn't going against a difficult defense himself. The Cardinals are not very good. With Saquon Barkley returning, I'll give the slight edge to the home team.
Prediction: Giants 27 Cardinals 23
4-2 Houston Texans @ 3-2 Indianapolis Colts 1 PM ET CBS
Massive battle in the AFC South. Both teams are coming off wins in Arrowhead against the Chiefs. Texans quarterback Deshaun Watson is playing at an MVP caliber level. The Colts should be getting linebacker Darius Leonard back and with two weeks to prepare, I'll go with the home team, narrowly.
Prediction: Colts 26 Texans 24
3-2 Oakland Raiders @ 5-1 Green Bay Packers 1 PM ET CBS
I don't think the Packers are as good as their 5-1 record shows. They may not have Davante Adams or Geronimo Allison on Sunday which would really deplete their wide receiving corp. The Raiders are coming off of two big wins at Indianapolis and against Chicago. They very well could pull off this upset, but I can't pick against Aaron Rodgers at home.
Prediction: Packers 27 Raiders 17
4-2 Minnesota Vikings @ 2-2-1 Detroit Lions 1 PM ET FOX
A massive NFC North showdown in this one. Kirk Cousins and the Vikings offense have been flying high the last couple of weeks while the Lions are coming off of a devastating loss on the road against Green Bay, a game they should have won. They were jobbed by the refs, but that has been rehashed a lot this week so far. They could come out with a lot of energy and ready to take care of business. Or there could be a hangover effect. The Vikings are a good team. They don't want to go 0-3 in the division. A win is critical for them to keep pace with the Packers.
Prediction: Vikings 27 Lions 20
2-4 Jacksonville Jaguars @ 0-6 Cincinnati Bengals 1 PM ET CBS
The Jaguars can finally move on from Jalen Ramsey now that he is a Ram. That fiasco/distraction is behind them. The Bengals are not a good team on either side of the ball right now. And now there is drama with offensive tackle Cordy Glenn and how his concussion was treated. That will be a bigger story potentially in the coming days. AS for this game, Jaguars win going away.
Prediction: Jaguars 34 Bengals 16
0-5Miami Dolphins @ 4-1 Buffalo Bills 1 PM ET CBS
Come on. Do even have to say anything? The Bills defense is wonderful and the Dolphins suck.
Prediction: Bills 27 Dolphins 6
3-3 Los Angeles Rams @ 1-5 Atlanta Falcons 1 PM ET FOX
We expect to see Jalen Ramsey make his Rams debut in this one. He should help their secondary immediately. They'll need it because Matt Ryan has been playing really well for the Falcons this year. Too bad the rest of the team is terrible. The Rams have lost three in a row, but I can't pick the Falcons. They just continue to disappoint.
Prediction: Rams 34 Falcons 27
2-4 Los Angeles Chargers @ 2-4 Tennessee Titans 4:05 PM ET CBS
A couple of underwhelming teams in this one. The Titans are starting Ryan Tannehill this week. That tells you just how bad Marcus Mariota has been. Philip Rivers and the Chargers haven't exactly been lighting the world on fire themselves, but I trust them a little bit more than I do the Titans.
Prediction: Chargers 17 Titans 13
4-2 Baltimore Ravens @ 5-1 Seattle Seahawks 4:25 PM ET FOX
A battle of running quarterbacks in this one. Lamar Jackson against Russell Wilson. This should be fun. Over/under 100 combined rushing yards for the two QBs? I'm definitely taking the over. What's Vegas have? I still don't think Seattle is as good as their 5-1 record indicates, but they are the better team in this one.
Prediction: Seahawks 24 Ravens 20
5-1 New Orleans Saints @ 3-2 Chicago Bears 4:25 PM ET FOX
I'm pretty sure the Bears are awfully mad about that loss to the Raiders in London. They've had two weeks to stew on it. The Saints offense has not been lighting the world on fire with Teddy Bridgewater the past few weeks. That Bears defense may tee off.
Prediction: Bears 17 Saints 13
3-3 Philadelphia Eagles @ 3-3 Dallas Cowboys 8:20 PM ET NBC
Eagles head coach all but guaranteed a victory against the Cowboys on radio on Monday. The Cowboys have lost three in a row and look lost. Plus wide receiver Amari Cooper may be out with a quad injury. The Eagles secondary is in rough shape, but I like them to go on the road and win a primetime game not many people expect them to win (remember that game against Green Bay a few weeks back?).
Prediction: Eagles 27 Cowboys 20
Coming up Monday: Week 7 NFL recap & reaction plus MNF preview and prediction
---