Rolex 24: Fairytale Ending for Wayne Taylor Racing, Max Angelelli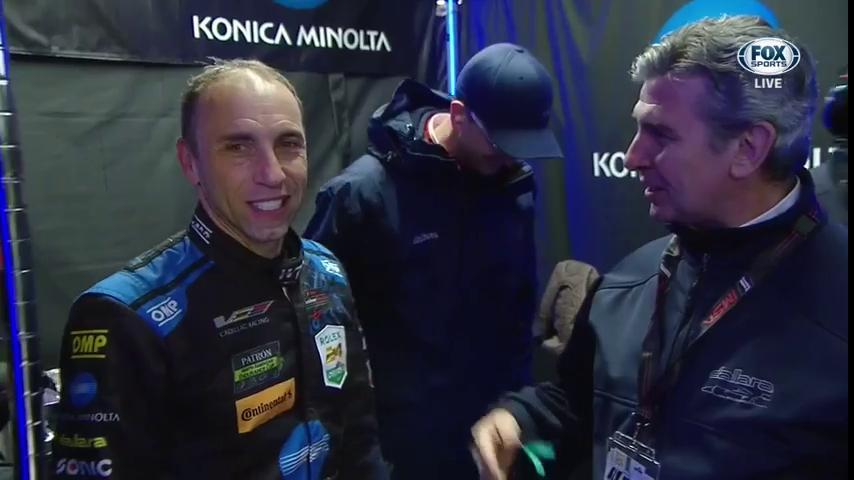 The 55th edition of the Rolex 24 provided no lack of excitement, or cautions. 21 full course yellows kept the field bunched up for a majority of the race. With 20 minutes to go, the field took the green one last time.
In Prototype, the #5 Action Express Cadillac driven by Filipe Alburquerque maintained a slight lead as the minutes passed, with the Wayne Taylor Racing #10, driven by Ricky Taylor right on their tails. The two rivals made contact with around 15 minutes to go, but the real controversy came as seven minutes remained.
Taylor was about a half-car length behind the leader going into Turn 1, and executed an extremely late divebomb, spinning Albuquerque and taking the lead. Filipe fought back, but ended up finishing just over a half-second behind. This video clip will give a better look at Taylor's move.
Race control deemed that no penalty would be assessed, as they had called the race very lenient throughout 24 hours of rain, yellows, and tight battles.
Whether or not the move was justified is a matter of perspective and opinion. But there is one thing that cannot be disputed: This was a storybook ending for Wayne Taylor Racing.
A Long, Long Wait
WTR had not won at the Rolex 24 since 2005. In between is what really made this victory, though. Heartbreak in numerous years left the team wondering what they could do to grab another Rolex. Finally, with a star-studded lineup featuring his two sons, Wayne Taylor grabbed the elusive victory in dramatic fashion, while running the new DPi. 
Jordan and Ricky Reign Supreme
Even though Ricky, the older brother, did most of the heavy-lifting, both Taylor brothers played a huge role in putting the Cadillac in a prime position to win. The two young racers definitely have more wins in them, but winning the Rolex 24 at Daytona will surely never be forgotten.
The Rainbow Warrior Isn't Done Yet!
Four-time NASCAR champion Jeff Gordon may not have been the most talented sportscar driver out of the bunch, but he surely proved his worth. In an early stint, he did make contact with the #70, but drove smart and fast, keeping the car in good shape. Despite numerous achievement in the ream of NASCAR, this win and experience that comes along with it has to rank pretty high. And the (for now) retired NASCAR driver may never get a chance to win at Daytona International Speedway again.
Max the Axe Goes Out on Top
He may not have been the most talked about, but Max Angelelli deserves the spotlight after his last IMSA win. Max announced this would be his last race, but it sure didn't look like it. He drove supremely well, making bold moves as he is known to do. His final stint ended Sunday morning with a few hours left to go. A sportscar legend, Angelelli will surely not be forgotten, as neither will this race.
The GT Le Mans class, by far the most competitive, was won by Chip Ganassi Racing, as Dirk Mueller drove the #66 Ford GT to the lead before the final restart, and eventually fended off the 911 Porsche, piloted by Patrick Pilet. 
In GT Daytona, the 28 Porsche finished just under three tenths of a second ahead of the #28 Audi to claim victory.
Teams now make their way to Sebring to fight in the 12 Hours of Sebring in early May as the IMSA season continues.
Full results can be found at scoring.imsa.com
---