10 Undervalued Fantasy Football Studs in 2017
When drafting, everyone has their personal opinions on all player on the draft board. I'm not recommending you to toss your opinions out the window and use mine, but I'm here to give you an explanation on why you should consider some players more than you already do. This list won't necessarily be comprised of sleepers, which I've already written up extensively here. Instead, this list will consist of players that I expect to have big seasons, but are falling in drafts. This will all be based on players that I've seen fall a round or two later than when I would personally consider drafting them.
Now you'll notice that a vast majority of these players are running backs and receivers, and this all boils down to positional strategy. Most standard lineups have you starting just one Quarterback and Tight End, while they also have two or three starting spots each for wide receiver and running back. This increases the necessity of having many options at running back and receiver, while you can stream Quarterback and Tight End and still perform well .These positions also fall down draft boards because people will go Quarterback or Tight End far earlier than they have to. Even at risk of helping friends and raising these players' ADPs, I will defend some players that have fallen on draft boards when they really shouldn't.
Michael Crabtree, WR, Oakland Raiders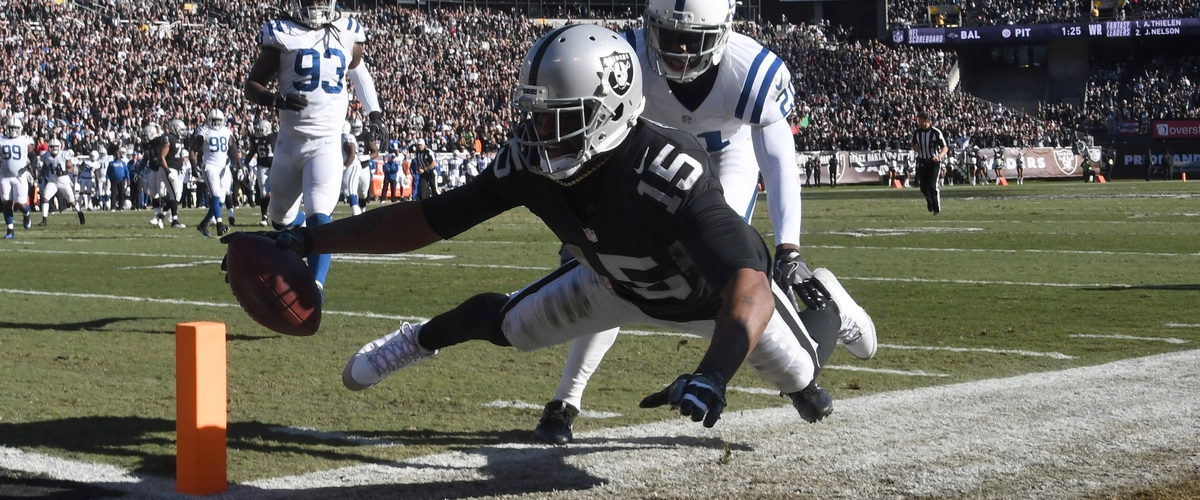 Even with Amari Cooper designed to be the WR1 in this offense, Crabtree has caught more passes and more touchdowns than Cooper in both seasons. Because of this, Crabtree has scored more fantasy points than Cooper in both standard and PPR formats. Even though this was just by a couple of points, their draft positions have differed severely. Last season, Cooper was a third or fourth round pick, while Crabtree was an eighth round pick. Now the gap is smaller, with Cooper as a late second round pick and Crabtree a late fourth or fifth round pick.
I'm not saying that Crabtree will outscore Cooper again this season, but he shouldn't be slipping down draft boards. Crabtree has 17 combined touchdowns over the last two seasons, which shows how much Derek Carr trusts him in the red zone. Even though Marshawn Lynch will get a lot of goal line work, he will likely take all of the touchdowns Latavius Murray had. This offense should have lots of opportunities to score, so Crabtree should continue to score often. If he falls to the fifth round, grab him, since he has a very high floor with a low WR1 ceiling.
Emmanuel Sanders, WR, Denver Broncos
Emmanuel Sanders is another fourth round receiver that is falling in drafts because of the depth at the position in the first four rounds. I just completed a mock draft the other day where Sanders fell to the seventh round! That is just an insane fall from a receiver who has proved to be an elite and consistent WR2 in Denver's offense. In his last two seasons without strong Peyton Manning performances at Quarterback, Sanders has totalled 70 plus receptions, over 1,000 yards receiving, and five or six touchdowns.
Now I understand why he might fall down draft boards, and it's because the receiving corp is the only good unit on this offense. The running game is inconsistent at best, the offensive line is a year or two away from really developing as a decent line, and the Quarterback position is still an unappealing battle. Sanders also doesn't have a great ceiling in this offense, as he is the number two receiver in this offense, and he's averaged very similar numbers in the last two seasons. I understand that Sanders is a low end WR2, but he really should not be falling to the sixth or seventh round.
Carlos Hyde, RB, San Francisco 49ers
Despite not playing a full 16 game season yet in his three year career, Hyde showed last year his potential for a big workload. On a poor 49ers team that was consistently losing in games, Hyde still got his work in as a good running back. Through 13 games, Hyde rushed 217 times for 988 yards and six touchdowns, and also caught 27 passes for 163 yards and three touchdowns. These numbers can't help but get us excited about Hyde's potential under new head coach Kyle Shanahan, who produced an outstanding running game with Devonta Freeman and Tevin Coleman.
The biggest concern regarding Hyde is his ability to stay healthy, and fortunately I don't think this offense will be as bad this year. I think Brian Hoyer is a very serviceable Quarterback, who will keep this team in games, maintaining the relevance of this rushing attack. Hyde is currently going as a fifth round pick, with the likes of Mark Ingram, Bilal Powell, and Ty Montgomery, all of whom except Montgomery are concerning to me. If you need running back at this point of the draft, Hyde is definitely a great option to pick here, and he has arguably the highest ceiling. Don't worry too much about injury history here, and draft the upside in Carlos Hyde.
Jamison Crowder, WR, Washington Redskins
The next three receivers are all going at around the same point, but all have fallen continuously in mock drafts. Crowder broke out in a huge way last season, especially after starting as the fourth or fifth receiving option on this offense. Now with Pierre Garcon and DeSean Jackson gone, Crowder will have a huge role in this offense as WR2. Even as the third receiving option, Jordan Reed always gets injured and Terrelle Pryor doesn't have as much chemistry with Kirk Cousins as Crowder does. This coaching staff has also made it clear that Crowder will get more touches, on offense and on special teams.
Crowder is currently going as a sixth round pick, which sounds fair since he's the third option in Washington on paper and really just broke out last year. However, Crowder is an excellent PPR play who not only can catch a lot of passes, but can also catch the deep ball. This awards Crowder a high ceiling, and is a smart pairing with low floor PPR players like Jarvis Landry or Julian Edelman. This makes him a great wide receiver option that can provide high ceiling at your flex or WR2 spot, especially if he continues to fall to the seventh round in mocks.
Pierre Garcon, WR, San Francisco 49ers
Garcon is another receiver that is falling past the fifth and sixth round for foolish reasons. He had the second best year of his career last season in Washington, and should be in line for something similar in San Francisco. The best year of his career was under Kyle Shanahan, who is now the head coach in San Francisco. Considering that the options are behind Garcon are Jeremy Kerley and Marquise Goodwin, Garcon should be in line for at least 125 targets. His usage will be all over the field and in the red zone as well.
Like Crowder, Garcon is an early sixth round pick in standard ten team leagues. A lot of people have concerns regarding this offense, and think, "oh the 49ers, they're garbage, I'm not drafting Garcon." If they're losing games, this team will have to throw the ball, which will give Garcon plenty of opportunities. Quarterback Brian Hoyer also had a really solid stretch as the starter in Chicago last season, and was able to feed DeAndre Hopkins for 1,500 yards the year before in Houston. I think Kyle Shanahan will do everything he can to put Hoyer in a position to succeed, and this will include developing a good chemistry with Pierre Garcon.
Stefon Diggs, WR, Minnesota Vikings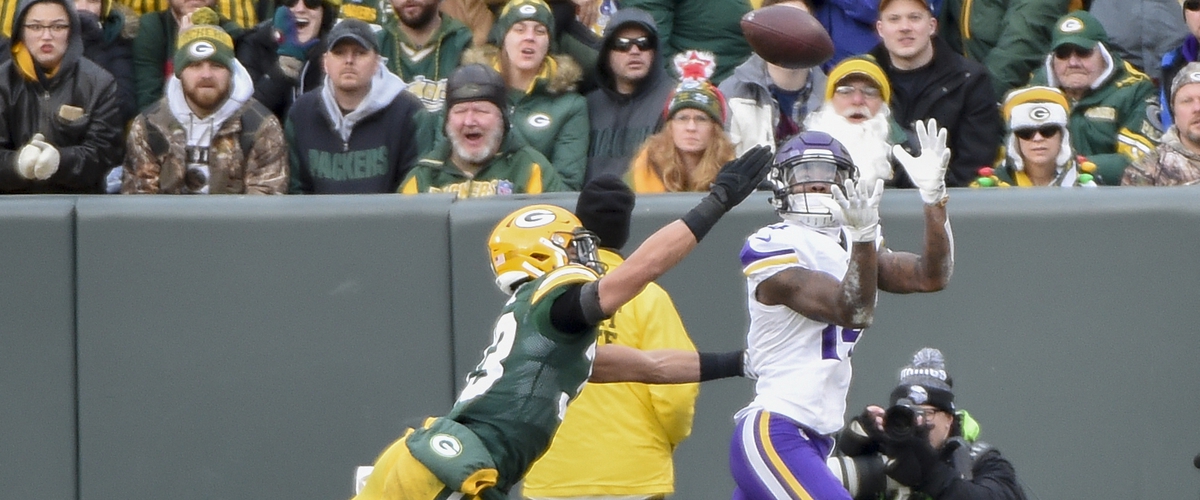 Out of all these three receivers, I like Diggs the most this season to have WR1 potential. Diggs has reported that he wasn't at 100% for most of last season, and he had some big games and some poor games. We saw Diggs at his ceiling on Sunday night in week two against the Packers, and in back to back games against Detroit and Washington where he caught 13 passes each game. Even though his floor last season was low, I'm going to blame this on the change in play callers part way through the season plus his injuries.
This year, I like Diggs to be a PPR machine like Jarvis Landry, Julian Edelman, and Golden Tate, with more upside than the first two. With an improved offensive line and Diggs being healthy, I think we can see a lot more of his boom games from last season. This is really great value in the early sixth round, especially when I've seen Diggs fall to the seventh round often. I like this offense to be better than it was in the second half of last season, with Diggs opening up more of the field and Cook giving them a constant rushing attack. Don't let Diggs fall on draft day, and consider even reaching for him as he has huge upside in PPR leagues at the flex position.
Danny Woodhead, RB, Baltimore Ravens
Even after biting the bullet on Woodhead's season ending injury in week two of last season, I like him to have a great year this season. With Kenneth Dixon out of the way, running back will be less impacted, and this will keep Woodhead on the field often. Baltimore also lost Steve Smith, Kamar Aiken, multiple tight ends, and their fullback, all of whom accounted for over 300 targets last season. Baltimore was also the pass-heaviest offense in the league last season, and every time I watched a Ravens game I saw Flacco consistently throw to the running backs. Even with Joe Flacco likely injured for the first two weeks of the season, Woodhead will still have value. In fact, this might increase Woodheads' value since backup Quarterbacks clearly feel more comfortable throwing to running backs rather than taking deep shots.
Woodhead is currently supposed to be a sixth round pick in fantasy drafts, but experts have seen him dropping consistently by a round or two. Now understand that he is definitely not as valuable in standard formats, but Woodhead is a stud in PPR formats. He makes for a great RB2 in PPR, as he will get not only eight to ten rushing attempts a game, but also eight to ten targets per game. To get this kind of production in the sixth, or seventh round if Woodhead continues to fall, is great in PPR formats because of the situation. Don't be afraid to take Woodhead in this format, as his potential for receptions gives him a high floor.
Donte Moncrief, WR, Indianapolis Colts
Moncrief is a great example of a receiver who has tons of promise but can't stay healthy. A great compliment to the speedy route runner T.Y. Hilton, Moncrief is a big target and great red zone receiver for Andrew Luck. He's so trusted in the red zone that Moncrief had one more touchdown than Hilton or any other Indy pass catcher did, and he did it in only nine games. Moncrief only caught passes in eight of his games, and caught a touchdown in seven of those eight games. Even though he's incredibly touchdown dependent, if he can stay on the field and if Phillip Dorsett can continue to underperform, Moncrief should gain more targets.
Even though he missed seven games last season, Moncrief's fantasy points per game has been steadily increasing. If he can stay healthy, seventy receptions, 900 receiving yards, and nine touchdowns shouldn't be out of the question. Expect Moncrief to be a cheaper draft value version of Michael Crabtree. Both are the biggest red zone receiving threats for their teams, but they are the WR2s and aren't the reception leaders on their teams. Moncrief is going in the seventh round of drafts, but I've seen him fall consistently to the eighth and even the ninth round. I actually like Moncrief at this point compared to other receivers like Brandon Marshall, Kelvin Benjamin, DeSean Jackson, and Mike Wallace. Take the upside here with Moncrief, as he can be a star in standard scoring if he can stay healthy.
Ameer Abdullah, RB, Detroit Lions
The Lions have been claiming they want to be a rushing offense since they drafted Ameer Abdullah in 2015, but it hasn't worked out. Abdullah was banged up off and on in 2015 and couldn't get a full workload, and only played two games in 2016 due to injury. The Lions finally upgraded their offensive line in free agency, and could have a good rushing attack if Abdullah stays healthy. If he can stay healthy, Jim Caldwell looks ready to give Abdullah a full workload, with Zach Zenner getting some carries and Theo Reddick catching lots of passes out of the backfield.
Abdullah is currently going as an eighth round pick, which makes sense considering his injury history. However, Abdullah will be expected to take on a full workload, and can also catch passes out of the backfield extremely well. This gives Abdullah a lot of potential to outperform his draft value, and makes him valuable in all formats. Don't let Abdullah slip past this round, and if you need depth at running back, feel confident in reaching for Abdullah.
Paul Perkins, RB, New York Giants
Perkins is another sneaky good option at running back, who like Abdullah, has fallen in drafts. After watching Rashad Jennings fall apart last season, Paul Perkins gained the coaches trust and became that starting running back. Even though Shane Vereen will maintain the passing back role, Perkins will be in charge of moving the chains and punching in red zone touchdowns. This will be badly needed, as the Giants' running backs only combined for seven touchdowns last season. For Eli Manning, last season looked like the decline is imminent for the 36 year old Quarterback, and a running game will help tremendously. To help Perkins' value, he should rarely experience a loaded box, as the Giants have one of the best pass catching corps in the NFL.
Like Abdullah, Perkins is going in the eighth round, and has a better situation than most other backs available here. The biggest downside is an offensive line that isn't really impressive. However, Perkins won't be the focal point of defensive game plans, and the Giants will run the ball more to keep Eli from continuously overthrowing his receivers. Perkins won't have much to any competition for carries at all, and should be in line for 220 carries, which has a lot of worth in the eighth round. Feel confident in grabbing Perkins in the eighth round, as he will get more touches than the other options you'll find here.