Cut Time in Denver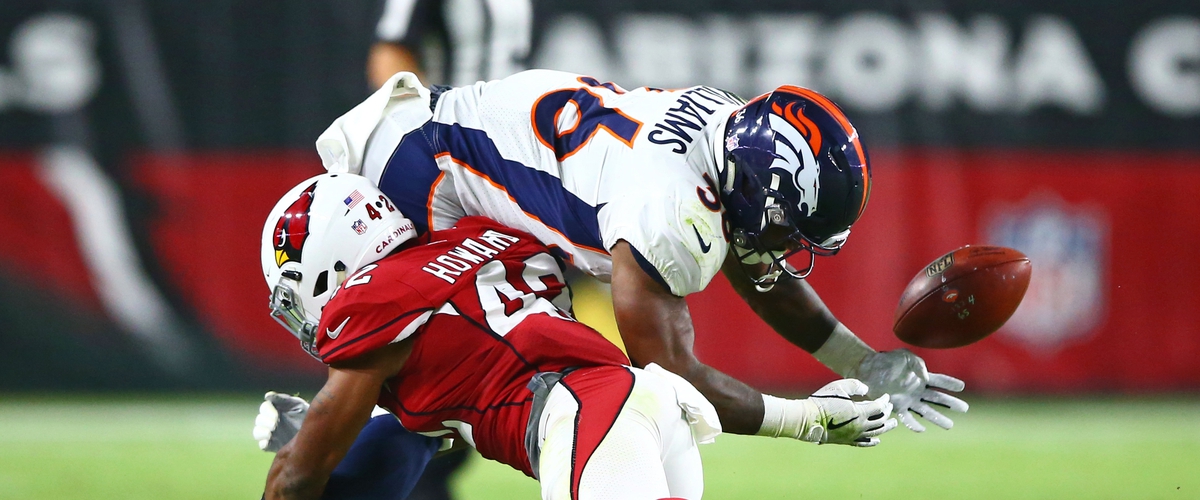 Here are the big questions surrounding the inevitable cuts that are about to take place in Denver. How many QB's will the Broncos keep? What running back are they willing to part ways with? What will the fate of Isiah McKenzie be? Do they have enough depth on the Offensive line? Is it worth keeping more than 6 defensive lineman in order to hold onto the abundance of talent they have there? Did Su'a Cravens do enough to stay?
At some point these cuts will become a numbers game. Keep 5 wide receivers in order to keep 5 safeties. Hold on to 3 quarterbacks so let go of 2 running backs. Putting this puzzle together for John Elway and company won't be a very easy task, especially when they get down to the number 48, 49 and 50. Those are the last 3 position spots on the team (Kicker, Punter, long snapper are 51, 52, 53).
As always let's start with position numero uno: Quarterback. Keenum is a lock at starter, Kelly seems to be secure at the 2. Now, what to do with Paxton Lynch? Do you outright cut him? Do you trade him? Or did he show enough promise against the 3s last night to warrant an extended stay in Denver. I can't imagine the trade value is very high, but removing him from the team and the roster by any means would be better for both parties. Let's face it; when it comes to Lynch the Broncos took an "L". Move on.
At the bottom of the running back depth chart there seems to be a battle as to who the Broncos should hold on to. By virtue of not playing last night, Phillip Lindsey has made the team. (HUGE SHOT OUT TO THE DENVER KID). It comes down to DeAngelo Henderson or Dave Williams. Henderson is an NFL running back, people around here new that last preseason. He is patient in the whole makes quick cuts and has the ability to create big plays, Keep him. Offer Williams a practice squad contract. That move would create a numbers problem. The solution to this problem is to cut Devonte Booker. That will leave the Broncos very green at Running back, however what it does is allow them to hold on to the most talented players. Henderson was better than Booker last season and he has been better than him this preseason. Much like Paxton Lynch, it is time to move on from Booker.
Two players that I think the Broncos need to make room for are DeShawn Williams (#93) and Dymonte Thomas (#35). Both of these players have shown an incredible knack for the football. Last night Williams was in on just about every run play and for the last 2 weeks Thomas has been in great coverage flashing all over the field. If we keep Williams that would mean we would have to cut Walker or Kerr, neither of which is a good option. We will need to clear up room in other areas. The best spot to clear up roster spots right now is at TE and WR. We keep 3 TE's and 5 WR's which will open up two spots to hold on to both Thomas and Williams. Depth, Depth, Depth on defense because the Broncos defense is their life line.
Below is a list of what I project the 53 man roster to be. My numbers only add up to 48, this will leave them some wiggle room to possibly sign another QB and possibly keep another TE.
OFFENSE
QB (2)
Case Keenum
Chad Kelly
RB (3)
Royce Freeman
Phillip Lindsey
Deangelo Henderson
Andy Janovich
WR (6)
Demarius Thomas
Emmanuel Sanders
Cortland Sutton
DaeSean Hamilton
Tim Patrick
Isiah McKenzie
TE (3)
Jeff Heuerman
Jake Butt
Austin Traylor
OL (9)
Garret Bolles
Ron Leary
Matt Paradis
Connor McGovern
Jared Veldheer
Max Garcia
Billy Turner
Cyrus Kouandijio
Elijah Wilkinson
Defense
Defensive Line (7)
Domata Peko
Derek Wolfe
Adam Gotsis
Shelby Harris
Zach Kerr
DeMarcus Walker
DeShawn Williams
Outside Linebacker (4)
Von Miller
Bradley Chubb
Shane Ray
Shaquil Barrett
Inside Linebacker (4)
Todd Davis
Brandon Marchsall
Josey Jewell
Zaire Anderson
Cornerback (5)
Chris Harris Jr.
Bradley Roby
Tramaine Brock
Adam Jones
Isaac Yiadom
Safety (5)
Darian Stewart
Justin Simmons
Su'a Cravens
Will Parks
Dymonte Thomas
---