2019 Packers Camp by Position: Quarterbacks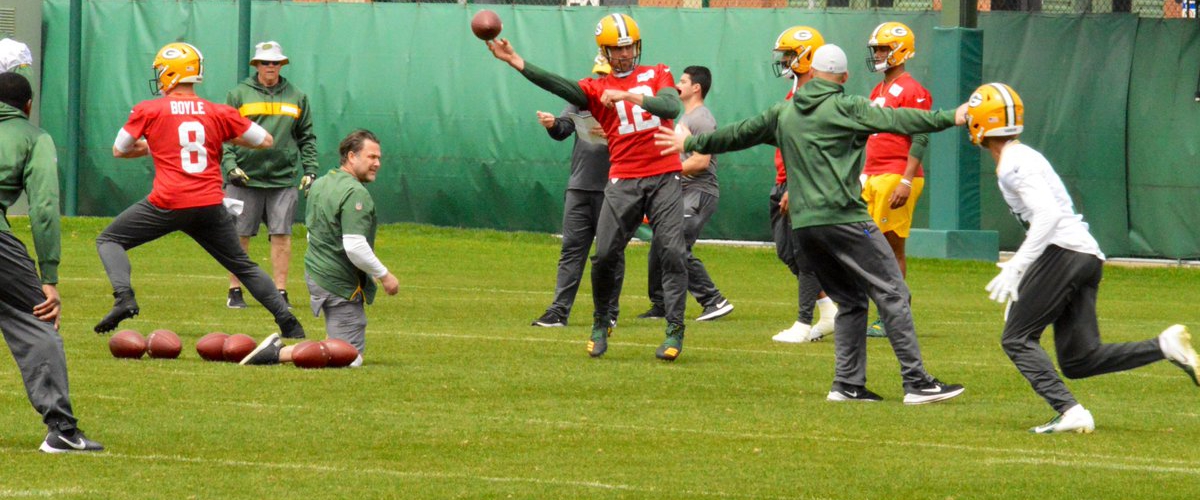 It's time to get Aaron Rodgers a second ring. Now, if something ever happened to Aaron Rodgers, not only would that nine-figure investment in a 35-year-old gunslinger look bad, but every Packers fan would mentally resort to thinking of how much they hated the Brett Hundley fill-in era in 2017. While Rodgers' health will be continuously questioned no matter what he says to the media, the backup situation might be one of the most under-the-radar depth chart battles entering the 2019 campaign. Matt LaFleur is getting along with his new QB, but what are the odds of the other QB's backing up one of the GOATs.
Aaron Rodgers - 35, 15th season, 158 starts, $26.5M Salary, $155.1M remaining
Rodgers got his well-deserved big money extension, now he just needs to help lead this new-and-hopefully-improved Matt LaFleur-led offense to bringing a fifth Super Bowl to Titletown. Jimmy Graham is looking to be a bigger, better target for Rodgers this season, and as long as he and his weapons stay healthy (for the most part, at least), I'd be shocked if a 16-starts-from-Rodgers Packers team misses the playoffs again. Just stay healthy Aaron. Please.
DeShone Kizer - 23, 3rd season, 15 starts, $915K Salary, $2.055M remaining
Kizer struggled a ton in his rookie season, tossing 22 Interceptions in 15 starts. Last season, he entered three games for Green Bay, saw two games with significant reps, and more or less sucked in both. His "D" grade has left his QB2 spot up for grabs, and if he shows the same struggles from the past two years in this year's camp, there's a good chance he doesn't make the active roster come September. After the first week of practice, most of the buzz around Kizer is that he's still dropping dimes, but a lot of his negative habits are still present. He might need to show a more polished game in the upcoming preseason games to solidify his case as the QB2 once again.
Tim Boyle - 24, 2nd season, never appeared, $572K Salary, $1.234M remaining
Boyle made the active roster as the QB3 last season, but he was only active for one game and didn't enter. He's already thrown great anticipation throws since the opening of camp, most notably to Davante Adams, and has a serious case to not only make the 53-Man roster, but to win the QB2 job outright. He'll still have to show more talent and potential than his counterpart DeShone Kizer, though.
Manny Wilkins - 23, Rookie, $497.333K Salary, $1.762M remaining
Wilkins has a less-than-stellar career at Arizona State, leading to him going undrafted. However, he's already earning more and more reps since camp opened, and a couple excellent preseason game performances may solidify his case as the QB3. Boy, this depth chart competition is gonna be good.
SUMMARY:
Aaron Rodgers: QB1
DeShone Kizer: Cut or Traded before the end of camp
Tim Boyle: QB2
Manny Wilkins: QB3