2019 Packers Camp by Position: Tight End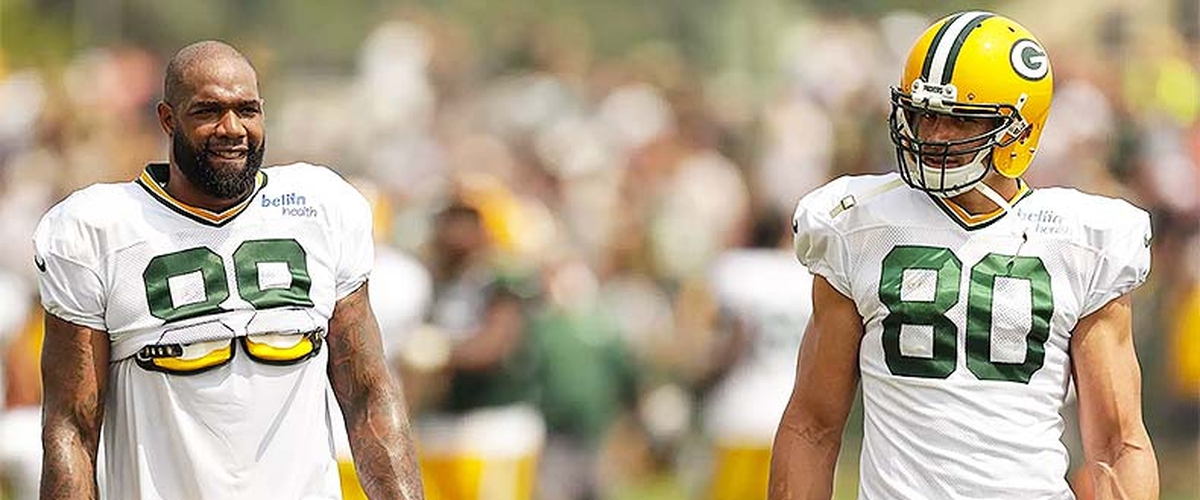 Jimmy Graham - 32, 10th season, 133 starts, $12.667M Salary
Graham's 636 Yards and 2 Touchdowns last year isn't the worst numbers for a TE1, but for a player of his caliber (and Aaron Rodgers as his QB), we all expected better. Matt LaFleur's offense will surely utilize Graham better than Mike McCarthy's schemes last season, and so far in camp, he looks like a comeback play. The depth behind Graham has some question marks, but Graham's status as the starter is safe - given a clean bill of health.
Marcedes Lewis - 35, 14th season, 145 starts, $2.1M Salary
Lewis re-signed for the same salary this year, and any 35-year-old Tight End should be happy to receive over $2 Million. IF you thought Jimmy Graham was underutilized last year, a healthy Marcedes Lewis was targeted just four times. FOUR. I don't know how many dual-end sets LaFleur plans to run this year, but assuming it's just a one-end set, Lewis has the talent and current health to play as a true TE2.
Jace Sternberger - 23, Rookie, $747K Salary
Sternberger was a third-rounder back in April, and while he won't be much help blocking at the NFL level, he's more than capable of getting open given his fluidity and seamless routes. Assuming his hands hold up, I'm sure he'll have packages tailored to him in pass-friendly sets. If I'm Sternberger, I'm spending this camp learning as much as I can from Graham, an excellent mentor for receiving ends. If he bulks up and either shines in preseason or learns to block well enough at this level, he could success Lewis as the TE2 by the end of the year.
Robert Tonyan - 25, 3rd season, 1 start, $570K Salary
Tonyan had a stellar touchdown in Seattle last year, and the chemistry between him and Aaron Rodgers appears to be both natural and present. He's also more than capable of blocking, something Jimmy Graham and Jace Sternberger both struggle with. His special teams value will nearly guarantee his spot as the fourth Tight End, with Tonyan more than capable of handling more reps if the injury bug strikes above him on the depth chart.
Davis Koppenhaver - 23, Rookie, $497K Salary
Koppenhaver is a sizable undrafted Tight End out of Duke, who only started one game there. Assuming the four aforementioned players all make the roster, there's really no chance for Koppenhaver. A few solid preseason performances could go a long way if he's aiming to make the practice squad.
Evan Baylis - 25, 3rd season, 0 starts, $495K Salary
Baylis went undrafted in 2017 and made his NFL debut for the Houston Texans. Two seasons later, and that's still his only NFL appearance. There's no way he's making the active roster, and the only obvious advantage is that he joined the Packers' practice squad last December, whereas Davis Koppenhaver and Pharaoh McKever are brand new and right out of college.
Pharaoh McKever - 25, Rookie, $495K Salary
McKever's 6'6", 260-pound frame is the biggest reason he's in camp. He's old for a rookie (25) and went unheard of, let alone undrafted, in the draft cycle this past spring. A spectacular preseason could change everything, but as of now, there's no chance of a future in Green Bay.
SUMMARY:
Jimmy Graham: TE1, second-best receiving weapon for Aaron Rodgers
Marcedes Lewis: TE2
Jace Sternberger: TE3
Robert Tonyan: TE4
Davis Koppenhaver: Misses the cut, 50/50 chance of making the practice squad
Evan Baylis: Misses the cut, unlikely future in Green Bay
Pharaoh McKever: no chance