2019 Packers Camp by Position: Wide Receiver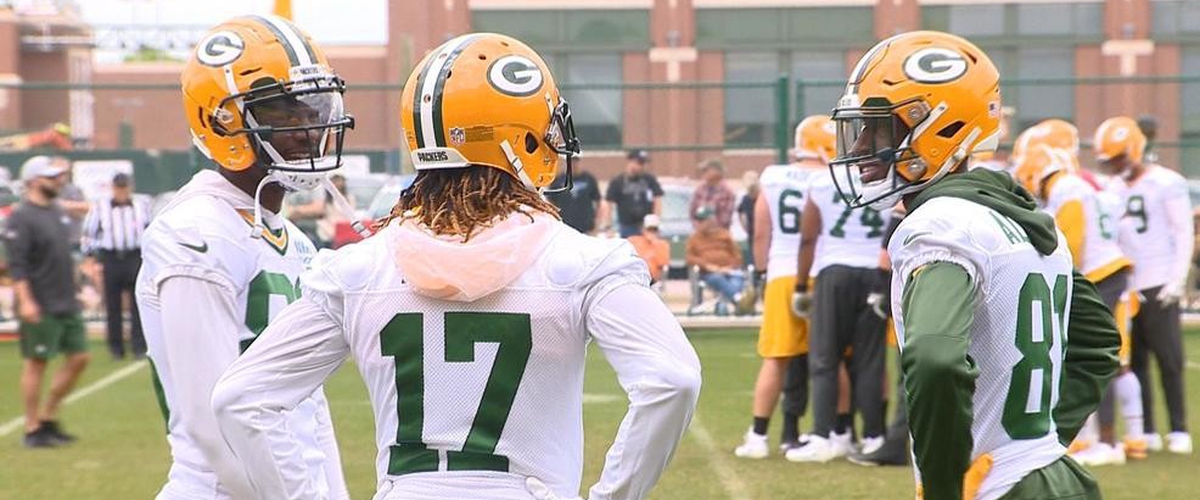 The 2018 Green Bay Packers offense had a lot of struggles, but Davante Adams had a career year and is now finally earning some of the long-deserved respect. His "A" grade also earned him the Packers MVP in my 2018 Final Packers Grades. With Randall Cobb gone, the depth behind Adams is a major question mark. The best guess is Geronimo Allison, who's flashed plenty of potential as an outside starting wideout but can't find a way to stay healthy. The three rookies of last year's draft all have a good case of making the roster, with Marquez Valdes-Scantling as my current favorite. EQ St. Brown had his moments last year too, while J'Mon Moore has a bit more to prove. Jawill Davis and Teo Redding are two 2018 undrafted free agents who found NFL time last year as kick returning specialists, and if the Trevor Davis project is done in Green Bay, both players may have a decent shot of landing a bench spot. Allen Lazard made his NFL debut for Green Bay last December, whereas the other two receiving prospects, Darrius Shepherd and Malik Taylor, are both undrafted free agents who are absolute long shorts to make the active roster.
Davante Adams - 26, 6th season, 67 starts, $10.85M Salary
Adams turned 15 starts into 1,386 and 13 Touchdowns, both career highs. As mentioned earlier, he also earned an "A" and was the 2018 Packers MVP to many, including myself. He's signed through 2021 and Matt LaFleur has talked to the media about using him both inside and out, so I'm not expecting a drop-off from his 1,400-yard pace this year.
Geronimo Allison - 25, 4rd season, 8 starts, $2.456M Salary
Geronimo's a big receiver who average a ton of yards per reception, and if healthy, he should be Green Bay's best shot at a WR2. Matt LaFleur has already eluded to using Davante more in the slot, so a dependable outside receiver could be extremely important to Aaron Rodgers & Co., and who else is better primed for a breakout campaign as a full-time deep threat than Allison? He just has to stay healthy, and he should easily more-than-double his career stat total.
Marquez Valdes-Scantling - 24, 2nd season, 10 starts, $624K Salary
One of the three receivers drafted in 2018, MVS was the only one to receive above a "C+" in my 2018 grades. He flashed serious big-play potential, as well as some shiftiness in the return game. Assuming Geronimo Allison wins the WR2 job, if Valdes-Scantling shows he's just as hungry to grow and succeed as last year, he's my best bet for the third-most reps at receiver.
Equanimeous St. Brown - 21, 2nd season, 7 starts, $600K Salary
St. Brown earned a "C+" grade for his rookie campaign of 12 games, 21 Receptions and 328 Yards. He's a decent pass blocker for his size as well, and while there were some dropping issues, he still found a war to get open more than other bench receivers. Will he be a WR4 over Jake Kumerow? He has a chance if he outperforms him in the preseason, but I can't see him missing any of the preseason cuts.
Jake Kumerow - 27, 5th season, 2 starts, $570K Salary
Kumerow flashed chemistry with Aaron Rodgers after coming off Injured Reserve last year and converted 11 targets in 8 receptions, 103 yards and a touchdown. As long as he shows the same stuff he did last December, he has as good of a chance as anyone to earn a bench spot.
Trevor Davis - 25, 3rd season, 0 starts, $777K Salary
Davis barely saw the field in the two games he wasn't injured for, and that's exactly why Green Bay picked up Jawill Davis and Teo Redding: to compete for the returning job. He's currently the third-most-expensive receiver on the depth chart, and now with the offensive staff that still kept his Packers hopes alive in 2018, his odds don't look too great. Sure, he's a more proven returner than Davis and Redding, but is he worth keeping on the roster if three sophomore players and Kumerow all offer MUCH more in the active offense? Davis is a question mark once again, and while the new staff could grow to like him, I already haven't. It's a no from me, Trevor.
J'Mon Moore - 24, 2nd season, 0 starts, $683K Salary
Moore technically played in 12 games, had a couple catches and looked average at best while returning. If he shows significant growth in the return game this preseason, that might be enough to guarantee an active roster spot. On the flip side, if he's shown his potential returning and doesn't show any more progress in his receiving game, Moore is just as likely to end up on the practice squad as he is the 53-man roster come September.
Jawill Davis - 24, 2nd season, 0 starts, $570K Salary
Davis began 2018 as an undrafted free agent on the Giants' practice squad, and following a promotion to the active roster, had 12 Punt Returns, 7 Kick Returns and 4 Receptions in 7 games off the bench. His returning speciality may be his golden ticket, but it'll take a formidable training camp to prove why he should be kept over Trevor Davis, Teo Redding and whoever else might want the returning job and/or the last receiving roster spot. Dare I say what's the difference?
Teo Redding - 24, 2nd season, never appeared, $495K Salary
Redding spent time in Detroit and Washington last year on their practice squad, never quite cracking the active roster. If he proves to be the best kick returning option this preseason, he has a chance at finally making an active roster. However, it's probably more likely than not that Redding needs to spend more time on a practice squad first.
Allen Lazard - 23, 2nd season, 0 starts, $495K Salary
Lazard made his NFL debut last December, catching a seven-yard pass. He's 6'5", so if he has a stellar camp and shows big-target, vertical receiving ability, there's a slight chance he squeezes past some other fringe options to make the active roster. Being realistic, he's a solid shot at the practice squad.
Darrius Shepherd - 23, Rookie, $495K Salary
An undrafted free agent from North Dakota State, Shepherd's current claim to fame is winning MVP of the 2019 FCS Championship game. If Green Bay is looking to add a returning/slot option on their practice squad, Shepherd has a shot at staying in Green Bay. Otherwise, he better not have any long-term plans in Titletown.
Malik Taylor - 23, Rookie, $495K Salary
Taylor missed most of his senior season at Ferris State due to injury, and the 6'3" receiver doesn't stand out as better than anyone else on this depth chart. Sorry Malik, if you couldn't make it through Tampa Bay's rookie minicamp back in May, there's little-to-no chance of a future in Green Bay.
SUMMARY:
Davante Adams: WR1
Geronimo Allison: WR2, possible WR3 by winter
Marquez Valdes-Scantling: WR3, possible WR2 by winter
Equanimeous St. Brown: WR4/WR5
Jake Kumerow: WR5/WR4
Trevor Davis: WR7/WR6, primary returner
J'Mon Moore: WR6/WR7
Jawill Davis: Misses the cut, excellent practice squad candidate
Teo Redding: Misses the cut, decent practice squad candidate
Allen Lazard: Misses the cut, decent practice squad candidate
Darrius Shepherd: Misses the cut, less likely to make practice squad
Malik Taylor: Misses the cut, unlikely to make practice squad