Fuller's Final 2019 NFL Mock Draft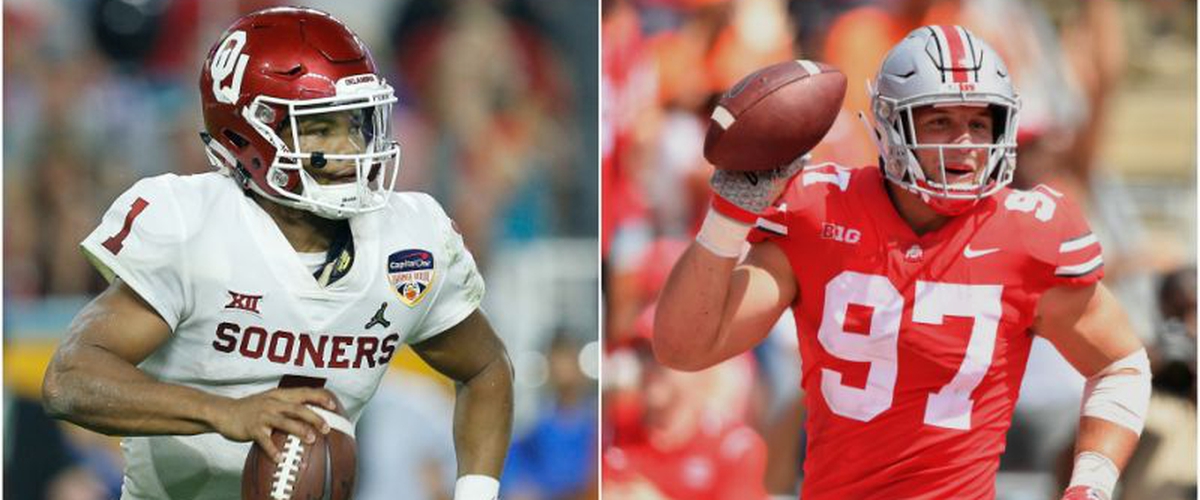 1. Cardinals: Kyler Murray, QB, Oklahoma
I'm not buying any of the smokescreens coming out right before the draft claiming Arizona's going a different direct. Murray is Kliff Kingsbury's guy, and whether they keep or trade Josh Rosen is a decision for another day.
2. 49ers: Nick Bosa, DE, Ohio State
This pick hasn't changed either. San Fran has spent a lot of time with Bosa since the combine, and he fits well in their defensive scheme.
3. Jets: Ed Oliver, DT, Houston
Ed Oliver isn't even the best Defensive Tackle available, let alone best player, but the Jets interest in him is a common thread and sometimes you have to pick what the rumor mill is stirring over what you would do personally. Sometimes.
4. Raiders: Quinnen Williams, DT, Alabama
If the Raiders keep this pick, they'll have to decide between two defensive studs here in Quinnen Williams and Josh Allen. I don't see Quinnen slipping past #4, and some experts say he might be the best player in the class.
5. Buccaneers: Devin White, ILB, LSU
Tampa still hasn't filled the hole Kwon Alexander left in the middle of the defense, probably because they've been eyeing up Devin White with this pick for a while.
6. Giants: Josh Allen, Edge, Kentucky
I don't care how much Dave Gettleman likes Daniel Jones, they have a pass rushing issue and an elite edge rusher left on the board in Josh Allen. Only the Giants could screw this up.
7. Jaguars: Jawaan Taylor, OT, Florida
Jacksonville needs help at Tackle, and they have the entire class to choose from here. I could see them consider Jonah Williams or even TE T.J. Hockenson here, but I'm sticking with Taylor for the third straight mock.
8. Lions: T.J. Hockenson, TE, Iowa
Pass rusher is still a big need with Ziggy Ansah departing in free agency, and Brian Burns, Montez Sweat and Clelin Ferrell are all still available. However, Matt Stafford is starving for reliable weapons, and T.J. Hockenson is the best Tight End prospect in a long time.
9. Bills: Rashan Gary, DL, Michigan
D-Tackle is probably Buffalo's biggest hole, and Christian Wilkins is one of the safest first-round prospects. OL Jonah Williams is the next best choice here.
10. Broncos: Devin Bush, LB, Michigan
Yes, Denver has all of the Quarterbacks behind Murray to choose from, but Inside Linebacker is a big hole and Devin Bush is a fantastic fit to fill it. However, with Dwayne Haskins, Daniel Jones and Drew Lock all available, John Elway may be tempted at finding their next future franchise Quarterback.
11. Bengals: Dwayne Haskins, QB, Ohio State
Both Jonah Williams and Andre Dillard would be excellent boosts to the O-Line, and Rashan Gary could step in as an immediate playmaker on defense, but with Dwayne Haskins available, how can Cincy not keep him in state?
12. Packers: Noah Fant, TE, Iowa
Out of the players available, Green Bay will likely have plenty of interest in OL Jonah Williams, DL Rashan Gary, TE Noah Fant, and OT Andre Dillard. While Williams and Gary are definitely the two best prospects, Matt LaFleur has yet to give Aaron Rodgers any new weapons and Noah Fant has the potential to be a real receiving weapon.
13. Dolphins: Brian Burns, Edge, Florida State
Brian Burns is the second-best player available, and Cameron Wake, William Hayes, Robert Quinn and Andre Branch are all gone. Jonah Williams and Rashan Gary would both be excellent candidates here too, and I'm not 100% they're not thinking of gambling on a QB here.
14. Falcons: Jonah Williams, OL, Alabama
Atlanta doesn't have any glaring holes, and while Rashan Gary makes sense for their needs, he isn't a good fit in Dan Quinn's defense. Jonah Williams is the best player available and provides flexibility along the O-line.
15. Washington: Drew Lock, QB, Missouri
Washington could reach for Marquise Brown or D.K. Metcalf here, but with Drew Lock on the board and Case Keenum as a mentor, taking the Missouri gunslinger just makes too much sense.
16. Panthers: Andre Dillard, LT, Washington State
Carolina still hasn't filled LT Matt Kalil's old spot, and now they can with the best true Left Tackle prospect in the class. Rashan Gary, Montez Sweat and Clelin Ferrell should all get plenty of attention here too.
17. Giants: Daniel Jones, QB, Duke
See, Gettleman had nothing to worry about. He still can get his QB of the future here at #17.
18. Vikings: Cody Ford, G/RT, Oklahoma
Minnesota's biggest weakness is still the Offensive Line. Cody Ford and Garrett Bradbury are both excellent O-line prospects available at #18, and the former fits Minnesota's needs better while providing for positional flexibility.
19. Titans: Rashan Gary, DL, Michigan
Both Tight Ends are gone, and Marquise Brown would still be a bit of a reach, so it's time for Tennessee to focus on defense. Rashan Gary, Clelin Ferrell and Montez Sweat are all still available here, and Gary is the only one that can provide experienced pass rushing skills to both inside and outside gaps.
20. Steelers: Rock Ya-Sin, CB, Temple
We've known for a while that Pittsburgh is the best shot at the first Cornerback coming off the board. Even with Byron Murphy, Greedy Williams and DeAndre Baker all available, I'm going with a bit of a surprise and reaching for Rock Ya-Sin. It's an increasingly popular pick, and he fills more of Pittsburgh's physical weaknesses in the secondary than any of the three aforementioned options.
21. Seahawks: Montez Sweat, Edge, Mississippi State
None of the Safeties are worth gambling on here at #12, and Montez Sweat slid here due to health concerns. After flipping Frank Clark, Montez Sweat probably fits the mold of what they're looking for better than anyone else available. DE Clelin Ferrell and DT Jeffery Simmons should earn a few looks here too.
22. Ravens: Garrett Bradbury, C, North Carolina State
In previous mocks, this pick was a skill position player like RB Josh Jacobs or WR D.K. Metcalf, but Baltimore isn't going to pass up on taking the best interior lineman in the draft.
23. Texans: Dalton Risner, OL, Kansas State
Houston could reach for Greg Little to fill the Tackle void, but Dalton Risner is a higher-rated prospect who can play all across the line. Cornerbacks Byron Murphy and Greedy Williams should also be in contention here.
24. Raiders: Byron Murphy, CB, Washington
Oakland could go ahead and take RB Josh Jacobs here, but why would you when CB Byron Murphy is the second-best player available? DE Clelin Ferrell is the only player rated higher on my board than Murphy at #24, and Ferrell should earn some looks as well.
25. Eagles: Marquise Brown, WR, Oklahoma
Marquise Brown has game-changing speed, which is the biggest reason he's the top receiver on my board and being taken at #25 over fellow receivers D.K. Metcalf and A.J. Brown. If Philly really likes one of the Safeties in this class, or is willing to gamble on DT Jeffery Simmons' health, those are other avenues that wouldn't surprise me.
26. Colts: Jeffery Simmons, DT, Mississippi State
Defensive Tackle is still a need, and with another pick right away at #34, taking the injured Jeffery Simmons is a gamble they can afford to take. When healthy, Simmons was a Top 10 prospect.
27. Raiders: DeAndre Baker, CB, Georgia
It will be hard to wait until #35 to draft RB josh Jacobs, especially after Marshawn Lynch's retirement became official this week, but Running Back value is wack and Clelin Ferrell is a mid-first round talent still on the board at #27. I can't see Ferrell sliding much further than here.
28. Chargers: Dexter Lawrence, DT, Clemson
Corey Liuget is still gone and Dexter Lawrence is an excellent gap-filler available at #28. The Bolts will also pay close attention to the Defensive Backs and O-Linemen left on the board.
29. Seahawks: Greedy Williams, CB, LSU
At many points throughout the pre-draft process, Greedy Williams was the standalone top Corner in the class. Character issues and abysmal drill performances have hurt his stock, but Seattle will be happy to find him still available at #29.
30. Packers: A.J. Brown, WR, Ole Miss
If Green Bay really likes one of the Safeties in this year's class, filling that need would make sense here. Greg Little is the best option for Right Tackle, and Jerry Tillery is the best D-Tackle left. However, I'm not done giving Rodgers weapons, and since they already have an exceptionally tall receiving corps, adding a receiver with slot experience like A.J. Brown over his college teammate D.K. Metcalf makes the most sense.
31. Rams: Erik McCoy, C/G, Texas A&M
John Sullivan and Rodger Saffold are both gone, leaving a major weakness on the inside of the O-Line. Erik McCoy can play both Guard and Center, which is just an added bonus for the best offensive lineman left on my board.
32. Patriots: Irv Smith Jr., TE, Alabama
Rob Gronkowski is still New England's biggest loss, so I'm sticking with adding Irv Smith Jr. here.
SECOND ROUND
33. Cardinals: D.K. Metcalf, WR, Ole Miss
34. Colts: Nasir Adderley, S, Delaware
35. Raiders: Josh Jacobs, RB, Alabama
36. 49ers: N'Keal Harry, WR, Arizona State
37. Giants: Jerry Tillery, DT, Notre Dame
38. Jaguars: Hakeem Butler, WR, Iowa State
39. Buccaneers: Chauncey Gardner-Johnson, DB, Florida
40. Bills: Deebo Samuel, WR, South Carolina
41. Broncos: DeAndre Baker, CB, Georgia
42. Bengals: Chris Lindstrom, G, Boston College
43. Lions: Taylor Rapp, S, Washington
44. Packers: Mack Wilson, LB, Alabama
45. Falcons: Jaylon Ferguson, DE, Louisiana Tech
46. Washington: Parris Campbell, WR, Ohio State
47. Panthers: Darnell Savage Jr., S, Maryland
48. Dolphins: Dre'Mont Jones, DT, Ohio State
49. Browns: Greg Little, OT, Ole Miss
50. Vikings: Johnathan Abram, S, Mississippi State
51. Titans: Kelvin Harmon, WR, North Carolina State
52. Steelers: Jachai Polite, Edge, Florida
53. Eagles: Juan Thornhill, DB, Virginia
54. Texans: Justin Layne, CB, Michigan State
55. Texans: J.J. Arcega-Whiteside, WR, Stanford
56. Patriots: Kaleb McGary, T, Washington
57. Eagles: Zach Allen, DE, Boston College
58. Cowboys: Deionte Thompson, FS, Alabama
59. Colts: Chase Winovich, Edge, Michigan
60. Chargers: Tytus Howard, T, Alabama State
61. Chiefs: Elgton Jenkins, C, Mississippi State
62. Saints: Miles Boykin, WR, Notre Dame
63. Chiefs: Trayvon Mullen, CB, Clemson
64. Patriots: L.J. Collier, DE, TCU
THIRD ROUND
65. Cardinals: Julian Love, CB, Notre Dame
66. Steelers: Riley Ridley, WR, Georgia
67. 49ers: Amani Oruwariye, CB, Penn State
68. Jets: Connor McGovern, G/C, Penn State
69. Jaguars: Jace Sternberger, TE, Texas A&M
70. Buccaneers: Miles Sanders, RB, Penn State,
71. Broncos: Oshane Ximines, Edge, Old Dominion
72. Bengals: Germaine Pratt, ILB, North Carolina State
73. Patriots: Ryan Finley, QB, North Carolina State
74. Bills: Yodny Cajuste, T, West Virginia
75. Packers: Khalen Saunders, DT, Northern Illinois
76. Washington: Damien Harris, RB, Alabama
77. Panthers: Charles Omenihu, Edge, Texas
78. Dolphins: David Montgomery, RB, Iowa State
79. Falcons: Joejuan Williams, CB, Vanderbilt
80. Browns: Andy Isabella, WR, Massachusetts
81. Vikings: Dawson Knox, TE, Ole Miss
82. Titans: D'Andre Walker, OLB, Georgia
83. Steelers: Josh Oliver, TE, San Jose State
84. Chiefs: Devin Singletary, RB, Florida Atlantic
85. Ravens: Joe Jackson, Edge, Miami
86. Texans: Max Scharping, RT/G, Northern Illinois
87. Bears: Lonnie Johnson, CB, Kentucky
88. Lions: Anthony Nelson, DE, Iowa
89. Colts: Amani Hooker, SS/LB, Iowa
90. Cowboys: Terry McLaurin, WR, Ohio State
91. Chargers: Will Grier, QB, West Virginia
92. Seahawks: Gerald Willis III, DT, Miami
93. Jets: Jamel Dean, CB, Auburn
94. Jaguars: Renell Wren, DT, Arizona State
95. Giants: David Edwards, RT, Wisconsin
96. Washington: Vosean Joseph, LB, Florida
97. Patriots: Emanuel Hall, WR, Missouri
98. Jaguars: Nate Davis, G, Charlotte
99. Rams: Darrell Henderson, RB, Memphis
100. Panthers: Sean Bunting, CB, Central Michigan
101. Patriots: David Long, CB, Michigan
102. Ravens: David Long, LB, West Virginia