Fuller's 2019 NBA Mock Draft 1.0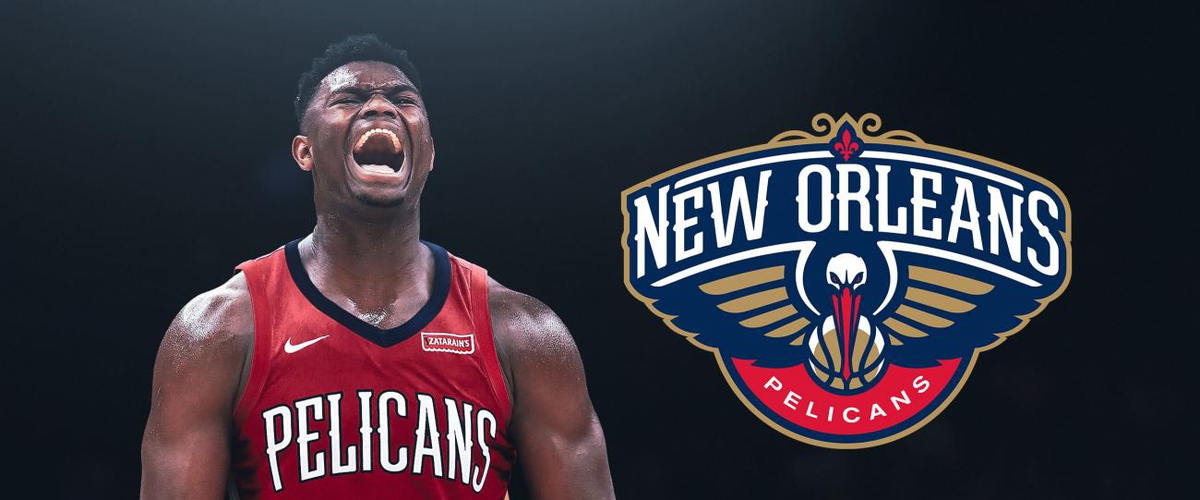 Tuesday's NBA Draft lottery was absolutely nuts, and although New York Knicks fans are probably still devastated, the lottery showed it's cruel fate and original reasons for coming into existence: to balance the trend of tanking. Sorry New York, but trying to lose more than any other team in the league just for the best odds at the #1 pick didn't work out. Do I feel bad? Absolutely not. This creates parity, and nobody likes a team tanking on purpose. It just isn't right.
Now, Zion Williams would have to seriously implode his draft stock in order to fall past the #1 spot, and I don't expect him to go anywhere other than New Orleans - as long as they keep the pick. Pairing Zion with Anthony Davis? Easy choice. Figuring out what picks #2 through #30 will be? That's a different story...
1. New Orleans Pelicans: Zion Williamson, PF, Duke
Well this pick is obvious. Williamson bears more hype than any prospect since LeBron James, with Ben Simmons and Andrew Wiggins coming close. He's seen as an instant game-changer, and he'll line up alongside Anthony Davis, Jrue Holiday, E'Twaun Moore and a three-way fight for playing time between Jahlil Okafor, Julius Randle and Solomon Hill. I don't expect New Orleans to be done making moves, either.
2. Memphis Grizzlies: Ja Morant, PG, Murray State
Morant's stock was rising before the NCAA Tournament, but his ability to takeover a game (look at his film against a good Marquette team) pushed him ahead of R.J. Barrett for the #2 player on my board. He gets to stay in-state with Memphis, who have an interesting choice to make with oft-injured veteran Mike Conley, who's set to make $32.5 Million in 2019.
3. New York Knicks: R.J. Barrett, SF, Duke
Barrett may be the best pure scorer in this entire draft, and the Knicks will swallow their lack-of-Zion tears to add another pure scorer to their soon-under-renovation lineup. Imagine pairing him with Kyrie Irving and Kevin Durant in a new-look Big Apple squad this fall.
4. Los Angeles Lakers: Jarrett Culver, SG, Texas Tech
The Lakers will feel like they got screwed in this year's lottery, and while Jarrett Culver isn't a dynamic game changer like Zion, he instantly improves the overall play on both ends of the court. Kentavious Caldwell-Pope, Lance Stephenson and Reggie Bullock are all unrestricted free agents, so taking a 2-Guard makes a lot of sense.
5. Cleveland Cavaliers: De'Andre Hunter, SF, Virginia
Not only is De'Andre Hunter the best player available on my board, the only two true wings Cleveland has under contract are J.R. Smith and Cedi Osman. If Cam Reddish boosts his stock above Hunter's over the next month, he's a good option here too, but I'd be shocked if it's anyone not already mentioned (or drafted earlier in this mock).
6. Phoenix Suns: Darius Garland, PG, Vanderbilt
I don't think Phoenix is set with Elie Okobo, DeAnthony Melton and Jimmer Fredette as their three Point Guard options. As of right now, Darius Garland is a higher-rated prospect than fellow Point Guard Coby White, although those two may be fighting for the same spot here at #6 for the rest of the pre-draft process.
7. Chicago Bulls: Coby White, PG, North Carolina
White is the second-best player behind Duke wing Cam Reddish, but with Otto Porter, Zach LaVine and Denzel Valentine all under contract, adding a high-potential point to compliment Kris Dunn makes a lot of sense. If they really like what they see in Texas big man Jaxson Hayes, he could be a slight reach here to replace the departing Robin Lopez.
8. Atlanta Hawks: Jaxson Hayes, C, Texas
Dewayne Dedmon is the only Hawks player with more than ten starts in 2018/19 set to leave, and now they can add a prolific shot blocker in Jaxson Hayes to compliment John Collins and Alex Len. Cam Reddish, Bol Bol and Sekou Doumbouya should all earn attention here too.
9. Washington Wizards: Cam Reddish, SF, Duke
Upon first glance, I would've taken Bol Bol with Jabari Parker and Bobby Portis' futures in Washington up in the air, but Trevor Ariza is an unrestricted free agent and Cam Reddish could instantly start at the 3 alongside John Wall, Bradley Beal, Parker and Dwight Howard.
10. Atlanta Hawks: Romeo Langford, SG, Indiana
Atlanta has Kent Bazemore, Kevin Huerter, Taurean Prince and DeAndre' Bembry under contract for 2019, but they still have up to 2,350 minutes of wing play set to potentially leave in Vince Carter, Justin Anderson, Tyler Dorsey and Alex Poythress. Adding a developmental, high-potential shooting guard like Romeo Langford makes too much sense here, although Frenchman Sekou Doumbouya should get plenty of consideration here.
11. Minnesota Timberwolves: Bol Bol, PF/C, Oregon
Normally I wouldn't add a front-court player at #11 to a team boasting Karl Anthony-Towns, Gorgui Dieng, Dario Saric and Robert Covington, but this front-court is also losing Taj Gibson, Anthony Tolliver and Luol Deng to free agency. Sekou Doumbouya is the only player higher on my board than Bol Bol here, but Minnesota already has to 3/4 hybrid forwards in Saric and Covington. Getting a big man like Bol to stretch the floor for KAT and Dieng would be a major improvement.
12. Charlotte Hornets: Sekou Doumbouya, SF/PF, France
Charlotte faces potentially major losses in Kemba Walker, Jeremy Lamb, Michael Kidd-Gilchrist (player opt), Marvin Williams (player opt) and Frank Kaminsky (RFA). Point Guard would be an obvious choice, but no point guard is worth taking here. Sekou Doumbouya is the best player available and can cover the losses of Williams, MKG and Kaminsky if any combination of those three decide not to re-sign.
13. Miami Heat: Kevin Porter Jr., SG, USC
Dwyane Wade retired, and Goran Dragic and Hassan Whiteside both could opt out of their player options. Yikes. Dragic, Whiteside, Kelly Olynyk, Josh Richardson and Justice Winslow should all play major roles, but with Wade, Tyler Johnson and Rodney McGruder all off the books, adding a Shooting Guard like Kevin Porter Jr. could really help Dion Waiters at the 2. He's also the best player available on my board.
14. Boston Celtics: Rui Hachimura, PF, Gonzaga
Kyrie Irving is probably declining his player option, and Al Horford could do the same. Marcus Morris, Daniel Theis, Terry Rozier and Aron Baynes could all leave this summer one way or another, meaning this talented Boston squad may face a substantial amount of turnover this offseason. Rui Hachimura is the highest-rated player available, can cover the losses of Morris, Theis and Baynes in the front-court, and arguably has the highest ceiling.
15. Detroit Pistons: Nassir Little, SF, North Carolina
Ish Smith, Jose Calderon, Wayne Ellington and Zaza Pachulia are the four players leaving in free agency. If a Point Guard was worth taking here, that's the most sensible choice, but no point guards are worth taking at #15. Nassir Little is both the best player on my board, and would become the only true Small Forward on Detroit's roster.
16. Orlando Magic: Keldon Johnson, SG/SF, Kentucky
Nikola Vucevic is free to leave and could become one of the most sought-after free agents this summer. Terrence Ross is also free to leave, meaning Orlando could be down two starters very quickly. I'm comfortable with a front-court of Aaron Gordon, Jonathan Isaac, Mo Bamba and Timofey Mozgov. However, I'm not comfortable with Evan Fournier as the only significant contributor on the wing. The best option that can play the 2 or the 3 is Keldon Johnson, and he arrives in Orlando with plenty of starting potential.
17. Brooklyn Nets: P.J. Washington, PF/C, Kentucky
Jarrett Allen is a great front-court piece moving forward, but he needs some help with the only other true big man, Ed Davis, free to leave this summer. P.J. Washington can play both the 4 and the 5 at the next level, and he demonstrated his ability to take over games during the NCAA tournament a couple months ago. Brandon Clarke of Gonzaga is another formidable option here at #17.
18. Indiana Pacers: Nickeil Alexander-Walker, PG/SG, Virginia Tech
If any team is expecting a ton of turnover this offseason, it's Indiana. Darren Collison, Cory Joseph, Tyreke Evans, Wes Matthews, Bojan Bogdanovic, Thaddeus Young and Kyle O'Quinn are all unrestricted free agents. While Victor Oladipo, Myles Turner and Domantas Sabonis deserve their starting spots, I'm not sure Indiana wants Aaron Holiday and Doug McDermott walking in as uncontested starters at the 1 and 3, respectively. Nickeil Alexander-Walker can play both guard spots and provides decent height (6'5") and as much potential as anyone left on the board.
19. San Antonio Spurs: Brandon Clarke, PF/SF, Gonzaga
Rudy Gay is San Antonio's only significant departure, leaving Davis Bertans as the new top Small Forward. Brandon Clarke is the top prospect available, and he can play a stretch-3 or cover the 4 when LaMarcus Aldridge plays as a Center and Jakob Poeltl takes a break on the bench.
20. Boston Celtics: Goga Bitadze, C, Republic of Georgia
Boston's wings are just too good to give any rookie a significant opportunity, and I don't see a Point Guard worth taking to fill Kyrie and possibly Terry Rozier's void this summer. Therefore, I'm doubling down on big men for Boston and adding Goga Bitadze here. He's a Georgian seven-footer who looks to be Jusuf Nurkic 2.0, which is great for a team losing up to four considerable front-court contributors. Also, Boston loves international prospects.
21. Oklahoma City Thunder: Bruno Fernando, PF/C, Maryland
Nerlens Noel and Patrick Patterson have player options for 2019, but if either player declines it, the front-court behind Steven Adams is pretty much non-existent. Bruno Fernando is a lively prospect who can eat up minutes at the four and five for Oklahoma City.
22. Boston Celtics: Tyler Herro, SG, Kentucky
This is Boston's third pick, so assuming they keep it, I'll have them take Tyler Herro. He's the best player available on my board, and who couldn't use another quality 3-point shooter off the bench?
23. Utah Jazz: Grant Williams, PF, Tennessee
Utah is deep. Ricky Rubio is their only significant loss this offseason, and they still have Dante Exum, Donovan Mitchell, Grayson Allen, Kyle Korver and Raul Neto under contract in their back-court. Rudy Gobert, Derrick Favors, Joe Ingles and Jae Crowder lead their front-court, so the loss of Ekpe Udoh is a fillable one as well. Grant Williams can be an electric scorer off Utah's bench, providing a solid #2 behind Favors.
24. Philadelphia 76ers: Cameron Johnson, SF, North Carolina
For a team with plenty of quality pieces, Philly has SEVEN unrestricted free agents entering this summer, most notably Tobias Harris. Jimmy Butler could also opt out of his player deal, and that will be a frequent discussion come the end of June. While he may not fit their biggest needs, Cameron Johnson is the best player available and will fill the void of Harris and J.J. Reddick on the wing.
25. Portland Trailblazers: Luguentz Dort, SG/PG, Arizona State
Rodney Hood and Seth Curry are free agents, leaving very little depth behind C.J. McCollum at Shooting Guard. Enter Luguentz Dort, and electric combo Guard who could instantly walk in and beat out Anfernee Simons and Gary Trent Jr. for the third-most Guard minutes.
26. Cleveland Cavaliers: Talen Horton-Tucker, SG/SF, Iowa State
Cleveland took De'Andre Hunter at #5, and while he can contribute early at Small Forward, there still isn't any depth behind Hunter, J.R. Smith and Cedi Osman for the 2 and 3 spots. Talen Horton-Tucker can play both spots, and while he's also a wing, his skill set is different enough from Hunter's where they shouldn't clash if on the wings at the same time.
27. Brooklyn Nets: Matisse Thybulle, SF, Washington
DeMarre Carroll and Jared Dudley are both free agents, leaving Small Forward very thin. Matisse Thybulle is the best player available and also a true #3, making this an easy choice. Stanford's KZ Okpala is a fine choice here too.
28. Golden State Warriors: KZ Okpala, SF/PF, Stanford
Klay Thompson and DeMarcus Cousins are both free agents, and Draymond Green, Kevin Durant and Andre Iguodala are all off the books by next summer. KZ Okpala won't have to travel far from Stanford, and he's an athletic dual-threat player who can eat minutes off the bench at the 3 and 4 spots.
29. San Antonio Spurs: Mfiondu Kabengele, C, Florida State
Kabengele is extremely raw, but so was Jakob Poeltl when he entered the league and now he's San Antonio's starting Center. The Florida State big man should instantly walk into the #2 Center role, while also easing the depth chart pressure on LaMarcus Aldridge and Chimezie Metu.
30. Milwaukee Bucks: Daniel Gafford, C, Arkansas
Brook Lopez, Nikola Mirotic and Pau Gasol are all free to leave Milwaukee, while Khris Middleton will likely opt out of his player option and Malcolm Brogdon is one of the top restricted free agents this summer. Carsen Edwards and Ty Jerome are both excellent options to replace Malcolm Brogdon, but they have a lot of holes in the front-court (shocker) and Daniel Gafford can learn a lot from Giannis about contesting in the paint at the next level. Interestingly enough, I distinctly remember slotting Daniel Gafford in for the Bucks in last year's first NBA Mock Draft, before he ultimately decided to return to Arkansas for a second season.
SECOND ROUND:
31. Brooklyn Nets: Carsen Edwards, PG, Purdue
32. Phoenix Suns: Eric Paschall, PF, Villanova
33. Philadelphia 76ers: Ty Jerome, PG, Virginia
34. Philadelphia 76ers: Jontay Porter, C, Missouri
35. Atlanta Hawks: Chuma Okeke, SF/PF, Auburn
36. Charlotte Hornets: Jalen McDaniels, PF, San Diego State
37. Dallas Mavericks: Charles Bassey, C, Western Kentucky
38. Chicago Bulls: Isaiah Roby, SF/PF, Nebraska
39. New Orleans Pelicans: Louis King, SF, Oregon
40. Sacramento Kings: Dylan Windler, SF, Belmont
41. Atlanta Hawks: Luka Samanic, PF, Croatia
42. Philadelphia 76ers: Nazreon Reid, PF/C, LSU
43. Minnesota Timberwolves: Shamorie Ponds, PG, St. John's
44. Atlanta Hawks: Ignas Brazdeikis, SF/PF, Michigan
45. Detroit Pistons: Nic Claxton, PF/C, Georgia
46. Orlando Magic: Neemias Queta, C, Utah State
47. Sacramento Kings: Killian Tillie, PF/C, Gonzaga
48. Los Angeles Clippers: Sagaba Konate, PF/C, West Virginia
49. San Antonio Spurs: Admiral Schofield, SF, Tennessee
50. Indiana Pacers: Darius Bazley, SF/PF, Princeton High School (USA)
51. Boston Celtics: Jordan Nwora, SF/PF, Louisville
52. Charlotte Hornets: Jaylen Nowell, PG/SG, Washington
53. Utah Jazz: Deividas Sirvydas, SG/SF, Lithuania
54. Philadelphia 76ers: Joshua Obiese, PG/SG, Germany
55. New York Knicks: Jaylen Hoard, PF, Wake Forest
56. Los Angeles Clippers: Dedric Lawson, SF/PF, Kansas
57. New Orleans Pelicans: Zach Norvell, SG, Gonzaga
58. Golden State Warriors: Jordan Poole, SG, Michigan
59. Toronto Raptors: Miye Oni, SF, Yale
60. Sacramento Kings: Ky Bowman, PG, Boston College
Other Draftable Prospects: Tremont Waters, PG, LSU; Kris Wilkes, SF, UCLA; Adam Mokoka, SG, France; Aric Holman, PF, Mississippi State; Brian Bowen, SF, Sydney Kings (USA); Charles Matthews, SG, Michigan; Yovel Zoosman, SG/SF, Israel; Kerwin Roach, SG/PG, Texas; Kyle Guy, SG, Virginia; and Josh Reaves, SG, Penn State.