Revising the Packers' 2019 Draft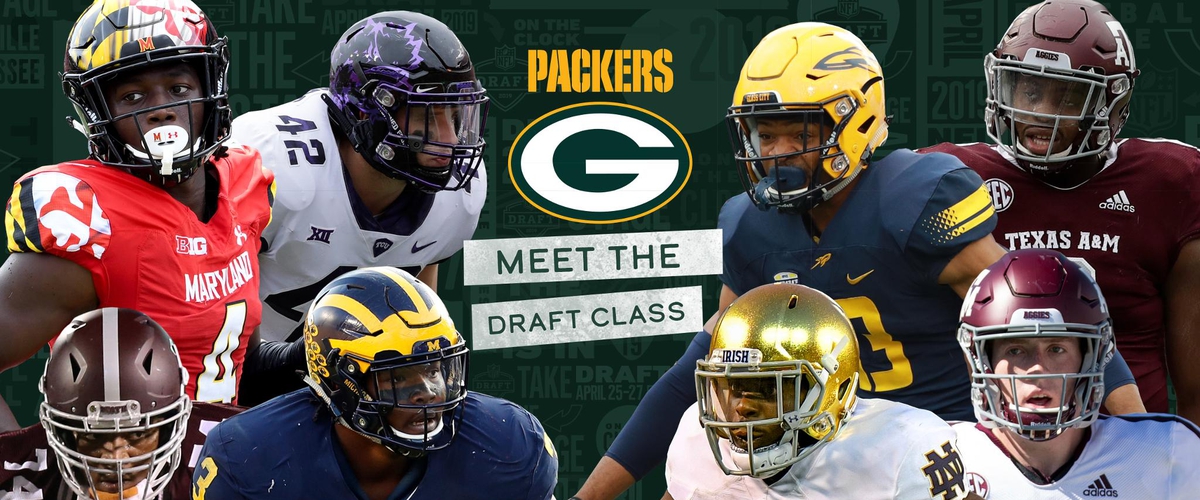 The Packers have gone back-to-back years with "B" grades from me, and I wouldn't be surprised if the 2019 NFL Draft class earns it as well to complete an above-average-draft-hat-trick. Instead of trading back in the first round like last season, we moved up nine spots and gave up a couple fourth-round selections to take a new starting Safety, one that GM Brian Gutekunst was obviously high on. After hitting on defense with two formidable first-rounders, Gutekunst nabbed an O-Lineman and a receiving weapon to help Aaron Rodgers & company. Day 3 resulted in a rookie at every level of defense, as well as an well-valued running back. Want to learn more? I'm not an asshole like ESPN and will charge you for it; just scroll down!
Pick #12: Rashan Gary, DL, Michigan. Grade: A-
Scouting Report: I haven't exactly figured out Gary yet, and I don't think anyone has. He was the #1 overall recruit in the high school Class of 2016 as a Defensive Tackle, but lined up along all gaps of the D-Line and never really found a home at Michigan. That being said, he opened eyes with a 4.58 40 time at the combine, proving to be faster than some Running Backs and Wide Receivers. His 4.29 20-yard cone time and 38" Vertical also led all D-Linemen, proving to be a freak undersized option in the trenches. Here's where it gets interesting: his name was read off as a Linebacker, and with his size (6'4"/277) and speed, he could line up virtually anywhere in the box at the next level. The production is a major question mark, as well as what his best positional fit is in the NFL, but there's plenty to love about Gary's athleticism, drive (he started his own sports agency before the draft) and usability in Mike Pettine's every-changing schemes. Plus, who doesn't get the feels watching the video of him crying on the phone after being drafted?!
Opinion: Whenever it's time to dish out the opinion part, it's always important to note who else was available, as well as what the true team needs are. Only Dwayne Haskins was ranked higher on my board at #12, and we obviously weren't using the pick on a Quarterback. Both Devin White and Devin Bush were gone, so Linebacker wasn't an option. TE Noah Fant was also available, but experts knew Green Bay wasn't using #12 on a Tight End earlier this week. Even with Slot Receiver still sitting as a need, it's nearly impossible to argue Marquise Brown would've been more deserving of going at #12 than Rashan Gary. How is Green Bay going to use Gary? No clue, but behind Kenny Clark and Mike Daniels, there were plenty of inconsistencies and injuries on the Defensive Line. Green Bay also chose not to re-sign Muhammad Wilkerson, and Mike Daniels' fat contract expires after this year. Considering the roster and who was available, this is a smarter pick than I previously thought.
Pick #21: Darnell Savage Jr., S, Maryland. Grade: A-
Scouting Report: No one's name soared higher up my board the Savage's in the few days leading up to the draft. His size damned his odds early on in the draft process, but he measured in at 5'11" and 198 pounds at the combine, immediately boosting his stock. From there, scouts went back and looked at a tape showcasing killer instincts, playmaker-type ball skills, defensive IQ and plenty of quickness in coverage. Then he ran a 4.36 40 and posted a 39.5" vertical, just furthering his case as one of the better safeties in this class. Whether he stays back in center field or plays more in the box at the next level is up to Mike Pettine, but Savage Jr. has a lot to offer right away at either Safety spot. Plus, the Lamarcus Joyner comparisons don't hurt.
Opinion: I had Savage Jr. as my 7th-best Safety prospect after the Combine, rising from 10th. Once top experts started slotting him near the back end of their first-round mocks, I took noticed and did a little more research. Man, this guy simply loves to play. Even in his reps as a true Free Safety, he often found a way to impact plays in the box. While some scouts saw him handling reps at the hybrid, in-the-box position, I think he'll pair nice remaining back in the secondary, pairing with new addition Adrian Amos as two non-defined, playmaking Safeties. Safety was a major hole on this defense, and I had it ranked above Slot Receiver, Tight End, O-Line and Inside Linebacker as my weakest positional spot on the Packers. Tramon Williams is moving back to Cornerback and Kentrell Brice is gone, leaving a gaping hole next to Amos that Savage Jr. instantly fills. The only true safety I had ranked higher was Nasir Adderley, so that's a name to pay attention to down the road when playing the woulda-shoudla-coulda game. After trading up to #21, players like OLB Montez Sweat, OT Andre Dillard, G/T Cody Ford, WR Marquise Brown, WR A.J. Brown and WR D.K. Metcalf were all still available and ranked higher than Savage Jr., so while Green Bay fills a need, there's still a small chance it comes at missing out on a potentially better player at a different need. Considering they only gave up two fourth-rounders to move up nine spots, I don't consider much value being lost to potentially take into consideration. Good job again, Gute.
Pick #44: Elgton Jenkins, C/G, Mississippi State. Grade: C
Scouting Report: Elgton (pronounced Elton) Jenkins made a handful of starts at both Tackle spots as an underclassmen, but really caught the eye of NFL scouts after moving inside and dominating as the starting Center against talented SEC opponents. His natural combination of size, power and length will give him a shot at blocking many interior pass rushers in the NFL with ease. Jenkins isn't effective when blocking in space, and he's not the guy to drive defenders into the next level, but with his leverage and hand usage abilities, Jenkins will likely become an effective starting Interior Offensive Lineman in no time. Given Corey Linsley's back-to-back seasons of playing every snap, it's safe to assume he'll see most of his early playing time at one (or both) of the Guard spots. Look out, Lane Taylor & Justin McCray.
Opinion: This pick definitely surprised me. Looking at our roster after adding Rashan Gary and Darnell Savage, I thought this pick was going one of three ways: Slot Receiver, Inside Linebacker or Tight End. No Inside Linebacker was worth taking at #44, but Irv Smith Jr. was borderline first-round talent in my eyes and still on the board. At receiver, the likes of A.J. Brown, D.K. Metcalf, and Parris Campbell were all excellent candidates. Hell, I even had fellow interior O-Lineman Erik McCoy ranked higher on my board. Most of the multi-round mocks had the Packers addressing Right Tackle far before a Guard or a Center, so once again, I was surprised considering the position and who was available. That being said, I don't think Green Bay reached for Jenkins, and he's a reliable option who could realistically start over Lane Taylor - maybe sooner rather than later. I'm all for protecting Aaron Rodgers, so all-around it was a decent choice.
Pick #75: Jace Sternberger, TE, Texas A&M. Grade: B+
Scouting Report: If you're looking for a Tight End to receive passes and not really give a damn about blocking, Stenberger's the prospect for you. It's not that Sternberger wasn't willing to block in Jimbo Fisher's offense at Texas A&M; his lack of size and strength just make it damn near impossible to picture him handling his own blocking NFL edge rushers. He runs routes fluidly, efficiently and has the excellent hands to match. At the combine, he held his own in every receiving drill (to no one's surprise). His 4.75 40 time isn't what many scouts were looking for out of a receiving specialist, but his route-running, change-of-pace ability and hands will guarantee solid reception potential. Initially, Sternberger's role in most offenses stands as a receiving-only TE2 with WR4/slot responsibilities, but by year three, he could bear full-time starting potential.
Opinion: Out of all players available at #75, only WR Hakeem Butler was both higher-rated and would fill a position of need, and anyone that even takes a look at Butler knows he's not a Slot Receiver, so he really shouldn't count either. Some might argue edge rushers like Jaylon Ferguson, Chase Winovich or Charles Omenihu would be a better investment, but I'm honestly cool with new signees Za'Darius Smith and Preston Smith handling most of the reps on the edge for a few years. I knew we needed a Tight End, but I also wanted an option that could block due to starter Jimmy Graham's horrid blocking performances last season. Noah Fant (available at #12) and Irv Smith Jr. (available at #44) were two higher-rated Tight Ends that will block much in the NFL than Sternberger. I'm still happy they took my 4th-best Tight End prospect though, especially considering what else was available at #75.
Pick #150: Kingsley Keke, DL, Texas A&M. Grade: C-
Scouting Report: Even defensive line coaches don't know exactly what Kingsley Keke's best NFL positional fit will be. He led Texas A&M with 7 Sacks in his second year as a starter in 2018, after dropping over 20 pounds and handling more reps at D-End as well as D-Tackle. Keke's athleticism is uncanny, and his strength, balance and light feet make for a dangerous physical profile. However, he often defaulted to a basic bull rush instead of using his athleticism, while also lacking urgency throughout his tape. His hands could use more violence and quickness, and his lack of a defined position may be viewed as a question mark to some. With more aggression at the point of attack (and bulkier legs), Keke could develop nicely as a one-gap 3-4 D-Lineman or a 4-3 pass-first D-Tackle starter, but for now his value lies in rotational reps, specifically in interior pass rush situations.
Opinion: Green Bay's D-Line depth was so thin after injuries last season that undrafted free agent Tyler Lancaster started in multiple games down the stretch, so adding a D-Lineman on Day 3 makes a lot of sense. He's not ready to start up front, but I'm fine with the Clark/Daniels/Dean Lowry combo for 2019. Keke's fluidity across the D-Line might be extra important in Year 2 if Mike Daniels doesn't re-sign with the Packers in the next ten months or so. Isaiah Buggs was the only D-Lineman I had higher ranked than Keke at #150. Inside Linebacker and Slot Receiver were two other positions of need, and LB Mack Wilson and WR Kelvin Harmon both were miraculously still available at #150. So was Wisconsins' own Right Tackle David Edwards, and we don't have a long-term option (and depending on how you view Bryan Bulaga, we don't have much of a short-term option either) opposite of David Bakhtiari. Behind Buggs, Wilson, Harmon and Edwards is a handful of other higher-ranked options, with LB David Long and RB Trayveon Williams as need-filling prospects Green Bay passed on. I completely understand the position choice, but it's safe to say there was probably a higher-value option that Gutekunst & Co. passed on.
Pick #185: Ka'dar Hollman, CB, Toledo. Grade: D-
Scouting Report: Hollman went from walking on at Toledo to leading the MAC in pass breakups in 2018. After not receiving a combine invite, he slid down most scouts' boards into the undrafted territory, including mine. However, Hollman ran a 4.39 40 and posted a 38" Vertical at his pro day, so maybe we should've kept him in the Day 3 area of our boards. He checks off the boxes for size (6'/196), speed and athleticism most teams desire in NFL-caliber Cornerbacks, a combination that may single-handedly guarantee a Saturday afternoon selection. However, he'll be a 25-year-old rookie who gets flagged far too often for playing the body too much. Hollman's natural talent may get him into training camp, but he needs to improve his route recognition and not get baited out of position as much as he was on tape if he wants to make anyone's 53-Man roster come September. If he does learn better technique, I'd put his ceiling at the CB3/CB4 mark.
Opinion: At this point of the draft, you're probably not going to fill any decent holes on the depth chart, so I get Green Bay branching outside the needed positions. That being said, there was 69 more picks in the draft and I gave Hollman a "7th Round-Undrafted" grade. Kris Boyd, Jordan Brown and Jimmy Moreland were all still available, and all three had "6th-7th Round" grades. That's a difference of the late 100's and the early 300's. At Cornerback alone, I had 12 available prospects ranked higher than Hollman. Out of all remaining players, many notable names (WR Kelvin Harmon, LB David Long, DL Isaiah Buggs, T Isaiah Prince, OLB Jalen Jelks, etc.) were still on the board at #185. I understand liking Hollman's physical profile, but he's a 25-year-old rookie from a mid-major program and carries major technical issues for the position. His athleticism is the only thing keeping this pick from dropping to an "F".
Pick #194: Dexter Williams, RB, Notre Dame. Grade: A
Scouting Report: "Juice" Williams' personality is hard not to root for, but his 2016 marijuana arrest may raise some additional character questions from prospective teams. He bears great NFL size (5'11"/212), as well as impressive vision, power, and agility. Williams was very productive against the everyday opponents, but did struggle against tough run defenses like Michigan. He's not going to make many people miss, but he fights for his yards and holds his own in receiving and blocking. Williams molds a lot like Jamaal Williams, and similarly will enter the league as a RB2 caliber player with the potential to handle RB1 reps down when called upon. I give him a 5th-6th Round grade.
Opinion: At #194, only WR Kelvin Harmon, OLB Jalek Jelks and OT Isaiah Prince were higher-rated available prospects. I actually was really hoping Green Bay would add a Running Back on Day 3, and the fact that it was Dexter Williams?! He's literally Jamaal Williams 2.0. Neither Aaron Jones nor the original Jamaal Williams can seem to stay healthy for long, so being able to add an option that could realistically cover 10, even 15 reps at Running Back pretty early in his career is impeccable. Also, we now have a backfield of "Showtime", "J-Swag Daddy" and "Juice". Those will be fun meetings. Best value pick of the draft, hands-down.
Pick #226: Ty Summers, LB, TCU. Grade: C-
Scouting Report: One number put Summers in the draft conversation: 4.51. That was his unofficial 40 time, a mark that would rank 5th best on my Linebacker board of over 30 hopefuls. He's a high-motor player with plenty of play strength, a combination coaches will notice in camp. He's not a great open-field tackler, and the former high school Quarterback still lacks a lot of the instincts required to be successful as a Linebacker in the NFL. Assuming he's really as fast as his unofficial 40 time shows, Summers has a shot of making it into camp. From there, he better show his value on special teams or he'll be looking for a new occupation real quick.
Opinion: Blake Martinez is an All-Pro Inside Linebacker, but after cutting Antonio Morrison, Green Bay's only option to start next to Martinez is Oren Burks, who didn't have the best of rookie seasons last year. At #226, Ty Summers was under Dakota Allen and eight other prospects who went undrafted on my Linebackers board. Green Bay will definitely love his athleticism, but I would've rolled the dice on a higher-ranked prospect. Out of all positions, I had at least 100 prospects ranked higher than Summers available at #226. The seventh round is a crap-shoot and no team is getting the next Donald Driver here, but you still have to stick to your board. Plus, Green Bay had multiple spots where they could've drafted Mack Wilson, David Long, Blake Cashman, Cameron Smith and other better Linebacker draftees.
OVERALL GRADE: B+
Yes, this year's draft is the best among the four years I've graded the Packers' draft classes. Rashan Gary and Darnell Savage both deserved "A-" grades, Jace Sternberger (B+) was a formidable third-round find, and Dexter Williams (A) was the best value of the entire class, being selected back in the sixth round. This being said, there are plenty of questions surrounding the new Packers. How Rashan Gary is going to line up in this defense is beyond me, and I'm sure Mike Pettine is working on it right now. Darnell Savage Jr. was the first Safety taken and the Packers traded up to get their next starting Safety, so the expectations are high for a player I ranked as the 10th-best Safety a few months ago. Elgton Jenkins (C) could beat out Lane Taylor for the Left Guard spot, but there were better players in higher need positions available at #44. Sternberger should give Rodgers another weapon immediately, but will choosing another Tight End who can't block end up hurting the depth chart more than helping? Kingsley Keke also doesn't know his best positional fit on the D-Line, and his ceiling is lower than the prospects taken before him. If Keke is Brian Gutekunst's gamble on a potential long-term Mike Daniels successor, those are big shoes he may not be able to fill. Kadar Hollman (D-) and Ty Summers (C-) are sixth and seventh round picks respectively, and while they didn't get weighed as heavily when calculating the final overall grade, I'm still not convinced either player will have a long-term impact on the field like other players who were available could have. All in all, Gutekunst drafted three, four, maybe even five difference-makers in a draft he really needed to get right. Green Bay looks less like a rebuild and more like a "retool" project now.
Alright, now here's the Fuller-Approved 2019 Green Bay Packers Draft Class:
Pick #12: Rashan Gary, DL, Michigan
Gary was the highest non-QB available on my board, and he could do some serious damage lined up with Mike Daniels and Kenny Clark. Mike Pettine will have fun designing packages for Gary's freak athleticism.
Pick #21: Darnell Savage Jr., S, Maryland
Safety was #1 on my needs-to-fill list, and if the Packers' front office think Savage Jr. is their guy, I have to commend the trade. Plus, I couldn't care less about the pair of fourth rounders if it means getting a quality starting-caliber Safety to pair with Adrian Amos for years to come.
Pick #44: AJ Brown, WR, Ole Miss
Elgton Jenkins could have a long Packers career, but adding A.J. Brown is a no-brainer here. He's handled plenty of reps in the slot, runs fluid routes and has trusty hands. If Brown joined this receiving corps, he could easily become the second-most productive wideout behind Davante Adams. I'm that sold on Brown.
Pick #75: Jace Sternberger, TE, Texas A&M
While the depth chart of Jimmy Graham, Marcedes Lewis and Robert Tonyan is a decently deep one, I'm a huge fan of adding another slot-type Tight End receiving option for Aaron Rodgers. His fluid routes and reliable hands should lead to TE2 reps right away. Also, Graham was disappointing as hell last year and the more receiving competition for him at the position, the better.
Pick #150: Mack Wilson, LB, Alabama
I understand a player slipping due to concerns surrounding motivation and general love for the game, but Mack Wilson was ranked 46th overall and STILL was available at #150. He has the talent to compete with Oren Burks for the second Inside Linebacker reps, and would definitely help in coverage.
Pick #185: Isaiah Buggs, DL, Alabama
Look at that, I still added a potential starting D-Lineman on Day 3, and I actually had Buggs listed higher on my board than Kingsley Keke, whom the Packers took at #150.
Pick #194: Dexter Williams, RB, Notre Dame
I wanted to add a Running Back on Day 3 that could handle a decent amount of quality reps if Aaron Jones and/or Jamaal Williams go down again, and Dexter Williams is exactly that. Brian Gutekunst nailed this one.
Pick #226: Beau Benzschawal, G, Wisconsin
I already addressed Inside Linebacker back at #150 with Mack Wilson, so the only needy spot I still have to address is the O-Line. I'd prefer a Right Tackle here, but no Right Tackles available here could compete with Bryan Bulaga or Jason Spriggs for their roster spots. However, I feel like Beau Benzschawal was severely slept upon, going undrafted despite being ranked #123 on my board. I think he could provide some interesting competition for Lane Taylor and Left Guard, and I'm still not sold on Cole Madison's ability after not playing football for a year, so Benzschawal could provide needed interior O-Line depth and probably win a spot on the 53-man roster.
So, in summary:
DL Rashan Gary
S Darnell Savage Jr.
WR A.J. Brown
TE Jace Sternberger
LB Mack Wilson
DL Isaiah Buggs
RB Dexter Williams
G Beau Benzschawal
Now THAT is one hell of a draft class.