Fuller's Packers Report Card - Week 10: A White-Knuckle Win in White-Out Weather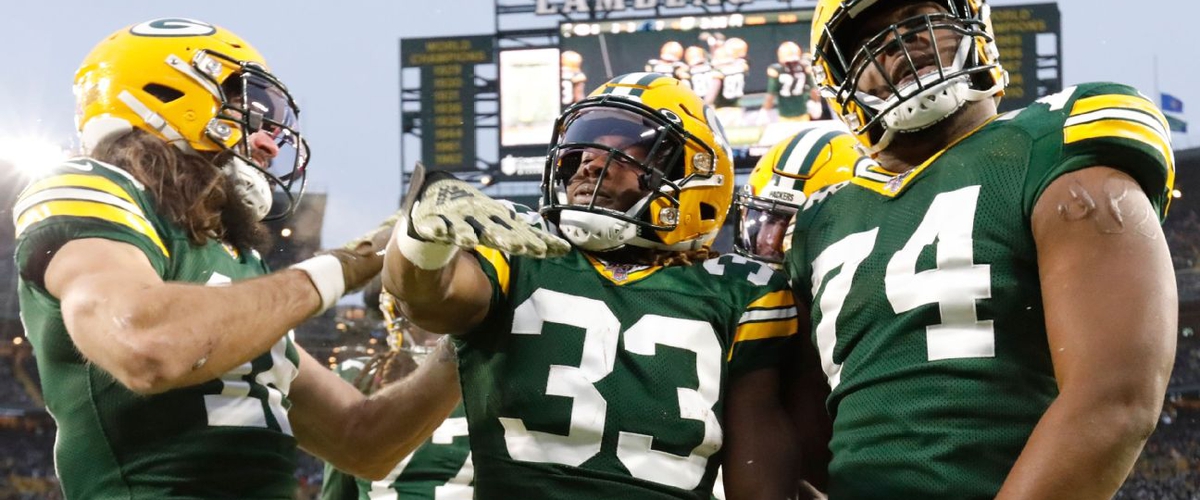 Damn, that was a nailbiter!
There were a couple missed calls on either side of the ball, so I won't get into the officiating. Aaron Rodgers (B) didn't make too many mistakes, but the real hero of the game was the NFL's leading touchdown scorer, Aaron Jones (A+). His three rushing touchdowns were the only points Green Bay's offense put on the scoreboard. Davante Adams (A) still hasn't pulled in a touchdown this year, but his 7 Receptions for 118 Yards were extremely vital to Rodgers' efforts. Billy Turner (D+) was a liability in pass protection, but Elgton Jenkins (A-) and the rest of the line did more than enough to enable Rodgers, Jones and play-caller Matt LaFleur to outscore Carolina.
The biggest stat for the defense? 2. That's the number of takeaways Green Bay forced, and winning the turnover battle is one of the most important metrics to secure a victory. Montravius Adams (B) pulled in an unforced fumble recovery, Tramon Williams (B) nabbed an interception, Preston Smith (A-) raked in two sacks and Tyler Lancaster (B-) added another to the box score. What didn't show up on the stat sheet? Kevin King (A-) blanketed Panthers receivers throughout the game and Kenny Clark (B+) was involved in nearly every significant pass rush. Mason Crosby missed a 52-yard attempt, but following a five-yard penalty on Carolina, he nailed a 47-yard try to distance the Packers lead to a full eight points.
It wasn't the best game by any Packers unit, but all-in-all, Green Bay outplayed and outmanaged a good Carolina team in an early-season blizzard. If this Green Bay squad can survive tough battles like these, there's no limit as to how far they could go in the playoffs. I mean, look how happy our passing and rushing leaders are: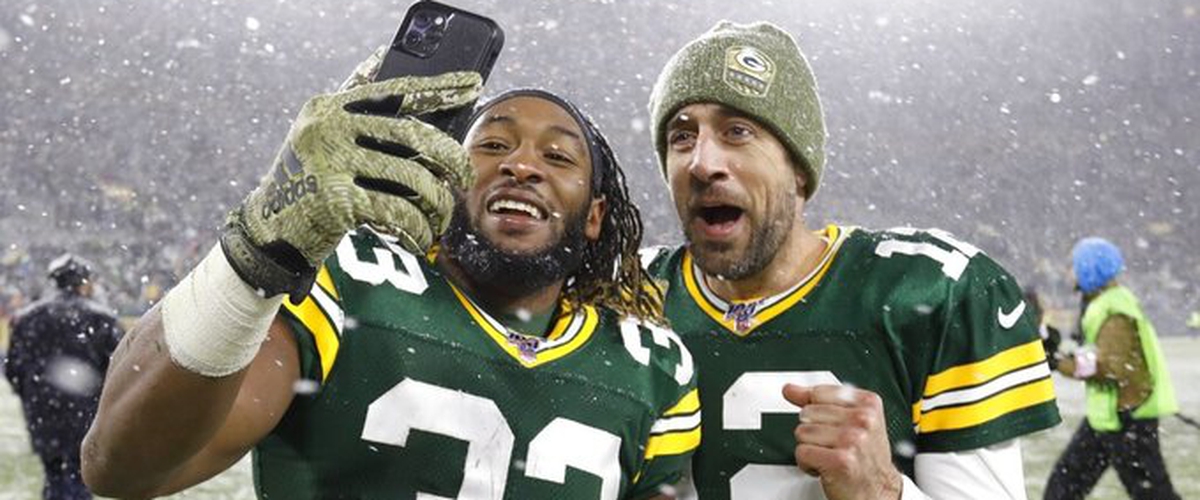 OVERALL: B-
Offense: B- QB/RB: B+ WR/TE: B- OL: B-
Defense: B- DL: B- LB: B- DB: B Special Teams: B-
BEST GRADE: A+: RB Aaron Jones
Only two weeks removed from an earlier "A+" performance, Aaron Jones blew through the Panthers' interior defense over and over again, leading to nearly 100 Yards and a whopping THREE touchdowns on the ground. He wasn't much of a factor in the passing game, but his efforts directly led to 21 of Green Bay's 24 points. In an eight-point victory, one player scoring every touchdown is the ultimate example of putting an offense on his back.
WORST GRADE: D+: RG Billy Turner
Only a handful of players scored below a "C" grade, with starting Right Guard Billy Turner bearing the only "D+". He simply missed blocking assignments and got blown away on more than a few plays by interior rushers, one leading to a bad sack on Aaron Rodgers. It wasn't his worst performance, and the rest of the O-Line held their own for the most part, but protecting Aaron Rodgers is one of the biggest priorities for this franchise and Turner can't afford to have too many more games like this if he wants to keep his starting spot outright when Lane Taylor's bicep returns to full health.
MVP Watch: In his second week back, Davante Adams (3.42 GPA) extended his significant lead in the MVP race with another 100-yard receiving came. Mason Crosby and Preston Smith (3.22 GPA) sit tied for second, while Aaron Jones (3.17 GPA) and Aaron Rodgers (3.13 GPA) are closing in on a podium spot.
STATS OVERVIEW:
Passing - Rodgers: B (17/29, 233 Yds, 0 TD, 0 INT, 84.4 Passer Rating; 1 Rush, 7 Yds)
Rushing - A. Jones: A+ (13 Rush, 93 Yds, 3 TD); J. Williams: B- (13 Rush, 63 Yds)
Receiving - Adams: A (7 Rec, 118 Yds); Lazard: B (3 Rec, 27 Yds); Graham: B- (2 Rec, 59 Yds) Kumerow: B (2 Rec, 23 Yds); Allison: C+ (3 Rec, 6 Yds)
Defense - One Interception (T. Williams), One Fumble Recovery (M. Adams) and 3 Sacks (P. Smith 2x, Lancaster)
Questions? Comments? Concerns? General Feedback? How high are you on this 8-2 Packers team? Let me know!

Thank you and God Bless,

Samuel R. Fuller