Fuller's Packers Report Card - Week 12: A Horrible, No-Good, Very Bad Sunday Night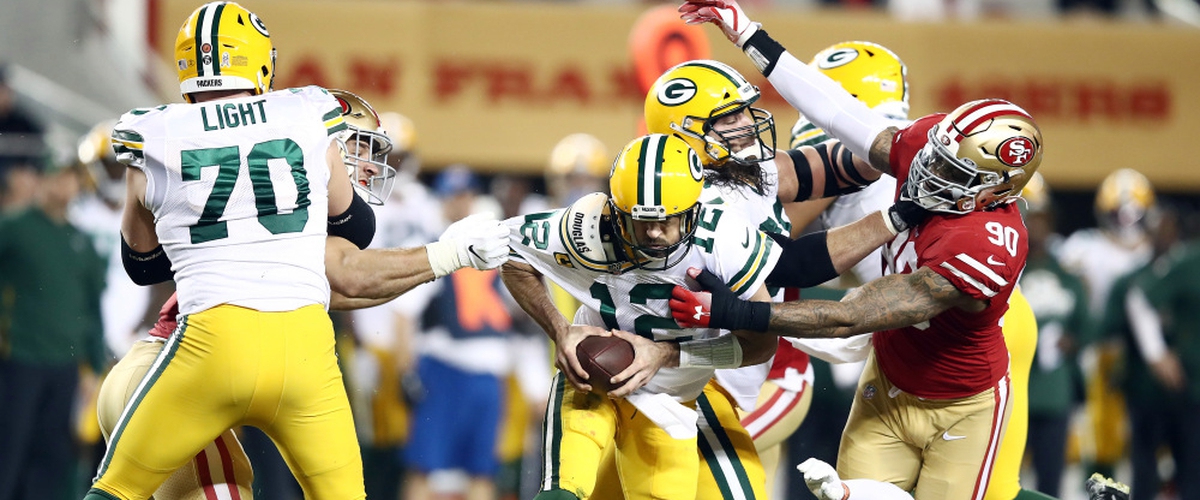 Like any team, Green Bay has its apparent flaws in different aspects of the game. All of them - ALL, of them, were on full display Sunday night.
Aaron Rodgers (D+) was forced to check down frequently, yet Aaron Jones (C+) was barely involved in the pass attack. Rodgers failed to reach 105 passing yards, no one tallied over 45 rushing yards and not a single receiver even reached 45 receiving yards. Geronimo Allison (D) had a horrid drop, and aside from Davante Adams' (B+) first receiving touchdown of the season, there's not much positive to take away from the offensive performance. Oh, and Bryan Bulaga's (C) injury demonstrated why our current backup Alex Light (D-) shouldn't be trusted to fill in and protect Mr. Rodgers. 198 Total Yards on 70 plays is unacceptable, plain and simple.
Allowing 37 points on defense is a hard way to win games too. Kenny Clark (B-) was the only D-Lineman that made any positive impact, and while Za'Darius Smith (A), Preston Smith (B), and Blake Martinez (B) made a difference rushing Jimmy G, none of them could stop a team with their top running back out from rushing for 112 yards. A major weakness for Green Bay's defense had been guarding Tight Ends, and despite a broken ankle, George Kittle tore up Tramon Williams (C-) and Darnell Savage (C) for 129 Yards and a Touchdown. Special Teams wasn't much better, as JK Scott (D+) averaged under 38 yards per punt, Mason Crosby never even got a chance to attempt a field goal, and Tremon Smith (D+) had negative punt return yards. Every unit needs to do their homework after Sunday night's dumpster fire, but maybe none more than special teams.
Matt LaFleur, get to work!
OVERALL: D
Offense: D+ QB/RB: C- WR/TE: C- OL: D+
Defense: C DL: C- LB: B DB: C- Special Teams: D
BEST GRADE: A: OLB Za'Darius Smith
For the most part, San Francisco was able to tear apart Green Bay's defense. However, Za'Darius Smith had 1.5 of the team's three Sacks and provided more pressure individually than the rest of the pass rushers combined. Yes, his Outside Linebacker partner Preston Smith added a half-sack and helped pull some attention away from #55, but Za'Darius provided consistent pressure both off the edge and in interior gaps. A lot of the defense needs to look in the mirror after Sunday night, but Smith definitely did his part.
WORST GRADE: D-: OT Alex Light
A lot of players struggled Sunday night, but none more than Alex Light. When Bryan Bulaga went down injured, an incredible opportunity fell upon Light. Instead of thriving in place of a reliable starter, he blew blocking assignment after blocking assignment (especially on Nick Bosa) and left Aaron Rodgers completely exposed. Adding zero positive impact in the run game, he just had an all-around awful day. Green Bay signed Jared Veldheer already this week, so it's clear the Packers don't trust Light to take that many reps at Right Tackle again.
MVP Watch: The only player with a Touchdown was Davante Adams (3.41 GPA), who distanced himself even further in the team in the MVP race. Preston Smith (3.20 GPA) has a decent lead over Mason Crosby (3.11 GPA) for second, with Aaron Jones (3.09 GPA) and Za'Darius Smith (3.03 GPA).
STATS OVERVIEW:
Passing - Rodgers: D+ (20/33, 104 Yds, 1 TD, 0 INT, 75.8 Passer Rating; 3 Rush, 13 Yds); Boyle: C (3/4, 15 Yds, 80.2 Passer Rating
Rushing - A. Jones: C+ (13 Rush, 38 Yds); J. Williams: B- (11 Rush, 45 Yds; 7 Rec, 35 Yds)
Receiving - Adams: B+ (7 Rec, 43 Yds, 1 TD); Lazard: C+ (1 Rec, 7 Yds; 1 Rush, 21 Yds); Allison: D (3 Rec, 9 Yds)
Defense - No Interceptions and 3 Sacks (Z. Smith 1.5, Martinez, P. Smith 0.5)
Questions? Comments? Concerns? General Feedback? How concerned are you for an 8-3 team with this many apparent flaws? Let me know!

Thank you and God Bless,

Samuel R. Fuller