Fuller's Packers Report Card - Week 13: The Giants Suck and We Clinched a Winning Season!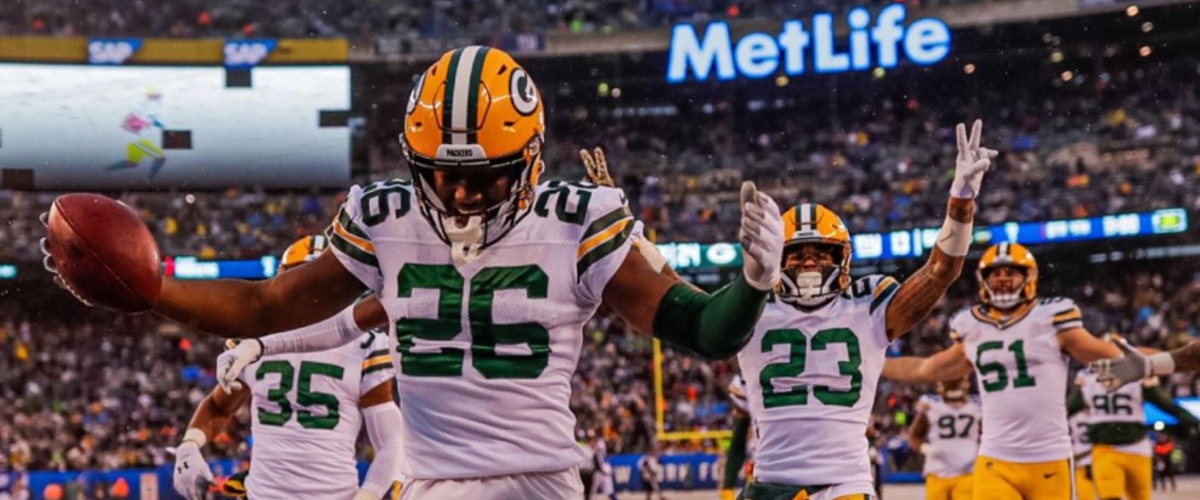 With a 31-13 victory over the NFC-worst Giants, I supposed you could say Green Bay... met expectations this week?
For gamblers, the line was -6.5 and the Packers' 18-point margin of victory was more than enough to cover, but let's remember this was still a four-point game heading into the fourth quarter. Aaron Rodgers (A) was damn-near flawless, tossing four passing touchdowns and posting a passer rating over 125. Neither Aaron Jones (C+) nor Jamaal Williams (B-) could really get it going against New York's run defense, combining for only 59 Yards on 21 Carries. After pulling in his first touchdown reception in last week's blowout loss, Davante Adams (A-) pulled in TWO on 6 Receptions and 64 Yards. Allen Lazard (A-) had his first 100-yard receiving game while also pulling in his second career touchdown. After those two, the remaining receiving corps of Marquez Valdez-Scantling (C-), Geronimo Allison (C+), Jake Kumerow (C) and Jimmy Graham (C) combined for a mere 3 Receptions and 36 Yards, aside from Marcedes Lewis' (B) 1-yard touchdown reception. The O-Line was quiet aside from David Bakhtiari's (B-) holding penalty, but with blocking assignments, no news is often good news!
On the other side of the ball, Kenny Clark (B) had another solid game as the only significant contributor on the D-Line. While Preston Smith (D+) wasn't able to generate any quality pass rushes, his counterpart Za'Darius Smith (B+) had FIVE QB hits and even more total pressures, proving to be a constant backfield-crasher once again. Blake Martinez (B-) unsurprisingly led the team with 10 Tackles but didn't make any additional high-impact plays. The secondary was by far the best-performing defensive group, with Jaire Alexander (B+) silencing whoever he was guarding, Adrian Amos (B) making a handful of clutch plays as the last line of defense, and Kevin King (B+), Darnell Savage (A-) and Tramon Williams (C+) all pulling in Interceptions. In the first game after losing his sister-in-law to cancer, Mason Crosby (B+) made his sole field-goal attempt and all four extra points, proving to be a clutch performer under tough emotional circumstances. JK Scott (B) had a better week punting, averaging almost 47 yards a punt on three tries.
While the Packers didn't dominate a struggling Giants' team like I hoped they would, I'll take a mostly-mistake-free, +3 turnover margin-posting victory to clinch a winning season any day.
Oh, and I'm starting to really enjoy pictures like these: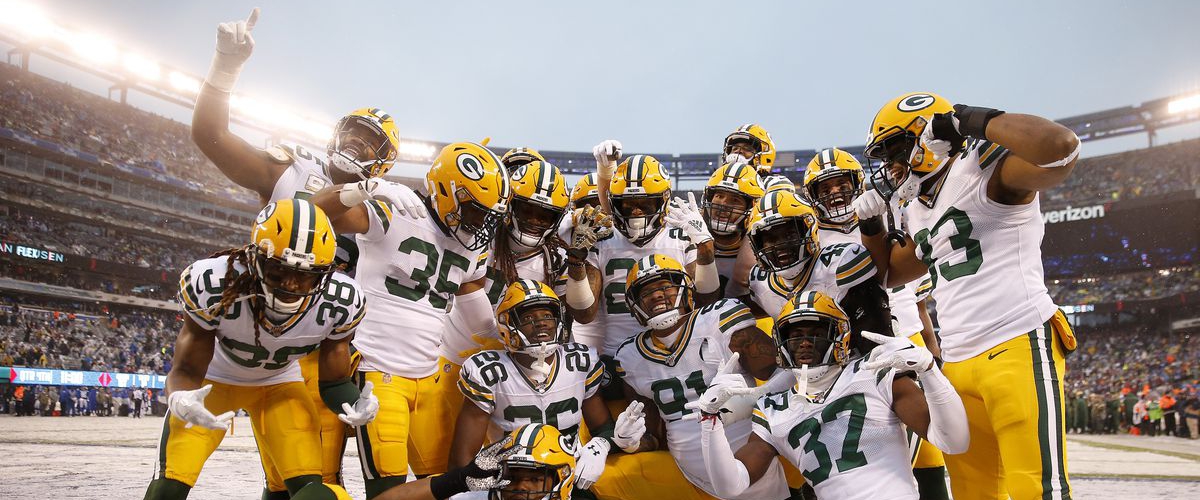 OVERALL: B-
Offense: B- QB/RB: B WR/TE: B- OL: B-
Defense: C+ DL: C+ LB: C+ DB: B Special Teams: B-
BEST GRADE: A: QB Aaron Rodgers
Three other players got an "A-" grade, but only #12 received a perfect 4.0 with an "A". While the Giants' defense is nothing to write home about, Rodgers still picked it apart for FOUR touchdowns, over 240 yards and a couple clutch running plays. Simply put, Rodgers was the perfect game manager. Neither Jamaal Williams nor Aaron Jones reached 45 yards on the ground, so Aaron's clutch plays reading the defense and finding open receivers (I'm looking at you, Lazard) on big plays was the biggest difference between this game ending in a comfortable victory and having to slug out an ugly result in a nailbiter. Could the offense have been more creative, balanced and efficient? Yes, but Aaron Rodgers really didn't make any mistakes at QB Sunday.
WORST GRADE: D: TE Robert Tonyan
Overall, there weren't that many poor performers wearing Green & Gold, but Tonyan added nothing positive to the game. A costly screw-up blocking on a double-team cost Aaron Jones his 15th Touchdown, and while Green Bay was still able to score a play or two later, Tonyan only looked out of place and didn't pull in any stats on the box score. Marcedes Lewis had the deciding touchdown, Jimmy Graham was still somewhat involved and Tonyan's reps could easily go to third-round rookie Jace Sternberger, who recently was activated from Injured Reserve. If I was Tonyan, I'd step it up in practice this week to prove I'm worth keeping around as the fourth Tight End.
MVP Watch: With his first multi-score game of the season, Davante Adams (3.44 GPA) has nearly clinched the MVP trophy with four games left. Mason Crosby (3.13 GPA) stands in second, while the race for the bronze is tight between Aaron Rodgers (3.06 GPA), Za'Darius Smith (3.06 GPA), Preston Smith (3.04 GPA) and Aaron Jones (3.03 GPA).
STATS OVERVIEW:
Passing - Rodgers: A (21/33, 243 Yds, 4 TD, 0 INT, 125.4 Passer Rating; 3 Rush, 24 Yds)
Rushing - A. Jones: C+ (11 Rush, 18 Yds; 4 Rec, 13 Yds); J. Williams: B- (10 Rush, 41 Yds; 4 Rec, 26 Yds)
Receiving - Adams: A- (6 Rec, 64 Yds, 2 TD); Lazard: A- (3 Rec, 103 Yds, 1 TD; Rush, 21 Yds); Allison: C (2 Rec, 20 Yds)
Defense - 3 Interceptions (Savage, King, and T. Williams) and Zero Sacks
Questions? Comments? Concerns? General Feedback? How much should we take away from a victory over the worst team in the NFC? Let me know!

Thank you and God Bless,

Samuel R. Fuller