Fuller's Packers Report Card - Week 3: Preston Smith is Worth Every Penny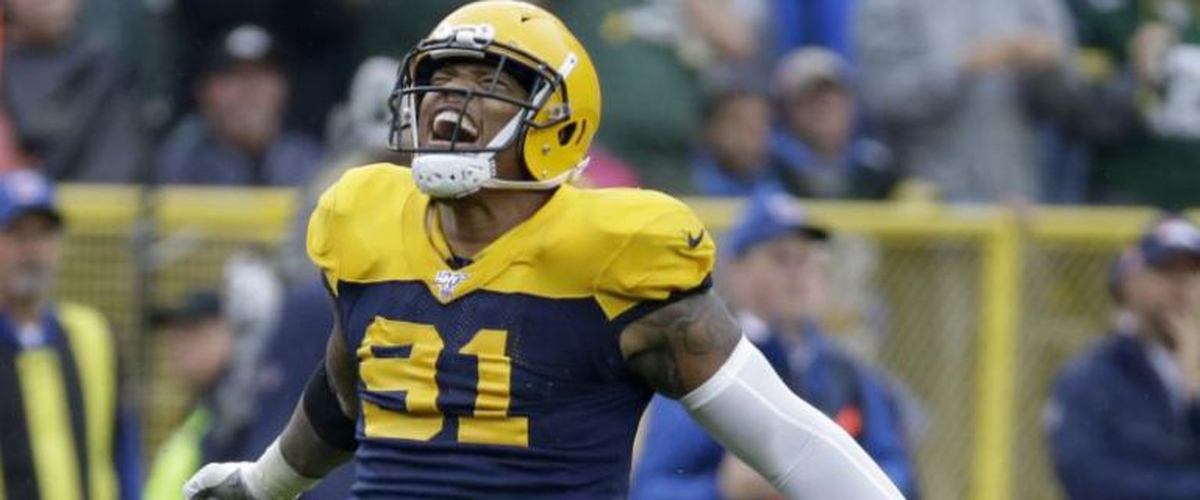 Green Bay leads the entire league in defensive takeaways with eight. Let that sink in.
The defense needed serious re-tooling after last season, and the additions of Preston Smith, Za'Darius Smith, Adrian Amos, Darnell Savage, and Rashan Gary are all paying off - big time. Preston had three sacks and a forced fumble against Denver, an All-Pro performance opposite of Za'Darius (who had two sacks as well). Both first-round picks had game-changing turnovers, Savage pulling in his first career interception and Gary recovering his first career fumble. Jaire Alexander held his own at corner again, rounding out a talented Mike Pettine defense.
The offense sputtered at times, with Aaron Rodgers completing less than 20 passes and Aaron Jones averaging less than 2 yards a carry, but both players still combined for 3 Touchdowns and Marquez Valdes-Scantling made the most of WR2 reps with 99 yards and the sole receiving touchdown of the game. Jamaal Williams proved to be a versatile tool on both running and passing plays, and while Jimmy Graham sucked again, the offensive line prevented a talented Broncos' pass attack from getting a single sack (Billy Turner led the line with an "A" grade). JK Scott punted well again, Mason Crosby was two for three on Field Goals and most importantly, the Packers found a way to stay perfect on the season.
OVERALL: B-
Offense: B- QB/RB: B- WR/TE: C+ OL: B+
Defense: B- DL: C+ LB: B+ DB: B- Special Teams: B-
BEST GRADE: A+: OLB Preston Smith
Preston Smith and Za'Darius Smith both signed big contracts with Green Bay this offseason, and both have already proved their worth early in the 2019 campaign. However, Preston took a HUGE step forward with three sacks and a forced fumble, two statistics that should automatically put him in contention for NFC Defensive Player of the Week. Both players have proven to be absolute terrors in the pass rush, but Preston Smith is entering award-winning territory with a performance like that.
WORST GRADE: D: TE Jimmy Graham
Once again, Jimmy Graham had no positive impact on the game. Yes, his run blocking was a tad better, but he had more holding penalties than receptions. He only has 3 Receptions and 30 Yards on the entire season of starting at Tight End, and it's time to start considering moving on from Jimmy Graham earlier than Spring 2020.
MVP Watch: An A+ grade from a 3-Sacks-and-a-Forced-Fumble outing boosts Preston Smith into first place with a 3.83 GPA. Blake Martinez and Za'Darius Smith are close behind in second (3.56 GPA), and young studs Jaire Alexander and JK Scott sit tied for fourth (3.33 GPA).
STATS OVERVIEW:
Passing - Rodgers: B- (17/29, 235 Yds, 1 TD, 0 INT, 96.2 Passer Rating)
Rushing - A. Jones: B+ (10 Rush, 19 Yds, 2 TD; 1 Rec, 4 Yds); J. Williams: B (12 Rush, 59 Yds; 2 Rec, 27 Yds)
Receiving - Adams: B (4 Rec, 56 Yds); Valdez-Scantling: A- (6 Rec, 99 Yds, TD); D. Vitale: B- (1 Rec, 27 Yds)
Defense - 1 Interceptions (Savage), 6 Sacks (P. Smith 3x, Z. Smith 2x, R. Gary)
Questions? Comments? Concerns? General Feedback? Preston Smith for Defensive MVP? Let me know!
Thank you and God Bless,
Samuel R. Fuller