Fuller's Packers Report Card - Week 4: Rodgers & LaFleur Made Mistakes, but the Refs Made More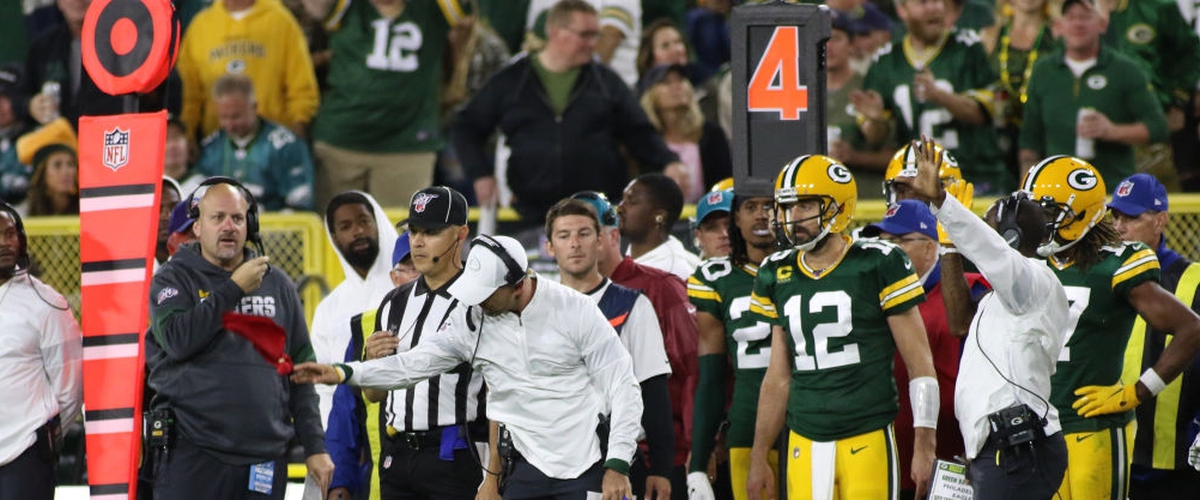 Before any additional analysis, let's go over what SHOULD have happened last night:
- Eagles DE Derek Barnett should've been ejected for his cheap helmet-to-helmet hit on Jamaal Williams. He took out a key offensive weapon and faced no additional repercussions.
- I have ZERO clue how the officials didn't overturn the no-Defensive-Pass-Interference call when Avonte Maddox clearly interfered Marquez Valdes-Scantling. Green Bay definitely could've used that time out their unfairly lost.
- On the game-deciding Interception by Nigel Bradham, there's a strong argument that CB Craig James interfered with Marquez Valdes-Scantling.
Matt LaFleur said it best in his post-game interview: "I don't really know what pass interference is anymore"
Okay, now that I've vented, we can't overlook all of the poor metrics Green Bay posted, many of which are a perfect recipe for a loss:
- Lost the turnover battle. In fact, Green Bay didn't force ANY.
- Didn't convert in the Red Zone (Green Bay was 3-7, Philly was 4-4).
- Allowed 176 Rushing Yards from two different RB's.
- Failed to sack Carson Wentz once.
- Couldn't run the ball themselves (77 yards on 20 Attempts)
- Lost the field position battle (Rodgers fumbled close to his own red zone and the kicking team allowed a huge kick return to the rookie Miles Sanders)
OVERALL: C
Offense: B- QB/RB: B- WR/TE: B- OL: B-
Defense: C- DL: D+ LB: C DB: C+ Special Teams: B-
BEST GRADE: A+: WR Davante Adams
Davante Adams was the first receiver since Javon Walker (2004) to rake in over 100 receiving yards in the first quarter. The Eagles' secondary was thin, and Davante took full advantage for over three quarters. Unfortunately, his tenth and final reception of the game ended with a toe injury that kept him out for the game-deciding red zone series. Since last night, it's been diagnosed as turf toe, which should keep him out for at least a few weeks. That's a BIG blow for an otherwise young and inexperienced wideout corps.
WORST GRADE: D: DE Dean Lowry
There weren't too many poor individual performances, but Dean Lowry failed to be anything better than a negative factor on this D-Line. Yes, the Eagles' O-Line is probably the best they've faced through four games, but he was pushed around throughout the game and made all four of his tackles well behind the line of scrimmage. No backfield plays and a bad 15-yard penalty? He needs to play better (along with Kenny Clark and Tyler Lancaster) in order to open more opportunities for the talented second and third lines of defense. Not a single sack from this defense? Unacceptable.
MVP Watch: Davante Adams had a near-perfect game and Preston Smith failed to make a significant impact off the edge, leading to a first-place tie in the MVP race (3.46 GPA). Blake Martinez's 15-tackle game keeps him right behind in third (3.42 GPA), and young studs Jaire Alexander and JK Scott still remain tied for fourth (3.25 GPA).
STATS OVERVIEW:
Passing - Rodgers: B (34/53, 422 Yds, 2 TD, 1 INT, 93.4 Passer Rating; 5 Rush, 46 Yds, Fumble)
Rushing - A. Jones: B (13 Rush, 21 Yds, TD; 6 Rec, 37 Yds); J. Williams: n/a (1 Rec, 0 Yds - left game with head/neck injury)
Receiving - Adams: A+ (10 Rec, 180 Yds); Allison: B+ (3 Rec, 52 Yds, TD); Valdez-Scantling: B- (3 Rec, 47 Yds); J. Graham: C+ (6 Rec, 61 Yds, TD)
Defense - No Interceptions, No Sacks
Questions? Comments? Concerns? General Feedback? Curious as to where the hell our standout defense went? Let me know!
Thank you and God Bless,
Samuel R. Fuller