Fuller's Packers Report Card - Week 5: Aaron Jones ran ALL over Dallas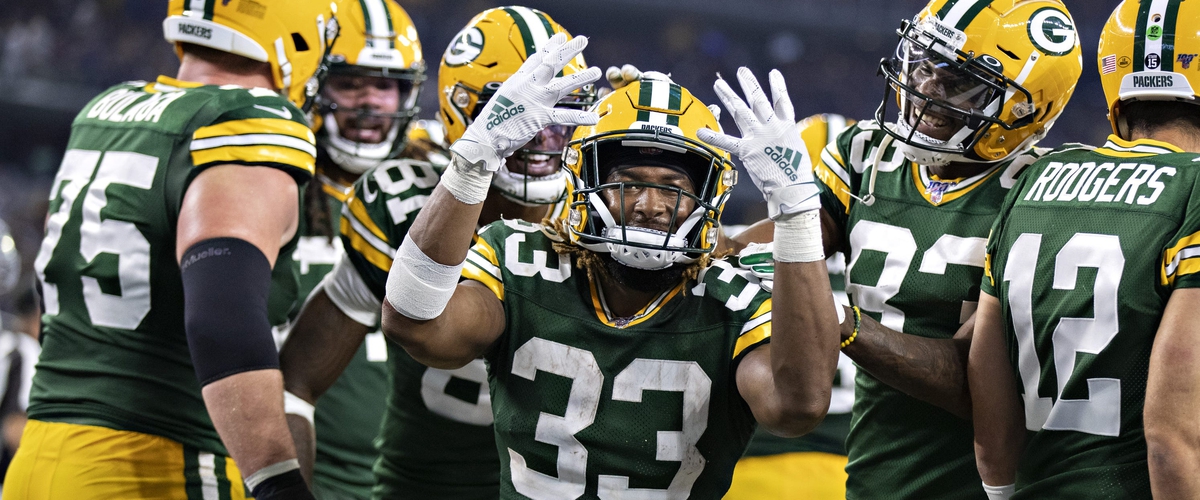 First and foremost, how savage was it when Aaron Jones waved at a Cowboys defender while running past him for one of his FOUR Touchdowns?! I HAD to include a picture before continuing: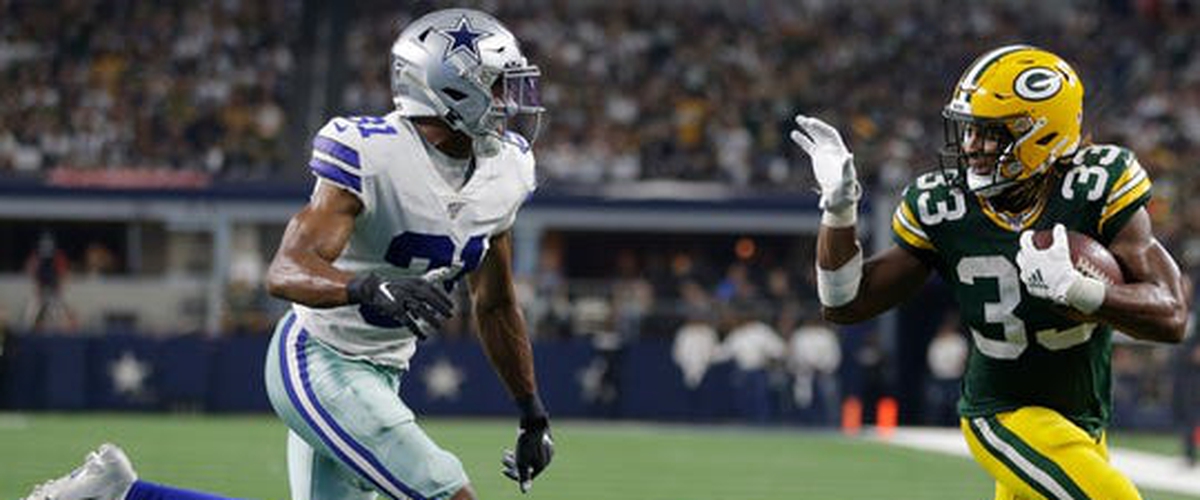 Alright, back to your original programming! There are fewer things I enjoy more than beating the Dallas Cowboys, especially in front of their obnoxious fans. Aaron Rodgers remains undefeated in "The House that Jerry Built", but Sunday afternoon's victory wasn't led by the former MVP...
The biggest story heading into this primetime matchup was Ezekiel Elliott and how he'd run over our spotty run defense. However, Green Bay jumped out to a big lead early, forcing Dak Prescott to ball out to keep his team in the game. Yes, Dak threw for 463 yards and a couple scores, but it was ultimately his three interceptions that cost the Cowboys a shot at victory. Well, that and Brett Maher's two missed Field Goal attempts. I burst out in laughter after his game-clinching miss with under two minutes left to play, and Stephen A. Smith found it just as amusing!
A Davante Adams-less receiving corps led Aaron Rodgers to rely on Aaron Jones in the passing game as well, and Jones' 184 Yards from Scrimmage and franchise-record-tying 4 Rushing Touchdowns was just enough to out-sprint a resilient Cowboys team. I never thought I'd say it, but Bryan Bulaga proved to be the best blocker again, preventing the dominant Demarcus Lawrence from doing damage in the backfield.
On defense, the linemen were once again consumed by a decent opposing O-Line, but Za'Darius Smith and Preston Smith were still able to do their thing and force 3 Sacks and a handful of impactful incompletions. Amari Cooper caught over 200 Yards, but top corners Jaire Alexander and Kevin King both had crucial interceptions and all-around blanket-level coverage for most of the game. After rookie Darnell Savage left the game injured, backup Will Redmond stepped up big time on defense and special teams, compiling a team-leading 9 Tackles and 2 Tackles for Loss. Chandon Sullivan came off the bench and had a beautiful Interception, a big statement from a player who made his first 53-Man roster this season. Mason Crosby made both Field Goal attempts and all four extra points, something Dallas' Brett Maher failed to do, and JK Scott's clutch punts helped Green Bay immensely in the field position battle. Overall, Matt LaFleur created an excellent gameplan for the talent he had to work with, and the handful of key performers plus an overall lack of big mistakes (zero turnovers is a BIG deal) was the perfect formula for a well-fought victory in Dallas.
Nothing like shutting up Cowboys fans, right?
OVERALL: B-
Offense: B- QB/RB: B+ WR/TE: C+ OL: B-
Defense: C+ DL: D+ LB: B DB: B Special Teams: B+
BEST GRADE: A++: RB Aaron Jones
I had to break out a new grade for the man who tied a franchise record for most Rushing Touchdowns in a game (4). A mere "A+" isn't enough for a back who rushed over 100 Yards, tallied four scores and also led the team in receptions (7) and receiving yards (75 Yards). There is absolutely ZERO chance the Packers win this game without Aaron Jones, who simply outplayed Ezekiel Elliott (and everyone else on the field). Having a feature back who's capable of record-setting performances is huge for a Packers offense with an aging Quarterback and thin receiver depth, especially with All-Pro Davante Adams still out with a bad toe.
WORST GRADE: D+: DE Dean Lowry
Lowry didn't make as many mistakes as last week, but he also had the same complete lack of impact on the D-Line. In fact, none of the D-Lineman performed better than a "C", with backup Kingsley Keke flashing the only real backfield pressure. This marks back-to-back weeks where the front line of defense failed to stymie an offense. The Smith's and Blake Martinez are doing enough from the second line of defense to cover Kenny Clark & Company's shortcomings, but this Packers team can't afford a whole position group to play like an Achilles' heel.
MVP Watch: Another high-impact pass-rushing game from Preston Smith (3.50 GPA) pushed him above the injured Davante Adams (3.46 GPA) for the MVP lead. Aaron Jones surged up the leaderboard with an A++ performance, and he's now tied for third with clutch punter JK Scott (3.33 GPA). Blake Martinez, Jaire Alexander, and Kevin King all sit right off the podium at a 3.27 GPA for the season.
STATS OVERVIEW:
Passing - Rodgers: B- (22/34, 238 Yds, 0 TD, 0 INT, 85.2 Passer Rating; 4 Rush, -1 Yard)
Rushing - A. Jones: A++ (19 Rush, 107 Yds, 4 TD; 7 Rec, 75 Yds); Carson: C+ (6 Rush, 14 Yds; 4 Rec, 18 Yds)
Receiving - Graham: B (3 Rec, 41 Yds); Allison: C+ (2 Rec, 28 Yds); Valdez-Scantling: C+ (1 Rec, 18 Yds);
Defense - 3 Interceptions (Alexander, King, and Sullivan) and 3 Sacks (Z. Smith x2, P. Smith)
Questions? Comments? Concerns? General Feedback? Is this 4-1 Packers team the leader of the NFC now? Let me know!
Thank you and God Bless,
Samuel R. Fuller